Wealth Management Marketer April Rudin Talks Fintech's Role In Disrupting How People Think About Investing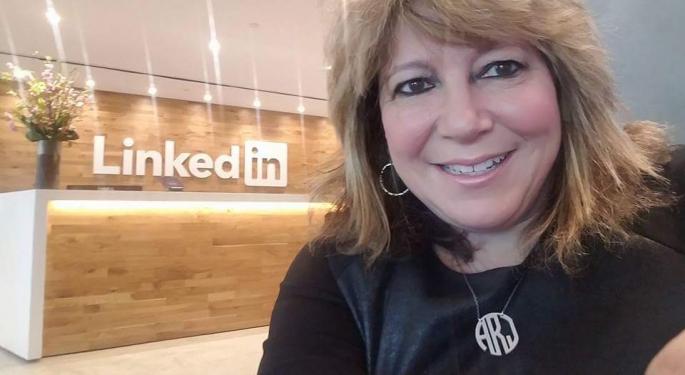 Benzinga is proud to introduce the Benzinga Women's Wealth Forum, a space where women can learn how to empower themselves through financial technology and be inspired by the stories of powerful women in finance.
Ahead of the March 21 event, we're highlighting the stories of some of the leading women in the financial services industry.
In this installment we spoke with April Rudin, Founder and CEO of the global wealth marketing firm The Rudin Group, which provides visibility and consulting services to hedge funds, wealth management firms and other financial services catering to high net worth individuals.
Benzinga: Give us the elevator pitch for what you do at The Rudin Group.
Rudin: The Rudin Group is a full-service wealth marketing firm. We help financial services firms grow their AUM and market share by designing and implementing programs that enhance brand visibility on digital and mobile platforms by targeting their end clients and centers of influence.
What trends and ideas do you think will dominate the fintech discourse in 2018?
Rudin: Hybrid Robo/personal contact service. Cryptocurrencies moving to mainstream. The race to capture the millennial. Advisors will still be crucial, especially for high-net-worth investors. Advisors will not be replaced, but will instead be more focused on client engagement, which will be a differentiator. Cryptocurrencies are reshaping financial services as Amazon and Overstock.com are seeing the power of them as payment systems. We'll see the $3 billion wealth transfer continue to usher in a new era as institutions seek ways to capture the minds — and wallets — of millennials.
What surprised you the most in the fintech and financial services industry in 2017?
Rudin: How quickly fintech startups and niche players were able to narrow the gap with traditional players and drive change in the ways financial services firms market. Smaller players have been able to tap into the needs of digitally savvy clients who require personalized and 'on demand' services.
Does fintech open up new financial opportunities for women? If so, how?
Rudin: Fintech has brought about such dramatic change. With it comes new opportunities for women. Firms are changing the way they market and need fresh ideas and perspectives. Artificial intelligence and crypto currencies are fueling the launch of many new companies. And companies like Ellevest are tapping into the unique needs of women by seeking to close the gender investment gap. The attributes of women — longer lifespans, career changes, and pay issues — will continue to be a focal point for financial institutions, which will not only change the way these firms market but produce new products and services that cater to and, we hope, are marketed by women.
What about your company makes you excited to go to work?
Rudin: Digital and technological change have been game changing. So too will be changing demographics and the buying power of millennials. The opportunities to have an impact on how our clients interact with their customers has never been greater. Clients recognize that we can be a partner in addressing their brand and marketing challenges, even as they continue to evolve. Our team takes great pride in creating customer experiences that move the needle for our clients.
To hear more stories like Rudin's, be sure to grab a ticket to the Benzinga Women's Wealth Forum March 21.
View Comments and Join the Discussion!
Posted-In: April Rudin Benzinga Women's Wealth ForumFintech Entrepreneurship Movers & Shakers Startups Markets General Best of Benzinga