How One Woman Used Disciplined Trading To Compete With Wall Street's Best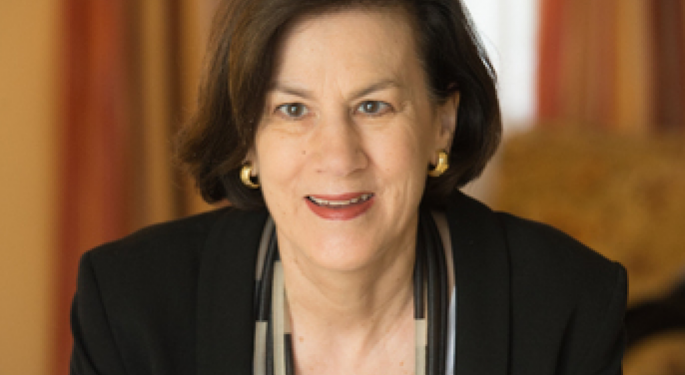 Benzinga is proud to introduce the Benzinga Women's Wealth Forum, a space where women can learn how to empower themselves through financial technology and be inspired by the stories of powerful women in finance.
Ahead of the March 21 event, we're highlighting the stories of some of the leading women in the financial services industry.
Our next installment is an interview with Sandy Chaikin, co-founder of Chaikin Analytics.
Women are more financially empowered than ever before, but having full financial control means understanding your financial future. The only sure way to financially plan for the long term is to have an investment plan and a grasp on the basics of stock trading.
While that might seem daunting for anyone, it's more and more important for women to empower themselves by making confident decisions about their financial lives, says self-made investor Sandy Chaikin. To learn more about how women can get started with investing, Benzinga caught up with Chaikin for a quick Q&A on how she became a successful investor.
What's your best piece of advice?
If you aren't already investing in the stock market, it's important you get started…. even if you start out investing in a S&P Index fund which has averaged 10 percent return/year over the past 50 years. It's important to invest because 9 out of 10 women are expected to be the sole financial decision makers of their household at some stage of their life (Pew Research), so at some stage of your life, you likely will need to know how to make your own investment decisions.
What is the biggest investing misconception that you've had to overcome? Investing is not as complicated as the pros would like you to believe. Remember, they make their living by having investors like you depend on them.
The jargon that Wall Street pros support is off-putting, for example: "buying" instead of "accumulation; and "selling" instead of "distribution," but when you translate it into plain English, understandable. I invest with reliable tools and rely on a proven, disciplined 5-step methodology. That gives me the confidence to invest wisely.
What do you wish someone told you when you were starting out?
That's it's okay, and perfectly normal, to have losing trades. You obviously want to minimize them, but it's inevitable that not all your trades will be winners. The key is to learn how to detect the signs that a stock is breaking down so you can minimize your loss.
How should young women get a start with investing?
What should they be investing in? If your company offers a 401k plan, jump on it and invest the maximum amount allowed. Companies often match your investment, which is basically free money. You won't miss the small amount that's taken out of your paycheck pre-tax, and you'll be amazed at how quickly it compounds. If your company doesn't have a 401K plan, start investing in an IRA that takes a small amount (5-7 percent) out of your paycheck automatically. Any investment platform should be able to help you set that up.
What is your biggest challenge today?
Information overload. There's an abundance of financial information bombarding us via TV, 24-hour news cycles, emails, texts, etc. It's important to have a disciplined methodology to follow so you can tune out the noise.
What is your biggest obstacle to hitting that buy or sell button?
I honestly don't have an obstacle, other than having a finite amount of money to invest! I've overcome my fear of loss, and I invest with a disciplined methodology that takes the emotion out of the decision-making, and I have hard and fast rules I follow for what stocks to buy and when, and what to avoid… including rules for when I sell. As I said earlier, investing is not as complicated as many would like you to believe! But it's important to get in the game… to become a fearless investor and take control of your financial future.
Posted-In: Benzinga Women's Wealth Forum Chaikin Analytics Sandy ChaikinFintech Top Stories Interview Best of Benzinga
View Comments and Join the Discussion!