A Deep Dive On The May IMX's Most Bought And Sold Stocks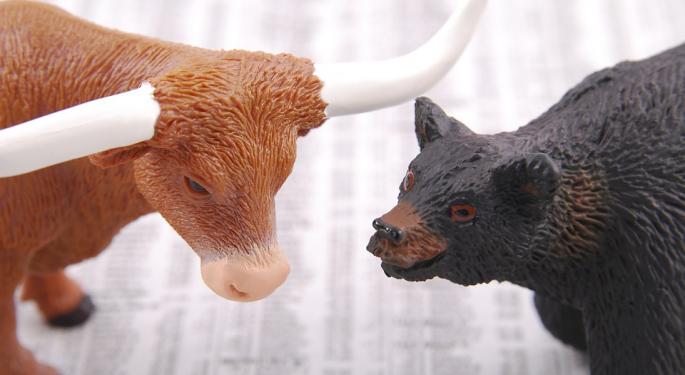 Earlier this month, TD Ameritrade Holding Corp. (NASDAQ: AMTD) released its Investor Movement Index data for the month of May.
The release revealed a trend among TD Ameritrade customers toward buying stocks with strong quarterly revenue results and taking profit in several stocks that crested recent highs over the month.
For an in-depth look at the report and how the month's most bought and sold actually fared going into June, read on for analysis of each of the major stocks mentioned in TD Ameritrade's May IMX report.
Stocks Most Bought in May
Apple Inc. (NYSE: AAPL) hit an all-time high at $156.10 on May 11. The company's first-quarter earnings report showed a beat on projected EPS and a slight miss on projected revenue.
Facebook Inc (NASDAQ: FB)hit an all-time high at $152.79 on May 1, with the social media company's stock hitting the $152 handle again on May 25. George Soros' 13F showed an increased stake in Facebook, which came 12 days after a positive first-quarter earnings report.
Ford Motor Company (NYSE: F) hit its high point of the month on May 1 at $11.41. CEO Mark Fields stepped down from his position and was replaced by Steelcase CEO Jim Hackett.
Tesla Inc (NASDAQ: TSLA) hit its high on May 30 at $341.01. Although the safety of the company's cars has been called into question, Tesla continues to ride a rally into June.
AT&T Inc. (NYSE: T)'s trend was similar to Facebook, as the company's highest point of the month came May 1 at $38.95. AT&T's first-quarter earnings report showed a miss in EPS and revenue, and this may have led to the company's steady decline to the $37 handle near the end of the month.
Verizon Communications Inc.(NYSE: VZ) hit $46.69 on May 4.
Stocks Most Sold In May
Whole Foods Market, Inc. (NASDAQ: WFM) started off May at $36.68, hit $37.03 on May 10, then fell to $35.21 by the end of the month. Some sell-side ratings showed a price target around $35.
AMC Entertainment Holdings Inc. (NYSE: AMC) traded at its highest level in May on the first day of month at $30.05, but by the end of the month the stock was trading around $23.45. This after a positive earnings report on May 8 that showed an 80 percent beat on AMC's estimated EPS.
Citigroup Inc. (NYSE: C) hit its highest point of the month on May 15 when it traded at $62.49.
Newell Brands Inc. (NYSE: NWL) hit $53.46 on May 10, after spiking up over $5 in three days. The company reported a deal to sell a winter sports unit for $240 million on May 26.
Bristol Myers Squibb Co. (NYSE: BMY) started the month right below $56 and finished at $54.53. On May 13, the company announced a Clinical Collaboration to Evaluate ADXS-DUAL and Opdivo with Advaxis.
American Airlines Group Inc. (NASDAQ: AAL) traded up over 11 percent during the month. Warren Buffett's Berkshire Hathaway's 13F on May 15 showed an increase stake in the airline company.
Related links:
The Unflinching Rise Of Amazon's Stock Price Begs 3 Questions
View Comments and Join the Discussion!
Posted-In: Investor Movement Index TD Ameritrade IMX The Ticker TapePsychology Markets General Best of Benzinga