How to Plan for an Inheritance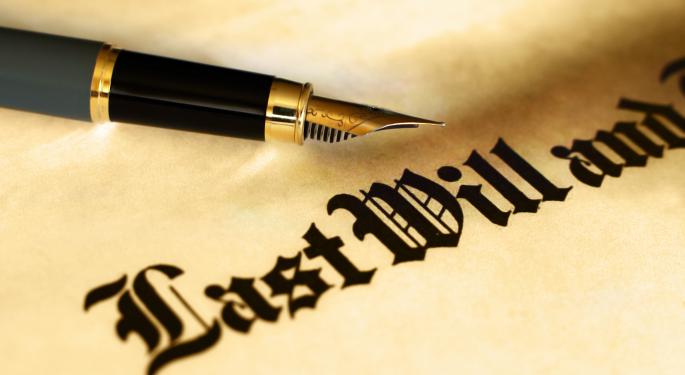 While Benzinga mostly covers actionable trading ideas and news stories, we've decided to delve a bit deeper into personal finance.
The team at Benzinga would like to assist readers with not just their investing endeavors, but their financial lives as a whole. And today, we continue this effort with information on how to plan for an inheritance.
According to a 2011 study by the Center for Retirement Research at Boston College, two-thirds of baby boomers will likely receive an inheritance. In total, they're expected to receive about $8.4 trillion, with the median inheritance at $64,000. That's more than a year's salary for the average person, so they'll want to be sure not to overlook this important financial development in their lives.
How should you plan for an inheritance?
Don't Count on It
According to the Wall Street Journal, many baby boomers' parents are living longer and spending their savings along the way. And, a growing number boomers are tapping into their own savings to help their parents make ends meet, as notes the Wall Street Journal. Throw in the market meltdown of 2008 and that once-large inheritance may have dwindled to little or nothing.
In other words, think of a potential inheritance as a bonus versus something you plan your future finances around.
Have "The Talk"
No, not that talk. But, you should talk to your parents about their intentions while they're still alive.
If you anticipate an inheritance, discussing it now can prevent family feuds and other hassles later. Ask them if they have a will or trust. Note that a will, according to Bankrate.com, will suffice for property that doesn't need to be probated – property to which your parents have a clear title.
Bankrate.com recommends urging them to establish a trust in other cases, citing tax-advantages and the ability to forego probate among other benefits to doing so.
Having this talk can be very uncomfortable for all involved. One helpful suggestion Bankrate.com offers is to draw up your own will and ask for advice from your parents. Use this as a bridge to a conversation about their will.
Consult a Financial Professional
When your inheritance is imminent, sit down with a financial professional to discuss how you'll handle it. You should at least have a ballpark estimate of how much you'll receive and may need advice on where to park it.
Ideally, find someone who works on a fee basis, since commission-based "financial advisors" get paid to sell products you often don't need.
Keep Your Job – For Now
Even if you inherit an overwhelming sum, don't hastily quit your job. Let the dust settle and only say sayonara if you are absolutely certain you can retire comfortably. After all, how awful would it be to have to leave that beach house in Hawaii to head back to your small apartment and office job in Chicago?
Posted-In: Center for Retirement Research at Boston CollegePsychology Topics Personal Finance General Best of Benzinga
View Comments and Join the Discussion!