Which Presidential Candidate Is Better For Restaurants?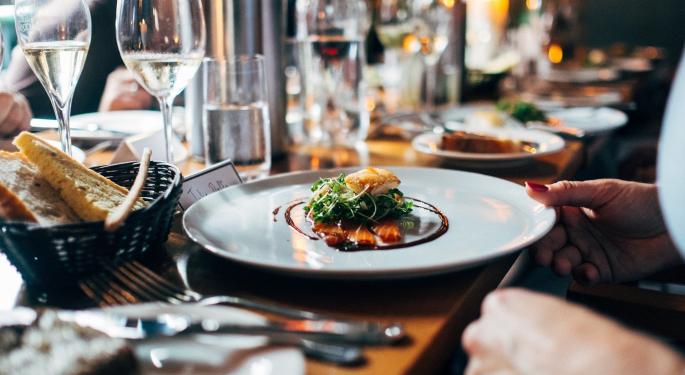 The U.S. presidential election is underway and the two candidates have opposing opinions on shutdowns affecting the restaurant industry.
Biden On Shutdowns: When asked recently by presidential debate host Kristen Welker if has "ruled out more shutdowns," Biden responded: "oh, well, no. I'm not shutting down today, but there are ... look, you need standards."
Biden specifically called out bars as an industry that will be subject to a shutdown if the reproduction rate of the novel coronavirus is above a certain level.
"Slow up. More social distancing. Do not open bars and do not open gymnasiums. Do not open until you get this under control, under more control," Biden said.
It is not clear if Biden is also referring to resto-bars like Brinker International, Inc. (NYSE: EAT), the parent company of Applebee's Grill + Bar.
It is reasonable to assume that a Biden administration would support a shutdown of restaurants for public health reasons. This stems from his broader position that the economy can't be fixed "until you fix the COVID crisis."
Related Link: Brinker International's CEO On Restaurant Outlook: 'We Don't See A National Problem'
Trump On Shutdowns: Trump — despite contracting and being hospitalized with the disease himself — has consistently opposed business shutodwns.
After returning from Walter Reed hospital, the president tweeted: "don't be afraid of Covid. Don't let it dominate your life."
During a debate, he said: "We have to open our country. I've said it often, the cure cannot be worse than the problem itself, and that's what's happening."
Trump highlighted New York City as an example of what happens when the local economy is either forced to shutdown or invest in expensive health and safety measures like plexiglass.
"Putting up plexiglas is unbelievably expensive. And it's not the answer. You're going to sit there in a cubicle wrapped around with plastic? These are businesses that are dying, Joe. You can't do that to people."
Many New Yorkers took to Twitter to debunk the president's comments.
The executive director of the NYC Hospitality Alliance recently said the city's restaurants remain in a tough spot.
"Although outdoor dining has been overwhelmingly successful, the city's restaurant industry is still on life support and its survival depends on safely expanding indoor dining occupancy to 50% soon," Andrew Rigie said in an Oct. 15 statement.
Stimulus Measures For Restaurants: The NYC Hospitality Alliance's Rigie also said in his statement the Trump administration needs to act "immediately" and pass the Restaurants Act.
Hundreds of restaurants are closing their doors as they await legislative action, Sean Kennedy, a spokesman for the National Restaurant Association, said in a statement obtained by Restaurant Business.
"If the White House and Congress are going to stop work on a comprehensive plan, it will be a failure if they cannot at least reach agreement on the basics."
House Speaker Nancy Pelosi is credited with introducing a new $2.2-trillion relief bill that "includes new funding needed to avert catastrophe" for restaurants and other struggling sectors.
View Comments and Join the Discussion!
Posted-In: 2020 presidential election Coronavirus Donald TrumpPolitics Restaurants Small Cap Media General Best of Benzinga