Investors Seem To Love Populist Leaders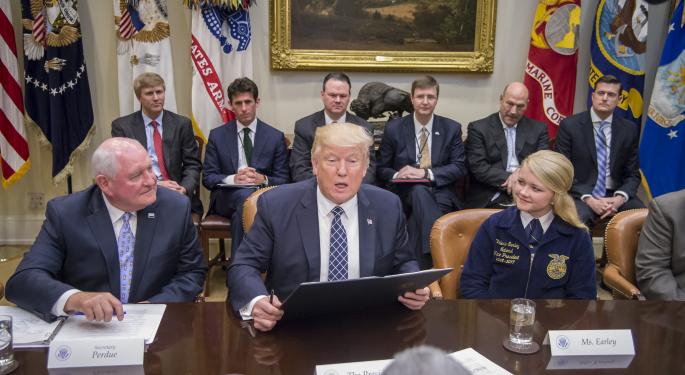 Many Wall Street analysts predicted stocks would fall if Donald Trump, a populist candidate, emerged victorious over Hillary Clinton in the 2016 presidential race.
Analysts who predicted doom and gloom for equities under a Trump presidency may have overlooked one key fact: Populist leaders, like Trump, are great for stakes. According to a Bloomberg report, within three years of appointing a populist leader to lead a country, the local equities market soared on average 155 percent within three years.
More importantly, the populist-inspired rally could last as long as a decade after the election in countries such as Brazil, Russian, Poland, Egypt and India.
Satyan Mehta, a money manager at Neon Liberty Capital Management, was credited with the research behind the findings. He told Bloomberg that populist leaders boost stock prices by overseeing a short-term stimulus program even at the expense of the national debt level.
Of particular note, left-wing populists created a 221-percent return in the three years after their election while right-wing populists oversaw a 122-percent gain.
But Mehta also noted near-term stimulus programs, in reality, turn out to be "more benign than initially feared."
Most People Are Richer Under Trump
Gadfly's Stephen Gandel highlighted the fact that the "Trump rally" has created more than $2 trillion in market cap since the election, $984 billion of which has been created after Inauguration Day.
Even companies that have felt the wrath of Trump during the election race soared higher. For example, Trump once said that Apple Inc. (NASDAQ: AAPL) needs to "start building their damn computers and things" in the United States and even called for a boycott of the company.
Investors shrugged this off to the point where the stock is the top performer in the Dow Jones Industrial Average.
Needless to say, even Trump's harshest critics "may have a hard time quibbling" with the reality that most investors are better off today than they were ahead of the election.
Related Links:
Cramer: Negative Nancys 'Just Got It Plain Wrong'
One Of The Top Ranked Financial Advisers Thinks Stocks Can Rise 50% - But Don't Call It A 'Trump Rally'
________
Image Credit: By U.S. Department of Agriculture - 20170425-OSEC-PJK-0647, Public Domain, via Wikimedia Commons
Posted-In: Donald Trump Populism PopulistPolitics Markets Media General Best of Benzinga
View Comments and Join the Discussion!