If Trump Plans To Pivot From Healthcare To Tax Reform, He May Want To Tell Congress...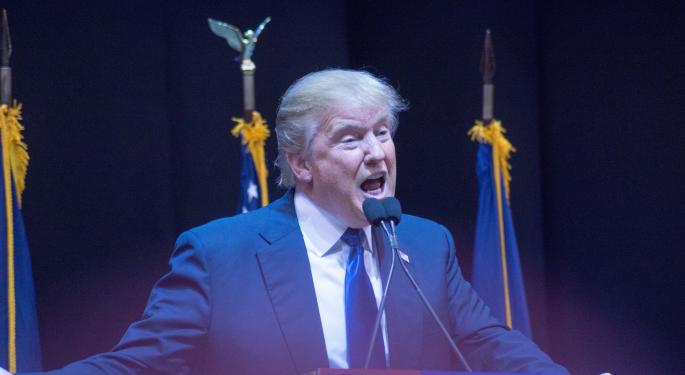 Following a major defeat on healthcare last week, President Donald Trump initially said the administration now plans to move on from healthcare to address tax reform. However, House Speaker Paul Ryan and even Trump himself have since indicated they will continue to push for a healthcare deal.
'We're Not Going To [...] Abandon Healthcare'
"We're not going to just all of a sudden abandon health care and move on to the rest," Ryan said this week. "We are going to move on with the rest of our agenda, keep that on track, while we work the health care problem."
House Freedom Caucus member Dave Brat revealed that Republicans are still meeting this week to discuss ways to move forward on healthcare.
At a bipartisan reception this week, Trump told senators he has "no doubt" Congress would agree on a healthcare solution "very quickly."
"I think it's going to happen because we've all been promising — Democrat, Republican — we've all been promising that to the American people," Trump said.
Trump Statements Misconstrued?
White House Press Secretary Sean Spicer later clarified that Trump's remarks at the reception that a healthcare solution would be an "easy one" were intended to be a "lighthearted moment."
Investors trying to predict the notoriously unpredictable Trump's next move are certainly not laughing.
Height Securities says the chances Republicans recover quickly on healthcare and pass a Plan B option anytime soon are extremely low.
"The Trump Administration has a few tools to let the ACA 'fold' including choosing not to enforce the individual mandate or even dropping a pending subsidies lawsuit," the firm wrote.
"We continue to think it's unlikely Democrats will want to rush to help Trump under any scenario, whose plummeting approval numbers are exactly what the Dems wish to see continue indefinitely."
Who Suffers?
In the meantime, investors are left in the dark about the fate of ACA repeal, tax reform, infrastructure spending and other Trump campaign promises. In the past month, the SPDR S&P 500 ETF Trust (NYSE: SPY), the Health Care SPDR (ETF) (NYSE: XLV) and the Financial Select Sector SPDR Fund (NYSE: XLF) have all given up some of their "Trump Rally" gains. The iShares S&P Global Infrastructure Index (NASDAQ: IGF) has been unfazed by the chaotic climate in Washington, gaining another 3.7 percent in March.
Related Links:
ACA Repeal Efforts May Be 'Dead For Now'
The 'Swamp' Drains Trump: Where Tax And Healthcare Reform Stand Now
_______
Image Credit: By Marc Nozell from Merrimack, New Hampshire, USA (Donald Trump) [CC BY 2.0 (http://creativecommons.org/licenses/by/2.0)], via Wikimedia Commons
Posted-In: Donald Trump Height Capital obamacareHealth Care Politics Top Stories Markets General Best of Benzinga
View Comments and Join the Discussion!