Here's How The U.S. Government Can Pay For Trump's $1 Trillion Infrastructure Plan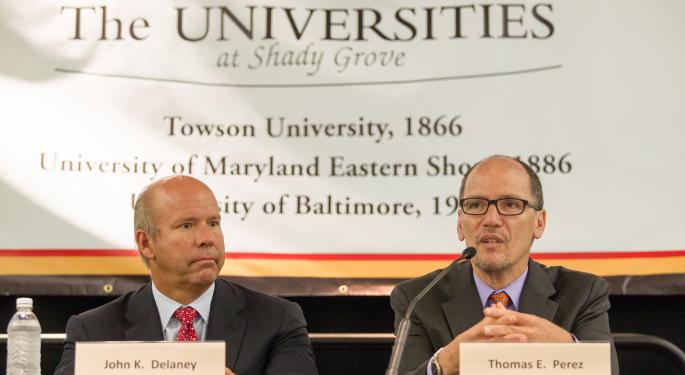 President Donald Trump's infrastructure investment has a reported $1 trillion price tag attached. Needless to say, this is a huge endeavor, and Congressman John Delaney has an interesting plan for how the government can foot the bill.
Delaney (D–Maryland) also holds the title of being the only member of Congress who was once the CEO of a publicly trading company. He was recently a guest on Tucker Carlson's news-talk show to discuss his plan.
Delaney explained that the current $1 trillion infrastructure program is funded by around $170 billion of government money and the remainder comes from third party funding, state contributions and borrowings.
International Tax Reform
He continued that the $170 billion portion can be realized through an international tax reform. Specifically, U.S. companies are sitting on more than $2.5 trillion in overseas cash due to the current tax system, which discourages repatriation of the cash.
Companies can keep the cash overseas and not be charged any tax rate, but Delaney's proposal is calling for lowering the tax rate. Doing so would bring back around half of the approximate $2.5 trillion sitting overseas, which will conveniently generate an immediate $170 billion — the amount Trump would need to come up with to fund the infrastructure plan.
Delaney also emphasized the fact that his proposal could create 10 million jobs and already has strong bi-partisan support across both sides of the aisle.
Meanwhile, Delaney's plan will also give companies access to their cash which can now be invested in the United States in new factories, jobs creation or even dividends to shareholders.
Related Link: Pro: 4 Stocks Could Benefit From Trump's Infrastructure Plan
Related Link: Analyst Sees Increased Odds Of A 'Scaled Back' Version Of Tax Reform By End Of 2018
____
Image Credit: By US Department of Labor - L-14-08-28-A.114, Public Domain, via Wikimedia Commons
Posted-In: Donald TrumpPolitics Topics Legal Economics Federal Reserve Media General Best of Benzinga
View Comments and Join the Discussion!