Fannie And Freddie Were 'Illegally Robbed' By Obamacare, Infowars Claims In New Report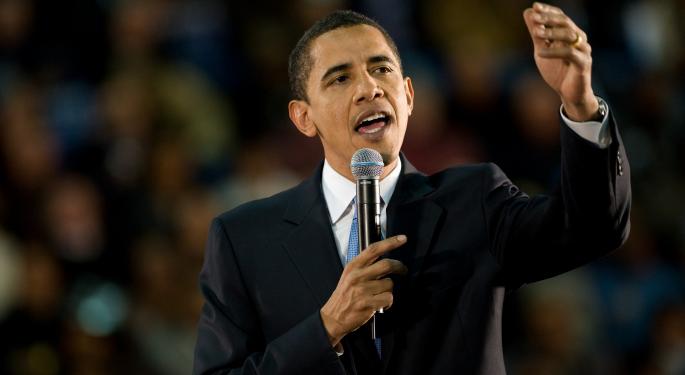 It has been a difficult month for investors of Federal National Mortgage Assctn Fnni Me (OTC: FNMA) and Federal Home Loan Mortgage Corp (OTC: FMCC) investors.
Shares of both Fannie Mae and Freddie Mac are down more than 32 percent in the past month after an appeals court upheld a ruling against shareholders challenging the illegality of the terms of the government's conservatorship. Specifically, shareholders believe the government's net-worth sweep of 100 percent of Fannie and Freddie's profits is unconstitutional.
Typical Argument
Infowars on Monday presented a summary of the typical argument that Fannie and Freddie shareholders hoped would earn them a favorable court ruling.
During the mortgage crisis, Fannie and Freddie got caught with $1.5 trillion in mortgage debt on their books and required a $185 billion bailout from the government. As part of the bailout deal, the GSEs were placed under conservatorship. The U.S. Treasury was issued warrants to purchase 79.9 percent of Fannie and Freddie's common shares for a "nominal" price of $0.00001 per share.
Related Link: Buffett: Fannie And Freddie Aren't Needed
The two GSEs also issued the Treasury $1 billion in preferred shares with an annual dividend yield of 10 percent. Neither were profitable from 2008 to 2011, so they were forced to issue even more preferred shares to the Treasury to pay their dividends. Fannie and Freddie finally returned to profitability in 2012 and were able to pay dividends out of their own income for the first time.
Unfortunately for Fannie and Freddie common stock shareholders, the Treasury made an amendment to the terms of the agreement shortly thereafter.
Starting in 2012, Fannie and Freddie were forced to pay 100 percent of their net income to the Treasury in what was called a "net-worth sweep," leaving the two GSEs' common shares essentially worthless.
Unconstitutional?
Infowars, which has earned a reputation for absurd and often comically critical headlines concerning President Obama, argues that the government's modification of the original terms of Fannie and Freddie's bailout agreement in 2012 was unconstitutional.
Unfortunately for Fannie and Freddie investors, two courts have now disagreed with that conclusion.
Infowars alleges the Obama administration created the net worth sweep to help fund Affordable Care Act health insurance subsidies that would otherwise be underfunded.
A Congressional Budget Office (CBO) report linked in the story clarifies that the previous administration considered inflows from Fannie and Freddie to be "outside of the federal government for budgetary purposes" because those funds were not taxpayer-generated. In that respect, the administration claims it needed no Congressional approval to appropriate the funds.
Infowars suggests the administration illegally routed these funds directly into Obamacare subsidies, but shareholder attorneys have so far failed to convince two different courts that they have a viable case.
At this point, shareholders' final chance at getting the net worth sweep struck down in court likely means convincing the U.S. Supreme Court to disagree with the rulings of the district court and the appeals court. Of course, if President Donald Trump and Treasury Secretary Steven Mnuchin decide to re-capitalize Fannie and Freddie and turn control back over to shareholders, investors may not even need the courts to see some major upside.
View Comments and Join the Discussion!
Posted-In: fannie mae freddie mac InfowarsPolitics Economics Media General Best of Benzinga