The Truth Of The Trump Effect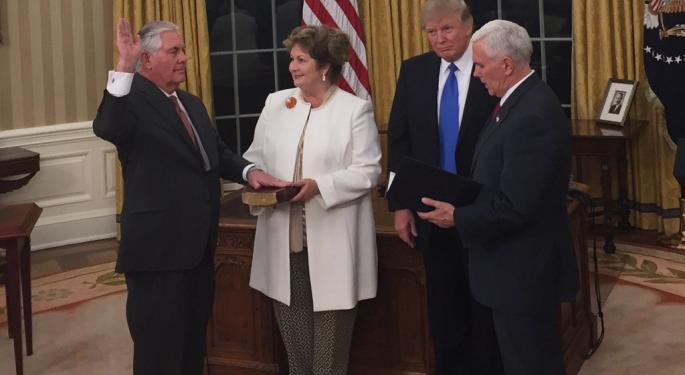 The market-moving prowess of the new Commander-in-Chief's Twitter Inc (NYSE: TWTR) account has become a running point of intrigue among many traders. While the actual gains investors might make off of President Trump's itchy Twitter finger is an open question, Evan Schnidman of Prattle may have some valuable insight on which of Trump's social media missives may be worth traders' time.
Schnidman paid a visit on Thursday's edition of Benzinga's PreMarket Prep Morning show to discuss Prattle's sentiment breakdown of the comments from the Federal Reserve meeting on Wednesday as well as how Prattle's textual analysis technology has tracked the market reaction from Trump's business mentions.
Growth And Uncertainty
Overall, Shnidman felt the climate coming out of the meeting was not much changed from the prior meetings, although sentiment was lower than anticipated. Nevertheless, he summed up the Fed's decision as matching the pattern of "raise the growth forecast, hold the rates." He elaborated, "That seems to be the story in the developed world and the U.S. is no different."
However, he did signal that the rate of growth has diminished since the end of 2016. In part, Schnidman said, this is due to a dawning sense of uncertainty about what might be in store for U.S. markets as Trump policies begin rolling off the beltway. "There's a little bit of let's hold our breath and just wait for what we don't know what is going to happen with the new administration," he said.
The Trump Effect?
While the country attempts to read tea leaves to predict Trump's next move as president, Schnidman was able to share some privileged insight that revealed there might be something to trading off of POTUS's words, just not the way you might think.
While Boeing Co (NYSE: BA), Lockheed Martin Corporation (NYSE: LMT) and General Motors Company (NYSE: GM) might be the companies that spring to mind when a trader thinks of the Trump effect, Schnidman said Prattle interpreted otherwise. "One of the things we've found is that despite a lot of the media coverage saying he tweeted about this company and their stock price tanked," Schnidman began, "the statistical relevance to that is a lot less than one might think when he's mentioning companies."
In reality, Trump's business ties might be the real source of the president's market influence. "When Trump tweets about Rex Tillerson," Shnidman explained, "Exxon Mobil Corporation (NYSE: XOM) stock price goes up. So, the tie between his mention and the individual company pricing might be a little bit looser than we all thought, but his tie between his mention of individual personnel and stock pricing seems to be quite tight."
To learn more, Prattle published a short article on the actual correlation between Trump and the market. Additionally, Schnidman revealed that Prattle is set to release a new product to the platform that tracks earnings calls and historical reactions for every publicly traded U.S. company.
Tune in at the 16:25-minute mark in the track below to listen to the full conversation.
PreMarket Prep is a daily trading ideas show that focuses on technical analysis and actionable short term trades. You can listen to the show live every morning from 8–9 ET here, or catch the podcast here.
Image Credit: By Office of the President of the United States (https://twitter.com/VP/) [Public domain], via Wikimedia Commons
Posted-In: Politics Topics Top Stories Markets Tech Media Interview General Best of Benzinga
View Comments and Join the Discussion!