Dish Network Calling The Election For Clinton, Based On Cable TV Viewership Stats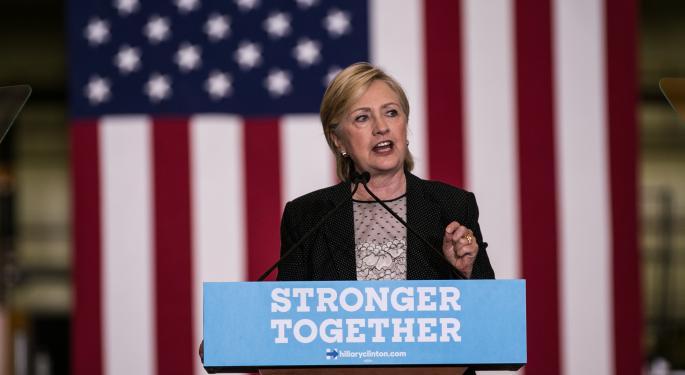 Hillary Clinton will gain control of the White House and the Republican party will maintain control of the House, at least according to Dish Network (NASDAQ: DISH).
Dish announced the results of its "Viewers to Voters," which is a predictive model that analyzes the potential outcome of the U.S. presidential race.
Dish collected viewership data from millions of set top-boxes across the U.S. and identified the relationship between the shows which Dish's customers watched in 2014 with the state-by-state outcomes of the 2014 House selection. The data also factored in variables including what kind of programming was viewed, such as sports, movies, education and series/specials.
Dish customers who watched more sports, religious or familiar-oriented programming were more likely to vote Republican while customers who enjoy education or music-oriented series were more likely to vote for Democrats.
The model concluded that Clinton's presidency will have to operate with a Republican House, which will win 245 to 190.
"With so much focus around national polling, we thought it'd be interesting to see if we could find a correlation between how our customers interact with DISH and how they may vote," said Warren Schlichting, DISH Executive Vice President of Media Sales, Marketing and Programming. "We recognize that our call on the distribution of seats in the House may be an outlier. Yet when we tested the model against 2014 House elections, we found that we were able to predict the outcome at a 98 percent reliability point."
Dish's methodology appears to not factor in online streaming activity. For example, the Trump campaign has been hosting an online-only live TV show on Facebook Live and his rallies are routinely broadcast as well.
By contrast, CNBC noted that an artificial intelligence system that accurately predicted the outcome of the last three presidential election says Trump will win the race. MogIA factors in 20 million data points including social media posts and engagement.
"If Trump loses, it will defy the data trend for the first time in the last 12 years since Internet engagement began in full earnest," the system's founder Sanjiv Rai told CNBC.
Investors looking to build the ultimate election-proof portfolio could consider some of these investment ideas.
Posted-In: dish Dish Network Donald Trump Hillary Clinton US ElectionPolitics General Best of Benzinga
View Comments and Join the Discussion!