JPMorgan Chase & Co., Other Financial Stocks Strong During Market Retreat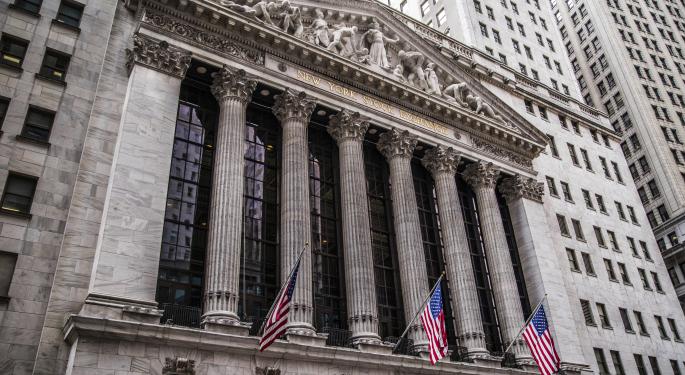 When one sector is getting the beats, more often than not the money flowing out is going into another. It has been an unique characteristic of this market that even on down days, one can still find some green on the screen.
During Monday's session, many investors were dumping the momentum stocks and putting their money to work into the financials. Adam Jonas of Morgan Stanley got things started with his cautious comments on Tesla Motors Inc; the selling then spilled over into Facebook Inc., Twitter Inc., LinkedIn Corp, Netflix, Inc., Chipotle Mexican Grill, Inc. and Priceline Group Inc.
Recent high-flyer Apple Inc. finished unchanged after opening at its highs for the session before drifting lower for the remainder of the session. Profit-takers may have come into Apple as it approached its all-time high.
Related Link: Morgan Stanley Puts Brakes On Tesla Motors Inc Rally
The recent rally in Yahoo! Inc. ahead of the Alibaba Group IPO has taken the issue back to levels not seen since December 2000.
Finding A Home In Financials
While these stocks were on the decline, financials such as Goldman Sachs Group Inc. (NYSE: GS), Morgan Stanley (NYSE: MS) and JPMorgan Chase & Co. (NYSE: JPM) chugged higher (including multi-year highs for Goldman Sachs and Morgan Stanley). Interestingly, these three issues had shown relative strength over the last few weeks as the market stagnated and then retreated from its all-time highs.
Goldman Sachs Leads The Way
Goldman Sachs finally revisited levels not seen since April 2010 when it peaked at $186.41. Despite delivering solid first quarter earnings in April, it went nowhere for the next two months. Then in late June it attempted to break out from the $166.00 level when it rallied to $170.00. The rally faded, however, and the issue was back under the former break out at $163.00 ahead of second quarter earnings.
Goldman Sachs on July 15 beat the Street once again and after posting over a $.2.00 gain that day, it has not looked back. It reached $184.40 in Monday's session and retreated to end the session at $183.98 -- its highest closing price since August 2009. There could be more upside for the issue as its all-time high stands at $260.78.
Morgan Stanley Follows Suit
The rally in Morgan Stanley shares has been slow and steady. After recovering from its financial crisis low ($6.71) in October 2008, it rallied to the $35.00 level one year later, but faded back down to $12.00 level and consolidated between $12.00 and $21.00 for nearly a year.
Since breaking out from the top of the range, it has been a slow and steady rally to the $35.00 level. Beating the Street estimates in seven of the last eight quarters has attracted value players that ignored the issue from 2009 through mid-2013.
The issue is poised to have its first close over $35.00 since August 2008 (at time of publication, it was trading at $35.16). It still remains quite a distance from its all-time high made in September 2000 ($91.31).
JPMorgan Revisits $60.00
JPMorgan is back flirting with the $60.00 level. Although it did reach the $61.00 level March and April, its only earnings miss in the last eight quarters instigated a sharp selloff to the $53.00 level in May. It quickly regained its footing and is now attempting to post its first close over $60.00 since April 2.
For investors, looking for continued upside in JPMorgan, the all-time-high stands from March 2000 ($67.17).
Post-Earnings Drift Higher
For now, the post-earnings move for all of these issues is clearly to the upside. With limited analyst's coverage of these issues, it is unlikely the Street will gang up on the sector with a slew of downgrades. Investors may want to enjoy the rally in these issues in anticipation of continuation of the positive earnings trend.
Posted-In: Adam Jonas Morgan StanleyTechnicals Movers & Shakers Top Stories Intraday Update Trading Ideas General Best of Benzinga
View Comments and Join the Discussion!