Is The Market Still Playing Defense?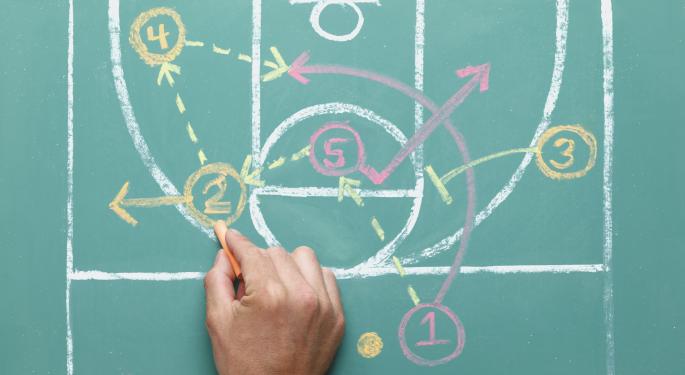 Although some of the momentum stocks are attempting to bounce in Monday's session, the majority of the green in the market is concentrated in one area: defensive stocks.
The relief rally in the momentum stocks (mo-mo's or no-no's based on last week's action) comes after several days of huge losses. Most likely, shorts are anxious to book some profits after racking up losses for a sustained period of time.
The morning rally in Netflix (NASDAQ: NFLX) shares, which have fallen nearly 120 points from an all-time high ($458.00), was instigated by an Oppenheimer upgrade from Perform to Outperform.
After finding support just above Friday's close ($337.31) at $337.50, NFLX rebounded to $348.19.
However, NFLX has given back the majority of its gains and has retreated to the $342.00 level. Expect this kind of action to continue in the momentum stocks, as there are plenty of the "buy the dippers" that are sitting on huge losses; the trading strategy that worked so well for so long may be coming to an end.
Related: Michael Lewis Is Right: The Market Is Rigged, To The Upside
Other popular momentum stocks such as Tesla (NASDAQ: TSLA) and LinkedIn (NASDAQ: LNKD) have faded from morning highs; in the case for LNKD, it has breached its low from Friday before recovering slightly.
While the money has been flowing out of the momentum stocks, it has been flowing into defensive stocks. It's as if the big boys have said enough is enough after the market's historic run, and it is now time to play some defense.
Perhaps they are taking the same approach to the markets that applies to sports. Sometimes the best offense is a good defense.
Defensive issues are up across the board. Leading the charge is Clorox (NYSE: CLX), trading higher by $1.35 at $89.83 in Monday's session. Meanwhile, other well-known stocks in this sector are trading as well.
Procter & Gamble (NYSE: PG) shares are trading higher by $0.78 at $80.55 in Monday's session and is quietly attempting to clear the major resistance at the $80.60 level. Johnson & Johnson (NYSE: JNJ), which matched its all-time high from $99.38, reaching $99.36, has retreated to the 98 handle, but is still in line to post a new all-time closing high above Friday's close ($98.42).
Hershey (NYSE: HSY) shares are trading higher by $0.70 at $103.67 in Monday's session. HSY, which has retreated from its all-time high of $108.69, has established support at the $102.50 and may be poised to rebound to the $105.50 level.
Finally, popular defensive stocks such Coca-Cola (NYSE: KO) and PepsiCo (NYSE: PEP) are posting solid gains in a predominantly red tape. PEP is attempting to breach the major resistance at the $83.20 level and may not find resistance until its January 10 high ($83.99).
What can be learned from this type of market action other than the fact that investors are still planning to clean their homes, wash their clothes, take showers, drink soda and eat chocolate? That investors may want to follow the lead of the "big" (and perhaps "smart") money and align their portfolio in a more defensive posture.
Posted-In: Technicals Movers & Shakers Intraday Update Trading Ideas General Best of Benzinga
View Comments and Join the Discussion!