Automotive Suppliers To Benefit From New Car Demand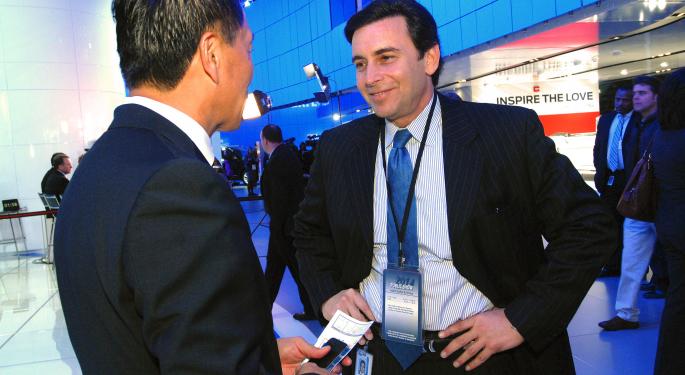 With automobile sales returning to pre-recession levels in the US and showing signs of a turnaround in Europe, shares of automotive suppliers may benefit.
Despite disappointing January sales figures from Ford (NYSE: F) and General Motors (NYSE: GM), both companies are taking steps to ramp up production to meet future demand.
Keep in mind, one of the coldest months of January in decades may have hindered consumers in their search for a new vehicle. Especially in some of the larger regions in the East and Midwest, which are some of the automakers largest markets.
Along these lines, many deliveries of new vehicles were delayed due to weather and with February being just as frigid, this short-term negative trend may continue.
However, eventually the pent-up demand will be met and vehicle sales will continue to increase throughout the spring and summer. With an an aging vehicle population and newer, more efficient models being available, the auto industry is poised to prosper in 2014.
In order to make new cars, parts are needed. Therefore, automotive suppliers should benefit.
See also: Kelley Blue Book Weighs In On Rising Vehicle Inventories In Detroit
from increased sales. Let's examine three candidates in this sector and evaluate the potential for growth in 2014.
The big gun in the sector, based on market capitalization is BorgWarner (NYSE: BWA). The company which focuses on developing technologies that improve fuel economy, emissions and performance posted a stellar 56 percent gain in 2013, rising $35.81 to $55.91 at year end.
BorgWarner, which got off to a quick start in 2014, making a new all time high $57.29, declined along with the overall market to the $51 level and has since rebounded to $55.00. Baird currently has an Outperform rating on the stock and a Street high price target of $67.00.
With the strategic acquisition of Gustav Wahler, a producer of exhaust gas recirculation valves and tubes as well as thermostats, BorgWarner will benefit from both a technology and geography standpoint. With locations in Germany, Brazil and the United States, the company will be in a good position to accommodate increased demand for its products overseas.
Next on the list, TRW Automotive (NYSE: TRW), the maker of integrated safety systems, had a good performance in 2013 as well. The issue rallied from $53.61 to $74.39 for nearly a 40 percent gain. So far in 2014, the issue has traded as low as $68.72, but has returned the mid-seventies, five points shy of its all time high of $80.22.
RBC Capital, which initiated coverage of TRW in October with an Outperform rating, currently has a Street high price target of $88 for the company. Also, Morgan Stanley analyst Adam Jonas maintains an Overweight rating on the company. Jonas cited the company's European operations as "leveraged coil and ready to spring." Although management remains cautious on a European recovery, when it does come, it is likely to be a considerable boost to earnings per share.
Finally, with automobiles become more and more equipped with electronics, there will be opportunities for faster growth as TRW as unveils new technologies.
The last of the large automotive suppliers is Lear Corporation (NYSE: LEA). The leading global supplier of automotive seating and electrical power management systems, posted the best performance of the trio in 2013 rallying from $46.84 to $80.97 at year.end.
So far in 2014, Lear dipped to $71.57 in early February, but has recovered to the $76 level. Nearly nine points from its all time high of $83.72 made last December.
Not bad for a company that filed for bankruptcy in July of 2009. The fallout from the curtailed production at General Motors and Chrysler forced the company into this drastic step. The reorganization was quickly approved by a majority of its creditors and enabled the company to resume trading by November of that same year. Since emerging from bankruptcy at $31.50, the shares have gained 140 percent.
LEA missed Wall Street estimates by $0.04 last quarter but earnings per share were up five percent, sales increased by 15 percent and revenues were better than expected at $4.26 billion vs. $4.05 billion.
JP Morgan is one Wall Street firm that covers the issue and reiterated its buy rating in late October and raised it price target from $88.00 to $91.00. Deutsche Bank maintains a Hold rating on the company and raised its price target for the issue from $83.00 to a Street high $94.00 in mid-December.
Once again, expectations for modest growth in North America and Europe car sales may be conservative and pent up demand may be the catalyst needed to boost sales volumes for the company. A dramatic increase in the number of lease terminations, which usually leads to new vehicle sales/leases may provide another catalyst.
There is one common theme amongst the aforementioned auto suppliers that cannot be ignored, the need for increased car demand in North America and Europe. As Ford and General Motors have identified the need for more supply, they have revamped their production efforts to meet the upcoming perceived demand.
In turn, these three automotive suppliers have positioned themselves to capitalize on the increased need for its products when it comes to fruition.
Posted-In: Chrysler Detroit Ford General MotorsMovers & Shakers Economics Markets General Best of Benzinga
View Comments and Join the Discussion!