Which Sector Produced 8 Of The 10 Top Percentage Gainers In 2014?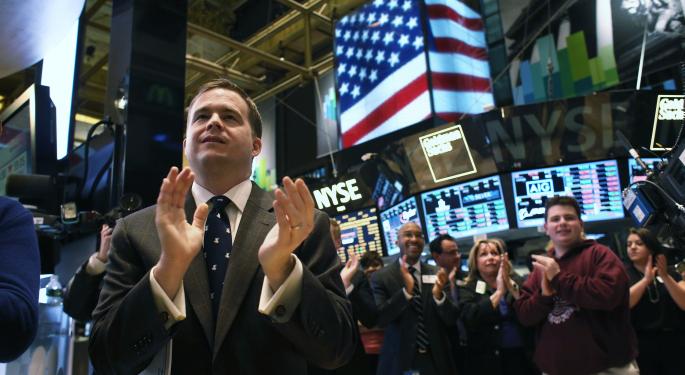 With January effect not producing the most promising results for the overall market, one sector that did was the pharma sector.
So far this year, this sector has produced eight of the top ten percentage gainers.
The sector, primarily known for producing big winners and big losers, has rewarded investors that did their homework and were willing to accept the huge risks associated with owning these issues.
Let's examine the top three gainers of 2014, all from the pharma sector.
Topping the list with an incredible 450 percent gain is Intercept Pharmaceuticals (NASDAQ: ICPT). After ending 2013 at $68.28, Intercept skyrocketed to $497 in the next seven trading sessions, retreated to $235 and now changes hands around $360.
Following the announcement that the FLINT trial of obeticholic acid had been stopped early and the the NASH primary endpoint had been met, Intercept rallied from its January 8 close ($72.39) to $275.87 the following day.
This significant breakthrough in the development and commercialization of novel therapeutics to treat chronic liver diseases was enough to ignite a buying frenzy on Wall Street.
The surge gained more momentum the next day as the Wall Street analyst jumped on the bandwagon. Citigroup, Oppenheimer and Bank of America reiterated support on issue and all raised price targets substantially. Bank of America topped all Wall Street estimates with its price target projection of $872.00.
The herd mentality pushed Intercept shares to nearly $500, reaching $497 before profit taking ensued and nearly erased of the prior two days of gains in the next two trading sessions. After stabilizing at the $250 level, the issue has rallied in much more orderly fashion to its current level of $360.
Its future price direction will most likely be determined by future revelations from the company about upcoming results of its drug trials.
Next on the list, posting a 160 percent gain, rallying from $42.01 to its current price of $108.28 is Furiex Pharmaceuticals (NASDAQ: FURX).
Once again, it was the announcement of top-line results indicating that the company's two pivotal Phase III clinical trials evaluating the efficacy and safety of Eluxadloine in the treatment of diarrhea predominant irritable bowel syndrome (BS-d) had met their primary endpoints provided the catalyst.
See also: Another Obamacare Delay For Small Businesses, But Not For Individuals
After the news release on February 4, Furiex leaped from its previous day close ($45.97) to ($105.69). Without additional banter from Wall Street analysts, the issue has been unable to match its all time high ($121.97), but has maintained all of its gain following the its announcement. Since its massive price increase, only Ladenburg Thalmann has commented on the issue, maintaining their buy rating and raising their price target from $57 to $137.
Perhaps the Street is taking a more and "wait and see" approach with this issue as its due to release Q4 earnings on March 11. With their new drug not yet on the market, the company may need to produce solid earnings from its current stable of drugs to keep the upward momentum going.
NewLink Genetics (NASDAQ: NLNK) rounds out the top three. After ending 2013 at $22.01, the issue has jumped 90 percent to $41.50,
While the two aforementioned issues spiked higher after favorable news release, NewLink has been on steady march.
The company, which is developing immunotherapies that unleash the innate strength of the human body to fight cancer has focused on both immune stimulation as well as blocking tumor immune suppression for patients treatment success.
Their pipeline includes HyperAcute immunotherapies that stimulate the stimulate the immune system to to target and destroy cancer cells as well as pathway inhibitors that suppress the mechanisms by which tumors evade immune-mediated destruction.
Other HyperAcute candidates are being studied in drug trials in pancreatic cancer and non-small cell lung cancer.
Stifel Nicolaus has been the only Wall Street firm to comment on the issue as of late. On January 22, the firm maintained their buy rating and raised their price target from $31 to $53.
With the ever-increasing number of people being stricken with some form of cancer, it is not hard to understand the enthusiasm for an issue attempting to produce new treatments.
So far, these three issues have been your top gainers for 2014. For investors already in these issues or looking to invest in them, pay close to attention to further trial or development announcements as they will likely determine their future price movement.
View Comments and Join the Discussion!
Posted-In: Bank of America Citigroup GainersTechnicals Movers & Shakers Success Stories Trading Ideas General Best of Benzinga