The Trump Paradox: Strongholds Of Support In States Most Likely To Feel The Pain Of His Policies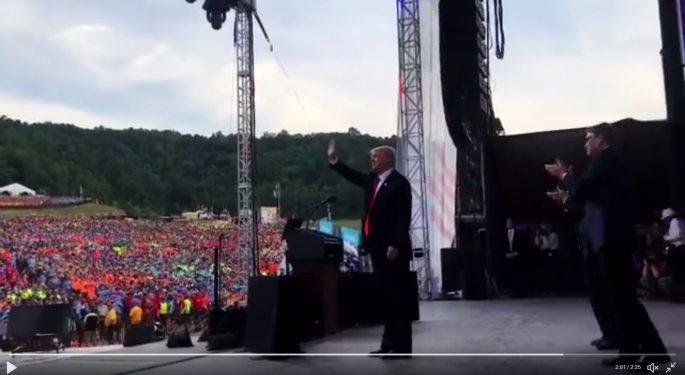 President Donald Trump rarely misses a chance to shout out his affection for ruby-red states such as West Virginia, where his support borders on the worshipful even though his national approval ratings are at historic lows.
"There's a lot of love in this big, beautiful place. And a lot of love for our country," he told Boy Scouts assembled Monday for their annual summit, in the state that gave him his largest margin of victory.
But, as the old song goes, you always hurt the one you love.
It's nothing less than ironic that the states where the president still has strongholds are states that are most on the dole to the federal government.
And, a set of studies show, they would be the states most likely to suffer if the U.S. Senate passes the GOP health care bill in its present form. It would shift more of the Medicaid burden to the states and counties least able to pay for it.
Take West Virginia, Please
Trump has an approval rating of 60 percent in West Virginia, the highest in the land, and a land where the president's national rating plunged to 36 percent in the latest Washington Post/ABC News poll, an all-time record.
Using a statistical model that factored in the dependence of both state's government and its residents on federal tax dollars and grants, WalletHub listed West Virginia as the fifth-most dependent, trailing only other Trump strongholds such as Kentucky, Mississippi, New Mexico and Alabama.
Statista, using state breakdowns gathered by Gallup, created an anti-electoral map of sorts showing the 17 states in which Trump still enjoys a job approval rating of 50 percent or higher.
Of those 17 states, 13 are in the top half all U.S. states for their total dependency on the federal government.
The Trump Paradox
When comparing red and blue states on a scale of 1 to 100, with the high score being the most dependent, blue states scored an average of 20.10 while red states averaged 33.65.
As Statista put it, "It's not looking good overall for the president, but it seems he will always be able to rely on support from certain quarters."
Yes, Santa Claus, there is a West Virginia.
Taylor Cox contributed to this story.
Related Links:
How Trump Has Alienated The World
Biggest Reasons Trump's Detractors Don't Like Him? He's Ill-Tempered, Arrogant And Obnoxious
Is Trump's Foreign Policy Belligerence A Diversion From A Stalled Agenda?
_______
Image Credit: still from President Donald Trump's Twitter video recapturing the Boy Scout Jamboree July 24, 2017.
Posted-In: ABC News Donald TrumpHealth Care Futures Politics Top Stories Markets General Best of Benzinga
View Comments and Join the Discussion!