The American Dream In One Minute: 'Shark Tank' Casts A Net For Entrepreneurs In Detroit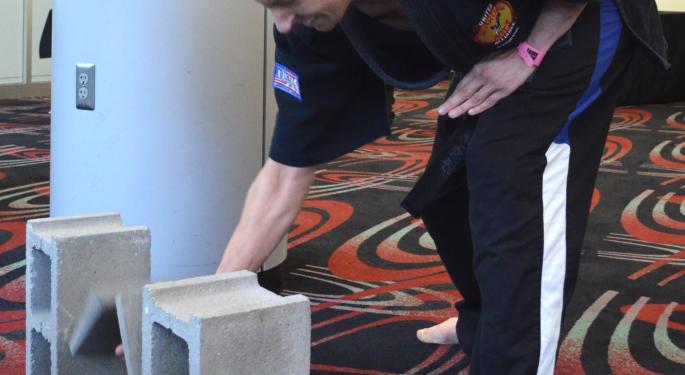 Adam Lux took a step back Friday during his business pitch and — WHACK! — chopped a piece of concrete in half with his bare hand.
The woman he was pitching, Jackie Kreterfield, looked nervous for a moment, but Lux's karate chop isn't that unusual of a sight in her job.
Kreterfield is a casting associate for the ABC reality TV show "Shark Tank," and Lux was selling her on the idea of a $100,000 investment in his Shelby Township, Michigan, martial arts studio, which he hopes to franchise.
Lux, 31, said he could use the capital to add staff, marketing and organization to his one-man business, D-Lux Karate. Nine out of 10 martial arts studios close within the first year, he said.
"Most people get hit [and] they want to quit."
About 200 people arrived Friday morning on Detroit's West Side for a "Shark Tank" casting call, and they traveled from as far as Houston and Sacramento to make their one-minute presentation. Some slept in line outside the venue — Focus: HOPE, a nonprofit civil and human rights organization.
The casting calls are step one for entrepreneurs who want to compete for capital on "Shark Tank" before celebrity investors such as Kevin O'Leary, Mark Cuban and Lori Greiner.
O'Leary is appearing at the 2017 Benzinga Global Fintech Awards on May 11 in New York City.
The A-Ha! Moment
The pitch meetings at the Detroit casting call were relaxed and friendly: More "Dolphin Tank" than "Shark Tank."
When casting supervisor Mindy Zemrack asked "The Wading Room" full of entrepreneurs how many were from outside Michigan, about half raised their hands.
Contestants are only contacted with good news. "You're going to go home, keep your fingers and toes crossed [and wait to hear from us] within two weeks," Zemrack said. She told the entrepreneurs to "back that ask up" when they make a pitch, typically for a cash investment in exchange for an equity stake in the business.
The ninth season of "Shark Tank" will be shot in Los Angeles in June and September, and premiere in the fall.
Zemrack told Benzinga she's been with the show since its inception. During initial casting calls, casting staff are more concerned with seeing and hearing clear ideas for a business or product — and passion — than with numbers.
The casting calls are inspiring displays of entrepreneurs pursuing the American dream to the best of their ability, Zemrack said.
"What's your 'a-ha!' moment?" she said. "They all have one."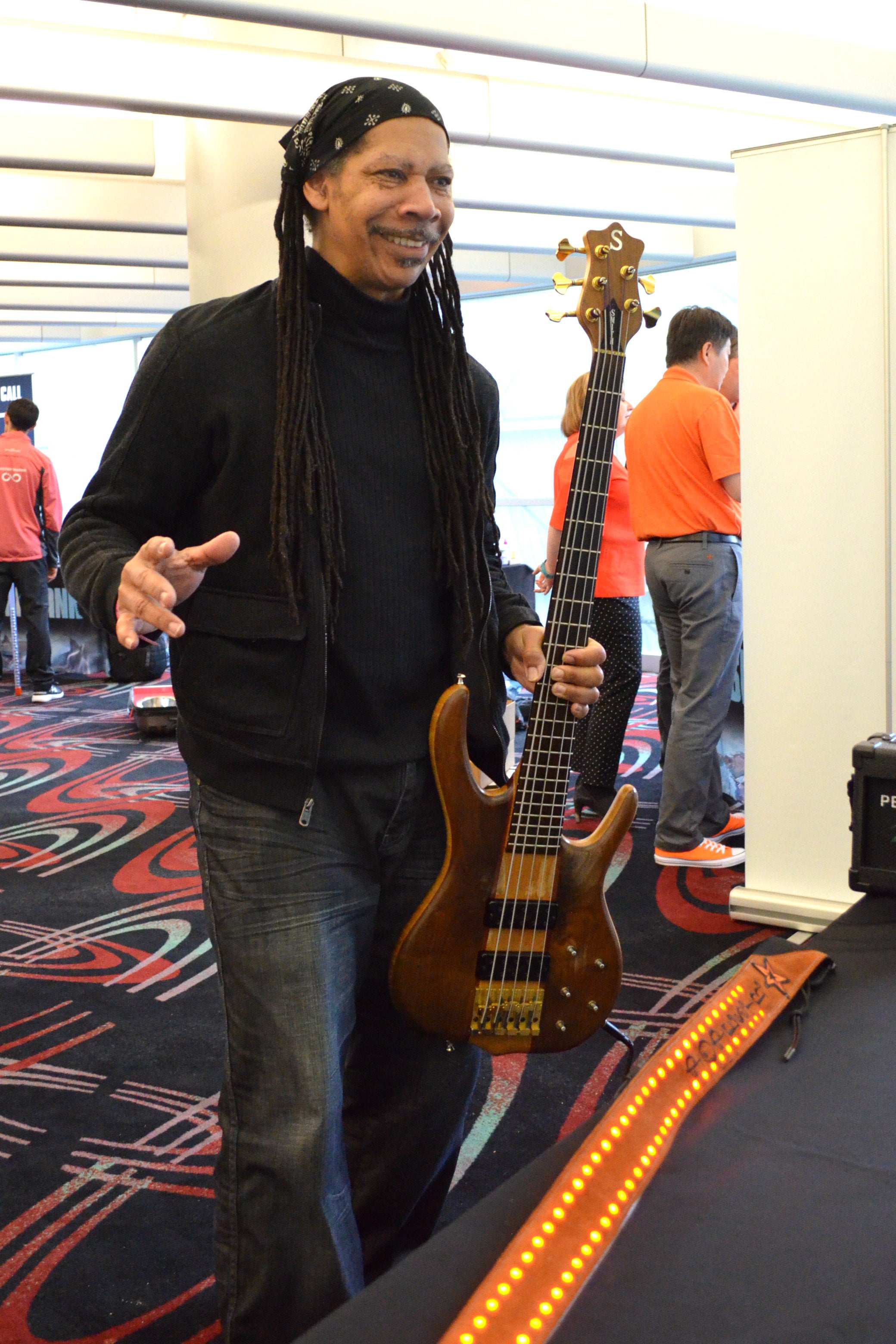 Derek Charles Washington, of Auburn Hills, Michigan, pitches Hershey Petty of "Shark Tank" for a $300,000 investment and 20 percent equity stake in his electronic guitar strap business. Photo by Dustin Blitchok
Inventions Made With Creativity, Compassion
Sisters Jenny Brown and Becca Smither came to pitch for a $75,000 investment and 20 percent stake in their nonprofit, Dutton Farm Market, to "Shark Tank."
The Rochester, Michigan, residents make handcrafted natural health and beauty products. Smither has Down syndrome, and her sister said the business is designed to create employment for adults with disabilities and mental illness.
Ninety (90) percent of Michigan adults with a disability are unemployed, Brown said.
"I really believe adults with disabilities can enter into the workforce in a positive way," she said.
Smither has respiratory issues as a result of Down syndrome, and the weather in Detroit was 40 degrees and rainy Friday. When the two were waiting in line, a man gave up his spot so Smither wouldn't have to wait in line outdoors, Brown said.
Derek Charles Washington, who's known as DC, brought his patent-pending invention with him: an electronic guitar strap that changes colors and intensity in response to music.
"If you sing louder or harder, it gets brighter," said Washington, of Auburn Hills, Michigan, who plays bass in several bands and works as a robotics instructor by day.
Detroiter Beatrice Amasiani and her daughter, Brittany Turner, presented a prototype of "Love Hug," their concept for a solar-powered, weatherproof memorial for a friend or family member who has died. The idea, Amasiani said, is to provide a "personalized life expression of a lost loved one" that can be displayed in lieu of the weather-worn memorial displays with teddy bears, balloons and flowers that are often seen on city street corners.
The prototype that the mother and daughter brought Friday is a memorial for Maria Wright, Turner's best friend, who died of cancer at 18.
The Love Hug includes an etched likeness of the deceased and a written message about them. Amasiani holds a 20-year utility patent on the invention.
"It gives a face to the memorials you see out on the street," she said.
Story image: Adam Lux, 31, of Shelby Township, Michigan, karate chops concrete during his "Shark Tank" pitch Friday. Photo by Dustin Blitchok
Related Links:
Kevin O'Leary Talks The 'Buffett Curse' And Why Apple Would Be Foolish To Buy Netflix
Mark Cuban Will Buy Snap On The IPO, If He Can: 'It Can Be A Big Company'
View Comments and Join the Discussion!
Posted-In: News Entrepreneurship Events Top Stories Startups Exclusives Media General Best of Benzinga