The Top 21 African-American CEOs In Business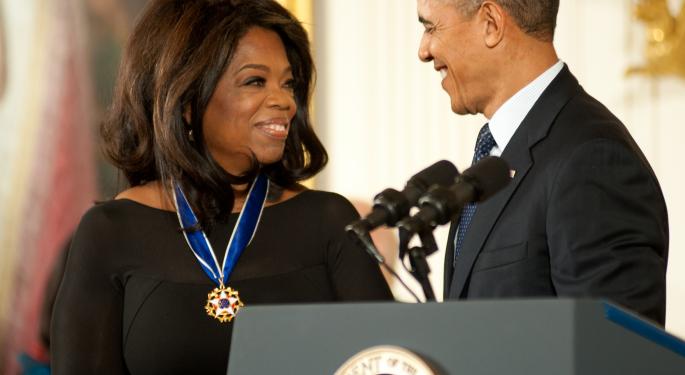 In 2013, Benzinga identified nearly two dozen of the top African-American heads of big-name firms, despite an overall lack of representation in the higher levels of business.
Over the course of the last year, many have seen their companies continue to grow.
The black CEOs on the list come from all corners of the country and lead public and private companies across all sectors of the economy -- from fast-food and financial management to television and sports, including one big name that was previously overlooked.
Click through to see which CEOs are making an impact, and learn more about their company, background and education.
Oprah Winfrey, Oprah Winfrey Network

Once told that she would never be fit for presence on TV, Oprah has created a niche in the daily lives of millions of people and has spun gold from her success.

She currently sits as the CEO of the Oprah Winfrey Network, a joint venture between her former Harpo Productions and Discovery Communications (NASDAQ: DISCA).

With a personal estimated net worth of $2.8 billion, Oprah landed herself on the cover of Forbes magazine in September 2012 with Bill Gates and Warren Buffett.

Clarence Otis, Jr., Darden Restaurants

Darden Restaurants (NYSE: DRI) is one of the nation's largest restaurateurs.

With a rank of #342 in the Fortune 500 and 2012 revenues of $7.99 billion, the Otis-led company owns Olive Garden, Red Lobster, LongHorn Steakhouse and other chains, employing over 178,000 people as of 2011.

Otis became CEO in 2004. He earned a scholarship into Williams College in Massachusetts, where he majored in Economics and Political Science. He graduated magna cum laude in 1977. Otis then moved on to Stanford University Law School in California, earning his Law degree in 1980.

Joseph B. Anderson, TAG Holdings, LLC

A former General Motors executive, Anderson is the CEO of the Troy, Michigan-based TAG Holdings.

The company's subsidiaries include Korean and Chinese plumbing ceramics makers, automobile wheel-assembly suppliers and warehouse services. TAG produced revenues of over $700 million as recently as 2010.

Ulysses Bridgeman, Bridgeman Foods

Jan Adams, JMA Solutions

Jan Adams founded JMA in 2005 following 24 years of service in the U.S. Air Force. Her vision has fueled JMA's growth into the #125 ranking in the 2012 Inc. Magazine 5000, including the top ranking in Washington, D.C.

The company provides financial management, IT services, systems and concept engineering and program management to the federal government.

William Bailey, Rapier Solutions

William Bailey is a former veteran who founded Rapier in 2002.

The Rapier management team is composed of former military officers, men and women with broad IT backgrounds within the federal government.

The IT company is based in Matthews, North Carolina and landed a spot at #139 in the 2012 Inc. Magazine 5000 rankings. Revenues in 2011 totaled $3.6 million.

Ursula M. Burns, Xerox

The document management giant is run by Ursula Burns, who became the first woman to head a Fortune 500 company in 2009.

Xerox's (NYSE: XRX) 2012 revenues were $22.39 billion and its Fortune 500 ranking stands at #127.

Kenneth Chenault, American Express

Chenault has been the CEO of American Express (NYSE: AXP) since 2001, becoming just the third African-American CEO of a Fortune 500 company.

The Long Island native has led the company through unprecedented growth, with 2012 revenues totaling $33.80 billion. Chenault heads over 63,000 employees.

Roger W. Ferguson, Jr., TIAA-CREF

The former Vice Chairman of the Board of Governors of the Federal Reserve System, Roger Ferguson is a Washington, D.C. native who took over as CEO of retirement provider TIAA-CREF in 2008. TIAA-CREF is ranked #88 in the Fortune 500.

Ferguson served as chairman of the Group of 30 study group that published "Toward Effective Governance of Financial Institutions." The study made several recommendations to enhance governance of financial institutions, including recommendations for management, boards of directors, supervisors and shareholders.

Earvin 'Magic' Johnson, Magic Johnson Enterprises

Magic is one of the true success stories of an athlete succeeding after stepping away from the game.

Highlighted by his $50 million stake in the purchase of the Los Angeles Dodgers in 2012, Johnson's eponymous enterprise owns a series of movie theaters, restaurants and health clubs across the country.

More recently, the company has gotten involved in real estate development. The company's 2012 worth totaled $700 million.

Kenneth C. Frazier, Merck & Co.

Ronald Hall, Sr., Bridgewater Interiors

Janice Bryant Howroyd, ACT-1 Group

Howroyd is the founder and CEO of ACT-1. She previously worked at Billboard, who became ACT-1's first client.

The North Carolina-native runs a billion-dollar specialized staffing company that is now the nation's largest woman- and minority-owned employment-services company in the United States.

Robert L. Johnson, The RLJ Companies

Johnson was the former head of BET before being sold to Viacom (NASDAQ: VIAB) in 2001.

Serving as CEO of BET until 2006, Johnson then founded The RLJ Companies, an asset management firm with an inkling for discovering undiscovered or undeserved markets.

Johnson's private equity real funds have over $2 billion in combined assets and nearly $4 billion in additional purchasing power. In July 2007, Johnson was named by USA Today as one of the 25 most influential business leaders of the past 25 years.

Kamoru Lawal, CAMAC International

Lawal runs CAMAC International, a major oil and gas company involved in exploration, development and production, founded in 1986.

The Nigerian-born, American-raised CEO of CAMAC has operations in Nigeria and China. The company's annual revenue in 2010 totaled $1.5 billion.

Don Thompson, McDonald's

Thompson became the CEO of McDonald's (NYSE: MCD) in 2012, a former electric engineer who first started at the fast-food giant designing robotic equipment and control circuits for transport and cooking, respectively.

He was previously a fighter jet maker at Northrop Grumman. In 2012, McDonald's revenues were $27.6 billion and the company was ranked #107 in the Fortune 500.

Alex & Feysan Lodde, MV Transporation

The Fairfield, California-based company led by the husband-and-wife team of Alex and Feysan Lodde is the nation's largest privately held passenger-transportation contracting firm.

Established in 1975, MV Transportation's revenue crossed the $700 million mark in 2010. The company employs more than 17,000 workers and operates more than 190 paratransit, fixed-route, shuttle and Medicaid contracts.

Harold F. Mills, ZeroChaos

Mills leads the Orlando-based company that brought in annual sales of $700 million in 2010. ZeroChaos is a contractor for employers, offering professional payrolling, risk management and private label sourcing, among other services.

Mills was previously an executive at Ameritech. He's earned Entrepreneur of the Year recognition from Ernst & Young, as well as been named one of Orlando's Most Influential Businessmen by the Orlando Business Journal.

Jim Reynolds, Loop Capital

Reynolds Chicago-based international investment banking and brokerage firm has grown by leaps and bounds since being founded in 1997, becoming the sixth largest municipal underwriter in the country.

Reynolds holds a Masters of Management in Finance from Northwestern University's Kellogg Graduate School of Management and a Bachelor of Arts in Political Science from the University of Wisconsin, La Crosse. He holds series 7, 24, 53 and 63 licenses.

David L. Steward, World Wide Technology

World Wide Technology offers a variety of technology products and financial services. Founded in 1990, the Maryland Heights, Missouri-based firm $4.1 billion revenue is one of the largest African-American owned companies in the U.S.

Steward holds a bachelor's degree in business management from Central Missouri State University. He was also awarded Honorary Doctorates of Humane Letters by Harris Stowe State University and Lindenwood University.

Shawn "Jay-Z" Carter, Roc Nation

Jay-Z has parlayed his enormously successful rap career into the business world. He is co-creator of the clothing line Rocawear, co-founder of Roc-A-Fella Records and the founder of Roc Nation, an entertainment company.

Most recently, he founded the sports agency Roc Nation Sports and is a certified NBA and MLB sports agent. His estimated net worth is over $500 million.

Related Links
View Comments and Join the Discussion!
Posted-In: ACT-1 Group Alex & Feysan Lodde American Express Bridgeman FoodsEntrepreneurship Management Success Stories General Best of Benzinga