How Crowdfunding Will Change Wall Street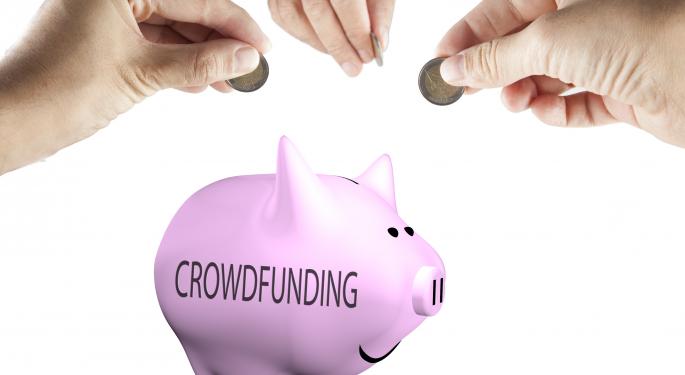 Crowdfunding is often associated with tech startups. But could it have the power to change Wall Street?
Todd Lippiatt, the Managing Principal at Aristone Realty Capital, spent 10 years on Wall Street. Part of his tenure was spent at Credit Suisse, where he served as the VP of Adjustable Mortgage Trading. He also served as the VP Head of Adjustable Rate Mortgage Trading at Morgan Stanley.
Now, in addition to his duties at Aristone, Lippiatt has launched a new crowdfunding website -- Propellr.com.
"We realized very quickly that in the crowdfunding space there weren't investment professionals participating," said Lippiatt. "We've talked to a number of different platforms and we were very frustrated by the seeming lack of due diligence. It seems like a lot of these companies were formulated by serial tech entrepreneurs that know a lot about Internet marketing. But I don't think a lot of them know, even to this day, that they're actually in the finance business."
Lippiatt said that most of these entrepreneurs erroneously believe that they are running a different kind of dating website. Some of the members have money -- others need money, so many tech entrepreneurs assume they should get together and talk.
Related: Former Merrill Lynch Chairman: Investors Still Question Wall Street's Credibility
"I think that model works for certain asset classes," said Lippiatt. "I don't think it works for investment crowdfunding. There's a whole lot of sophisticated product out there that isn't readily accessible to most people. I believe while there is some wisdom in the crowd, there's a fair amount of experience that would go into evaluating some investments that are being brought forth."
With Propellr, Lippiatt plans to curate a number of real estate products.
"We're looking at adding on a number of new verticals with other issuers and asset managers with similar types of skill sets to put the expertise back in it and give the power back to the people to control their own sort of investment destiny," Lippiatt added.
Changing Wall Street
Lippiatt's "big thesis" for Wall Street is that he wants to "disintermediate a non-transparent market."
To the extent that people want to take control of their own investments (and be less reliant on all the intermediation that exists), Lippiatt thinks that crowdfunding will be "tremendously successful" at changing Wall Street.
"I think it's going to take some education and I think people are going to end up trusting the credible types of platforms that actually deal with clients in a professional, fiduciary type of way," said Lippiatt.
Related: Gary Kaminsky Returns to Wall Street to "Break Some Glass"
"You're already seeing some of the downsizing on Wall Street as things become a little more automated and they're not allowed to take nearly as much risk as they used to. Wall Street is going to move away from providing this type of product and I think that this type of product will grow in the crowdfunding sphere. I think you get participation from most of the alternative investment managers -- eventually."
Best Places For Real Estate
Aristone maintains a specific geographic concentration, but the firm is currently looking at other markets.
"Any place that was really torn apart by 2008 -- so we look at Vegas, South Florida, Arizona -- we're seeing a lot more deals come out of those areas," said Lippiatt. "But quite frankly the areas that we concentrate in -- [such as] Los Angeles and New York -- we've seen prices hit absolute new highs with no sign of slowing down."
This is especially true in New York's residential market.
"The note that we keep reminding ourselves around here is if New York ever stops building for two years consecutively, buy every piece of property you can," Lippiatt advised. "There's pent up demand for housing that wasn't replaced, so you had this real lack of product entering the market to satiate what is sort of a persistent demand."
Disclosure: At the time of this writing, Louis Bedigian had no position in the equities mentioned in this report.
Posted-In: Aristone Realty Capital Credit Suisse Morgan StanleyEntrepreneurship Startups Personal Finance Interview General Best of Benzinga
View Comments and Join the Discussion!