Coronavirus Update: 60% Of Americans Say College Campuses Should Reopen in Fall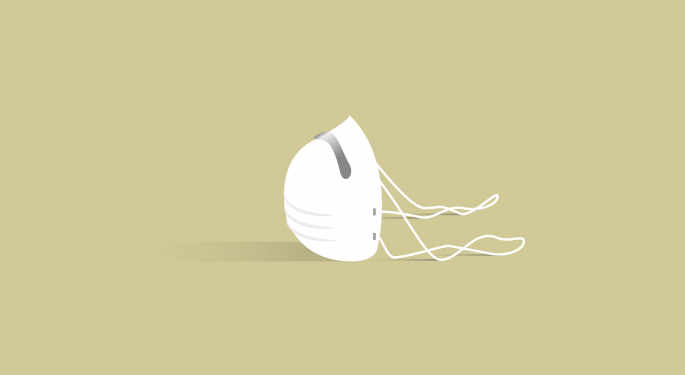 Ready or not, the fall semester begins in three months for America's college students. Amid fears of community spread of coronavirus, it's worth asking: should college campuses return to full capacity?
It isn't hard to see why a vaccine might play a role in campuses fully reopening. Last week, our survey found 61% of Americans plan on getting the novel coronavirus vaccine when it becomes available to the general public.
Benzinga has released nationally sampled consumer sentiment survey data. In all, our study surveyed over 1,000 U.S. adults aged 18 or older on if college campuses should reopen in the fall and how many Americans are wearing masks in public.
We've detailed some of the highlights from this week's study below.
Benzinga is covering every angle of how the coronavirus affects the financial world. For daily updates, sign up for our coronavirus newsletter.
Key Findings from the Study
Higher Education
Do you think colleges should reopen campuses in the fall?
Yes: 60.6%
No: 39.4%
*Survey sample size: N=1,029
In March, college campuses across the United States were shuttered amid shelter-in-place orders implemented by state and local governments.
Will fall 2020 be time enough to reopen America's higher learning institutions? Our survey shows 60.6% of Americans believe college campuses should reopen in the fall.
With students taking to the internet for classes this spring, it should come as little surprise the COVID-19 pandemic is altering how students and parents perceive higher education.
Telecommuting
Did you know about the video chat app Zoom before the coronavirus pandemic?
Yes: 47.4%
No: 52.6%
*Survey sample size: N=834
Telecommuting and distance education are becoming more common as businesses and schools practice social distancing. Our weekly data study reveals a majority of Americans, 52.6%, had not heard of the video communications software company Zoom before the pandemic started.
Founded in 2011, Zoom has become a hot tech company among traders. Zoom Video Communications Inc. (NASDAQ: ZM) is trading up nearly 100% since Feb. 28.
Face Coverings In Wide Use
Over the past week, have you worn a mask in public?
Yes: 79.4%
No: 20.6%
*Survey sample size: N=790
How are Americans warming up to the idea of wearing masks when outside their homes? Our results demonstrate that a majority are following CDC guidelines on wearing a face covering in public.
79.4% of American adults responded "yes" when we asked whether or not they've worn a mask in public within the past week.
Make no mistake, when it comes to staying healthy during the coronavirus pandemic, we all have to do our part to avoid spreading the virus.
Survey Methodology
This study was conducted by Benzinga between May 31 and June 1 and included the responses of a diverse population of American adults 18 or older. The study reflects the results from over 1,000 American adults on their thoughts and views pertaining to the coronavirus pandemic.
Please contact henrykhederian@benzinga.com with questions or to schedule a phone or video interview with our team.
View Comments and Join the Discussion!
Posted-In: college CoronavirusEducation Health Care Psychology Topics Crowdsourcing General Best of Benzinga