This Day In Market History: Howard Hughes Flies Government-Commissioned Spruce Goose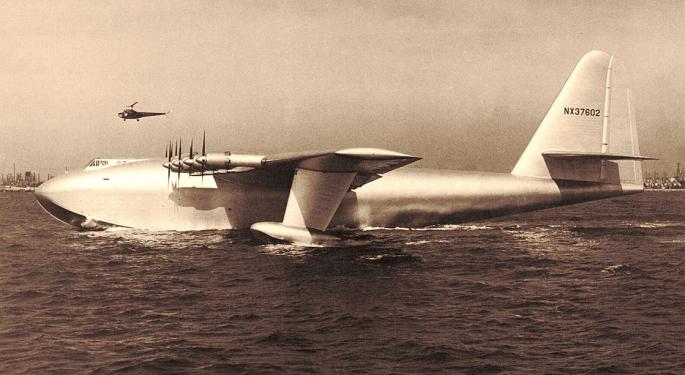 Each day, Benzinga takes a look back at a notable market-related moment that occurred on this date.
What Happened
On Nov. 2, 1947, Howard Hughes test-flew his Spruce Goose — a wooden aircraft with a 320-foot wingspan that was developed to transport more than 700 troops during World War II.
Where The Market Was
The S&P 500 traded around 15.03, and the Dow Jones Industrial Average traded around 1,960.48.
What Else Was Going On In The World
The United Nations was prepping the Partition Plan for Palestine, which proposed the division of Palestine into Arab and Jewish states. Later in the week, "Meet The Press" would air its first segment on NBC.
Spruce Goose Takes Flight
The U.S. government commissioned Hughes to design the world's largest aircraft to aid in military operations during the Second World War. The $23-million project began in 1941 and was not actually completed until after the war in 1946.
At the request of Congress, Hughes demonstrated the boat-plane's flight capabilities in a 1947 test over Long Beach Harbor, California. The birch and spruce plane — creatively crafted amid war-time steel restrictions — flew one mile, 70 feet above the water.
The plane was never mass-produced, and critics said its wooden frame would not endure long flights.
Today, government demands continue to drive innovation in the private sector through contracts with other military suppliers, including Lockheed Martin Corporation (NYSE: LMT) and Boeing Co (NYSE: CO).
Related Links:
This Day In Market History, Nov. 1: Microsoft, Intel Become First Nasdaq Stocks To Join The Dow
This Day In Market History, Oct. 30: Disney Buys Star Wars, Indiana Jones Franchises
Public domain photo via Wikimedia.
View Comments and Join the Discussion!
Posted-In: Howard HughesEducation General Best of Benzinga