The Most Searched Questions About Jeff Bezos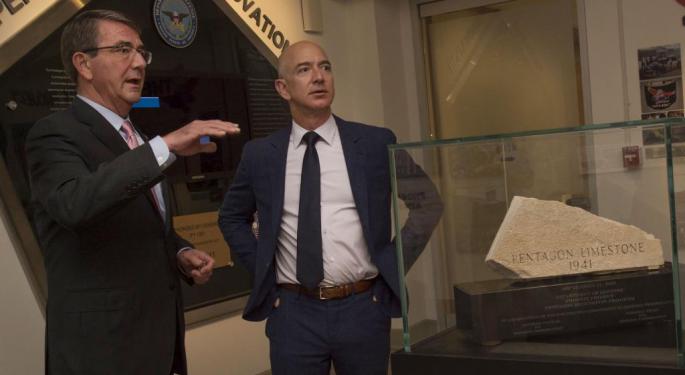 Alphabet, Inc. (NASDAQ: GOOG) (NASDAQ: GOOGL) subsidiary Google is the gold standard of internet search and the primary destination for Americans with questions about just about anything. Amazon.com, Inc. (NASDAQ: AMZN) CEO Jeff Bezos is the world's richest man, so it's understandable that Google users would have plenty of questions about Bezos.
Benzinga recently used the Google autocomplete feature to get a feel for exactly what people are asking about Bezos.
Biggest Bezos Questions
Understandably, most of the results have to do with his $150 billion fortune.
For example, by typing "What does Jeff Bezos…" Google makes the following suggestions:
"...do?"
"...drive?"
"...make?"
"...earn a day?"
"...do now?"
It seems as though people are curious not only about how much money Bezos earns, but also how he chooses to spend both his time and his fortune.
People are also curious about Bezos' past. "What did Jeff Bezos…" generates the following suggestions:
"...study?"
"...make in 2017?"
"...accomplish?"
Being Bezos
The top suggestion is particularly interesting and suggests young entrepreneurs are considering the type of education Bezos had to as a foundation for his success. The answer, by the way, is a degree in electrical engineering from Princeton University.
Aside from the obvious questions about making money, "How does Jeff Bezos…" reveals that people are curious about Bezos' leadership style and his investment philosophy:
"...pronounce his name?"
"...earn money?"
"...get money?"
"...invest?"
"...motivate his employees?"
"...view the role of a leader?"
For those wondering how Bezos invests, he owns about 16 percent of Amazon. He also holds smaller stakes in companies via his venture capital firm Bezos Expeditions. Those companies include Blue Origin, the Washington Post, AirBNB, Business Insider, Twitter, Uber and Workday.
World's First Trillionaire?
With Apple, Inc. (NASDAQ: AAPL) recently becoming the first trillion-dollar company, the search phrase "When will Jeff Bezos…" shows followers have some high expectations for Bezos' future earnings power. The only Google suggestion is "...be a trillionaire?"
Back in 2014, The Telegraph suggested the world could get its first trillionaire within 25 years, naming Bill Gates as the frontrunner. In the year 2039, Bezos would be 75 years old, and it's difficult to imagine he isn't the new favorite to win the race.
Related Links:
Amazon's Jeff Bezos: World's Richest Person Doesn't Crack The Top 50 List Of Philanthropists
Photo credit: DoD by Senior Master Sgt. Adrian Cadiz (Released) [Public domain]
Posted-In: Blue Origin Google Jeff Bezos Washington PostEducation Crowdsourcing Top Stories General Best of Benzinga
View Comments and Join the Discussion!