Wealth And Philanthropy: The World's 10 Richest Aren't The World's 10 Most Generous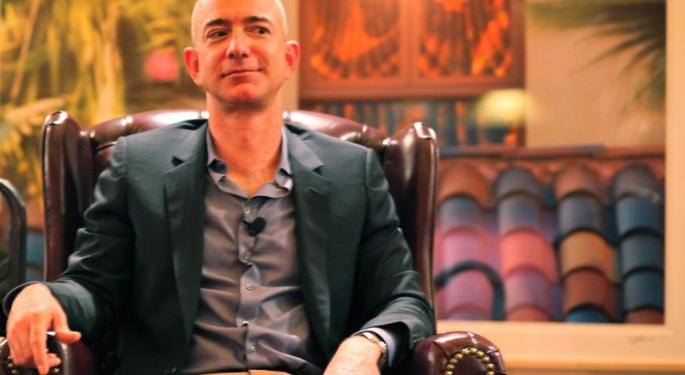 The richest person on the planet became the richest man in financial history this week, and on the same day, the third-richest person in the world gave about 4 percent of his wealth away.
The wealth of that all-time richest man, Amazon.com, Inc. (NASDAQ: AMZN)'s Jeff Bezos, rose in value by more than $52 billion this year, cracked $150 billion to make him wealthier than today's second and ninth richest people combined, and surpassed Bill Gates' 1999 inflation-adjusted record.
Bezos is known for making money but not necessarily giving it away — a quality that puts him in stark contrast against the week's other headlining tycoon.
Warren Buffett donated about 17.7 million shares of Berkshire Hathaway Inc. Class B (NYSE: BRK-B) valued around $192 each to five charities. The 13th annual donation, amounting to about $3.4 billion for his biggest giveaway yet, continues a tradition that began in 2006 and has so far totaled more than $30.9 billion.
Buffett is one of the rare billionaires whose rank in worth is proportionate to his rank in charitable contributions (at least on record).
World's Wealthiest
Of course, the list of the globe's richest people changes daily as company values fluctuate and alter the net worth of their owners. But here is the most recent ranking according to Forbes' real-time tracking:
Jeff Bezos ($151 billion)
Bill Gates ($93.9 billion) — ranked No. 1 in 2017 charity.
Warren Buffett ($86.6 billion)
Bernard Arnault ($81.7 billion)
Mark Zuckerberg ($79.4 billion) — ranked No. 2 in 2017 charity.
Amancio Ortega ($73.8 billion)
Carlos Slim Helu ($66.3 billion)
Larry Ellison ($59.3 billion)
Larry Page ($55.2 billion)
Sergey Brin ($53.7 billion)
These 10 have sat at or near the top for some time, so their rankings in wealth serve as reasonable reference points against their rankings in charitable donations.
The Globe's Most Generous
Compare, then, its constituents against the top 10 philanthropists of 2017 as recorded by the Chronicle of Philanthropy:
Bill and Melinda Gates ($4.78 billion) — ranked No. 2 in current wealth.
Mark Zuckerberg ($2 billion) — ranked No. 5 in current wealth.
Michael and Susan Dell ($1 billion) — ranked No. 35 in current wealth.
Henry Hillman ($850 million)
Michael Bloomberg ($702 million) — ranked No. 11 in current wealth.
Florence Irving ($680 million)
Charles Butt ($290 million) — ranked No. 139 in current wealth.
John and Laura Arnold ($285 million) — ranked No. 720 in current wealth.
Pierre and Pam Omidyar ($257.5 million) — ranked No. 133 in current wealth.
Roy and Diana Vagelos ($250 million)
Notably, the rankings do not account for multiyear pledges, which were counted as lump sums in the years they were first announced. That means Buffett's $2.4 billion to the Bill and Melinda Gates Foundation was not represented in last year's list because it was included back in 2006 when Buffett made the $36-billion commitment.
At the same time, some donors like Mark Cuban prefer to give anonymously, so their recorded sums do not fully reflect their total charitable contributions.
These factors aside, of the world's top 10 richest, only Gates and Zuckerberg — and Buffett, disregarding technicalities — cracked the list of the top 10 most generous.
Related Links:
Warren Buffett Doesn't Feel Obligated To Leave A Generous Tip
Madonna To Jeff Bezos: Give Back In Detroit, 'One Of The Coolest Cities In America'
Image credit: Steve Jurvetson, Flickr
Posted-In: Bill Gates Jeff Bezos Warren BuffettEducation Top Stories General Best of Benzinga
View Comments and Join the Discussion!