Warren Buffett Doesn't Feel Obligated To Leave A Generous Tip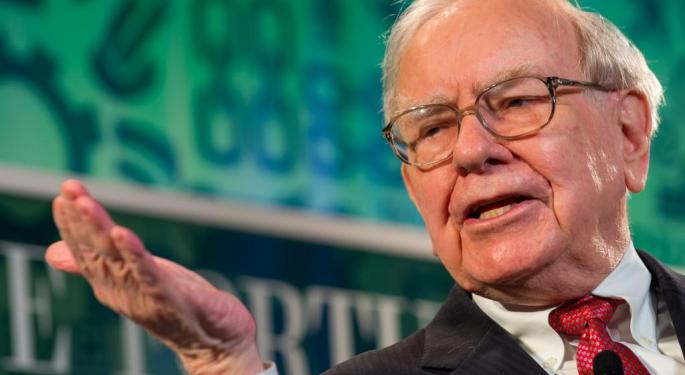 When you're the world's richest Wall Street investor, people expect a certain amount of generosity.
Berkshire Hathaway Inc. (NYSE: BRK-B) (NYSE: BRK-A) CEO Warren Buffett has made large donations to charitable organizations throughout his career. Just last year, Buffett donated $2.6 billion of Berkshire stock to the Bill and Melinda Gates Foundation and other charities. In 2015, he donated $2.8 billion.
But while Buffett has gotten a lot of press for his grand charitable gestures, Dan Patrick was curious about how generous the Oracle of Omaha is on a day-to-day basis. Buffett appeared on The Dan Patrick Show this week to discuss Berkshire's NCAA tournament bracket challenge.
At one point in the interview, Patrick asked Buffett if he feels obligated to leave a generous tip when he eats out at restaurants.
"I don't feel obligated to, but I usually do," Buffett said. "If I get decent service, I just figure why not? Usually I take my picture with them and I have a lot of fun."
Related Link: Warren Buffett Talks $1 Million March Madness Challenge And His Jump Ball With LeBron James
A 2013 SurveyMonkey survey found that 90 percent of Americans report always tipping when dining out. More than half (56 percent) of respondents report tipping in the 16-20 percent range. Only 15 percent report tipping in the 21-25 percent range, while just 1 percent report tipping more than 30 percent.
Buffett didn't get into specifics, but it comes as no surprise that his generosity extends to the service industry as well. Buffett launched The Giving Pledge with Bill and Melinda Gates back in 2010, an organization dedicated to encouraging the world's billionaires to donate the majority of their wealth to philanthropy.
Image credit: Fortune Live Media, Flickr
Posted-In: Bill Gates The Dan Patrick Show The Giving Pledge Warren BuffettPsychology Media General Best of Benzinga
View Comments and Join the Discussion!