Gold Miners Celebrate A Weakening Dollar: 'Inflation Is Coming'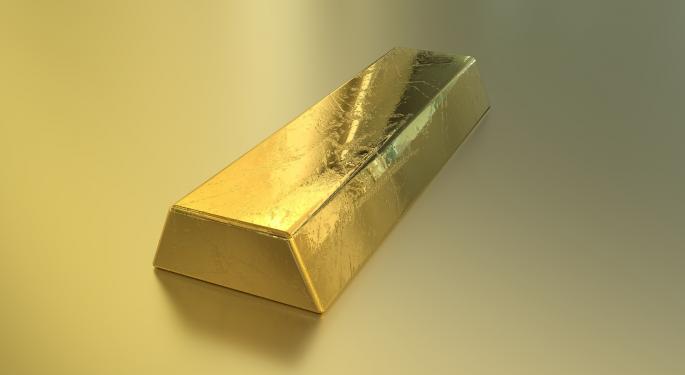 The U.S. dollar continued its 2017 decline through the first month of the new year, and some expect no immediate relief.
The trend is welcomed by US Gold Corp (NASDAQ: USAU) CEO Edward Karr.
"It should be a really good year for gold," Karr told Benzinga in a recent interview. "I think gold's going to go higher."
Why The Correlation?
Historically, commodities have risen with inflation. As equity markets weaken, investors diversify into "safe havens" like gold, the value of which remains globally steady.
"Gold has been a good long-term inflation hedge, and as the dollar declines, inflation will increase, especially through energy input costs because the price of oil becomes more expensive," Karr said. " ... I think inflation is coming."
What Affects The Dollar?
The dollar's value is relative to those of competitors, so strength in global currencies reduces the power of the dollar. Some economists attribute recent weakness to growth, particularly in Asian economies.
The Federal Reserve can also drive a value change. Increasing interest rates incentivizes saving or bond investing, which causes deflation and increases the dollar's value. Lowering interest rates triggers spending and economic growth, which causes inflation, reduces the dollar's value and increases the appeal of non-yield-bearing assets like gold.
A New Gold-Dollar Relationship
Citigroup analysts recently argued the inverse correlation between commodities and the dollar has dissipated.
"Commodity prices have traded in a strong inverse relationship with the U.S. dollar over the past decade or so, but this relationship broke down in late 2016 and the breakdown looks here to stay," the Citi analysts said.
Merrill Lynch recently acknowledged the trend but said the correlation between commodities and the dollar remains.
"It's absolutely true that even though in the course of 2017 the correlation between oil commodities generally, and the dollar, has weakened, it is still a very very big driver," Sabine Schels, head of fundamental commodities research at Bank of America Merrill Lynch, told CNBC. "And the causality really goes from the dollar to commodity prices."
Related Links:
Where Experts Stand On Bitcoin After 40% Plunge
This Gold Mining CEO Thinks Cryptos And Gold Are Both 'Here To Stay'
View Comments and Join the Discussion!
Posted-In: Education Commodities Top Stories Exclusives Markets Trading Ideas Interview General Best of Benzinga