This Gold Mining CEO Thinks Cryptos And Gold Are Both 'Here To Stay'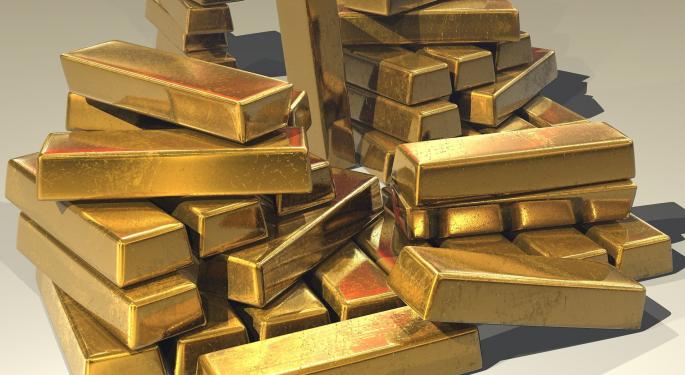 The cryptocurrency craze has been likened to a gold rush mentality, but some see a relationship beyond the comparison.
"The mania in the cryptocurrencies out there has definitely taken some of the speculative fervor out of the junior gold exploration companies, where these things have incredible runs on bull and bear market cycles," US Gold Corp (NASDAQ: USAU) CEO Edward Karr told Benzinga.
But Karr's outlook on both assets is curiously consistent: "I think both are here to stay."
The Merits Of Cryptos
For a gold guy, Karr speaks fairly thoughtfully of the ostensible enemy.
"Cryptos have had this incredible rise over the last couple years," he said. "Last year was just amazing. The younger generation, the 25- to 30-year-old millennials, they're all very comfortable with cryptos, they like trading them and they see still very big potential upside."
He does anticipate the hype will dissipate, though.
"It's really interesting for the short-term phenomenon, but there's definitely a speculative amount to it," Karr said. "Like what we went through with the dot-com bubble going into the late 1990s ... probably the cryptocurrencies will have a little bit of a wash-out."
The Defense For Gold
Cryptocurrency's stature isn't seen to diminish the appeal of gold. As Karr sees it, the tangible asset has withstood the test of time both in substance and in value. An ounce of gold in the Roman Empire bought a custom-made suit of high-quality chainmail just as an ounce of gold today, at $1,350, buys a custom-made suit of high-quality fabric.
"Over 2,500 years, that one ounce of gold gets you the same custom suit," Karr said. "You can't really say that yet for cryptocurrencies."
At the same time, Karr said the shiny brick will endure economic cycles, wars, geopolitical crises, computer crashes and grid failures, while the incipient cryptocurrencies haven't yet proven their staying power.
His confidence in gold echoes that of Goldman Sachs, which assured that the limited, unhackable resource is and will remain a relevant asset class in spite of cryptocurrency trends and its own lack of yield.
Related Links:
The Evolution Of Currency: From Gold To Bitcoin
View Comments and Join the Discussion!
Posted-In: Bitcoin Edward KarrCryptocurrency Commodities Top Stories Exclusives Markets Interview Best of Benzinga