Where Experts Stand On Bitcoin After 40% Plunge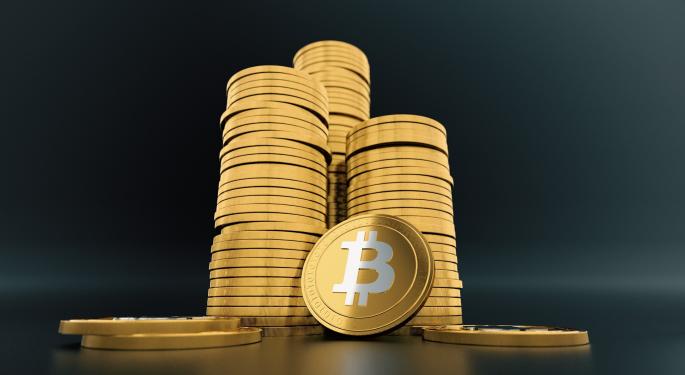 Bitcoin traders were eager to see the end of January, which dragged the cryptocurrency beneath December lows.
But the winter blues continue. Bitcoin neared $9,000 Thursday — a rate less than half of the all-time high struck weeks before.
Editor's note: Bitcoin's rout continued Friday morning, with BTC falling under the $8,000 level.
A Long-Foreseen Stall
The dip wasn't entirely unexpected, even by bitcoin enthusiasts. In fact, it was just about due.
"I had bitcoin topping out around $6,700 last year, so what we saw from late November to the middle of December was a classic case of fear of missing out," Michael Graub, blockchain consultant and principal at a private family office, told Benzinga.
Jeff Goldman, Marketfy's Crypto Prophet, turned bearish on bitcoin around $15,000, when he expected other cryptocurrencies to start siphoning funds.
What's The Problem?
The market seems to prove his foresight. Goldman attributes the ongoing sell-off to rotation from bitcoin to other cryptos, as well as profit-taking.
However, Joe Saluzzi, partner and co-founder at Themis Trading, credits uncertainty around exchanges and counterparties, and Graub points to a natural re-righting and a "coordinated attack" from potential losers in the financial industry.
"I think what we have seen over the past six weeks is a correction, but technically it's now a bear market if you want to use legacy terms," Graub said. "I think what we are seeing is a return to bitcoin's natural trend, which went parabolic as the CBOE, CME Futures were announced along with all the hype from CNBC and Mike Novogratz."
But Jim Angel, associate professor of finance at Georgetown University, detects a leak in the bubble.
"There appears to be no single catalyst that will cause the value of BTC to plummet to its intrinsic value (~$0), but lots of minor ones that are leading to a deflation of the bubble," Angel told Benzinga. "Clearly there has been a lot of bad news with regulatory crackdowns and major hacks."
Related Link: How One Cryptocurrency Hedge Fund Manager Posted 83% Gains
Potential Game Changers
Regulation may now be a burden, but experts dispute whether it will remain so.
"I am not too worried about regulation, as it is not possible for one government body to stop cryptocurrencies," Goldman said.
Saluzzi considers regulation, particularly a cross-exchange surveillance system, key to the market's continuation.
"I think recent developments in the crypto space, including the CFTC subpoena of Bitfinex/Tether and the rejection of bitcoin ETF proposals by the SEC, reinforce my point that the regulatory landscape needs to be addressed before the cryptocurrency space can be considered legitimate," Saluzzi said.
Be the first to get this news with Benzinga Pro. Sign up for your free two-week trial here.
Where Is Crypto Headed?
Until then, Saluzzi sees no relief for bitcoin investors' disappointment.
"I expect that the crypto space will remain under pressure until regulators get comfortable with trading in the spot market, but this could take quite some time," he said.
Angel offered similar sentiment. He predicted high volatility with additional bad news driving continued and infectious declines.
"I believe that, as people gain a better understanding of what you can and can't do with bitcoin, their enthusiasm will wear off leading to a long-term bearish trend in BTC," he said. "Associated bubbles will occur in various other cryptos as the gambling/pump/dump element moves from one crypto to another."
Related Link: 12 Cryptocurrencies To Watch In 2018 (Besides Bitcoin)
But Goldman, while bearish on bitcoin near-term, is confident in cryptocurrencies. His winning lineup includes Ethereum, Stellar, NEO and Populous.
"I see the market stabilizing and then slowly rising back to old highs," Goldman said. "There are now over 1,500 different cryptos and the key is to identify the ones that will attract investor and trader capital. I do believe that overall the crypto market needs a strong bitcoin for overall positive sentiment. I see a range of $8,500 to $13,000."
The optimism resonates with Graub, who expects an imminent end to the bitcoin bear market.
"I think picking tops or bottoms is a fool's game, but I'm confident that bitcoin is stronger now than ever before," he said, referencing the possibility of atomic swaps and the accelerated rollout of the fee-lowering Lightning Network. He expects bitcoin to withstand inevitable price fluctuation and government pressure and possibly see a sub-$7,500 retest with a "nice bullish wick" within the next 60 days.
Click here to check out what these bitcoin bulls and bears had to say on PreMarket Prep's Bitcoin Special in December.
View Comments and Join the Discussion!
Posted-In: Analyst Color Cryptocurrency News Top Stories Exclusives Markets Analyst Ratings Trading Ideas Best of Benzinga