Trump Suggests Challenge to NBC's 'License,' Calls Media's Free Rein 'Disgusting'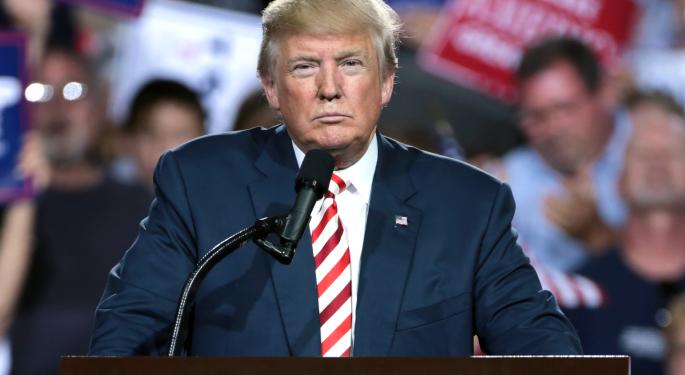 President Donald Trump's insults, threats and challenges to journalists have led to questions of whether the Commander-in-Chief respects the First Amendment.
Trump — a president who's quick to shout "fake news!" on Twitter or directly at a reporter, despite his own ceaseless falsehoods — tweeted Wednesday: "With all of the Fake News coming out of NBC and the Networks, at what point is it appropriate to challenge their License? Bad for country!"
The tweet, posted at 9:55 a.m. ET, came after NBC News broke a story that Trump had asked for a "nearly tenfold increase in the U.S. nuclear arsenal" at the same July 20 meeting where Secretary of State Rex Tillerson reportedly called Trump a "moron."
NBC's story was based on information from three anonymous officials the broadcaster said were in the room at the meeting of U.S. national security leaders.
Trump And The First Amendment
Trump has pitted himself squarely against the media since taking office. On some days, the majority of the tweets fluttering from the Oval Office focus on the press.
In the past week, Trump has called The New York Times "failing," said ESPN's ratings have "tanked" and posted a video that began with: "What the fake news media will not show you in Puerto Rico."
On Wednesday afternoon, Trump said: "It is frankly disgusting the press is able to write whatever it wants to write."
Comments like the above, and actions such as threatening NBC's broadcast license in reaction to a negative story, have led some journalists and observers to question whether Trump respects the freedom of the press guaranteed in the First Amendment of the U.S. Constitution.
It states that "Congress should make no law respecting an establishment of religion, or prohibiting the free exercise thereof; or abridging the freedom of speech, or of the press; or the right of the people peaceably to assemble, and to petition the government for a redress of grievances."
After Trump's tweet targeting NBC on Wednesday, CNN anchor Jake Tapper replied to the president with a picture of the First Amendment.
On Oct. 5, White House Press Secretary Sarah Huckabee Sanders said Trump "is an incredible advocate of the First Amendment, but with the First Amendment, with those freedoms also come responsibilities. And you have a responsibility to tell the truth, to be accurate."
Huckabee's comments came hours after Trump tweeted: "Why isn't the Senate Intel Committee looking into the Fake News Networks in OUR country tos ee why so much of our news is just made up-FAKE!"
The FCC And Broadcast News
As it turns out, Trump's comment on NBC was one more inaccurate tweet.
Only individual broadcast stations are licensed by the Federal Communications Commission, not networks as a whole, according to the federal agency.
"In suggesting that a broadcast network's license be targeted because of its coverage, Mr. Trump once again evoked the Watergate era when President Richard M. Nixon told advisers to make it difficult for The Washington Post to renew the FCC license for a Florida television station it owned," The New York Times said in its report on the tweet.
On Oct. 7, Trump tweeted: "More and more people are suggesting that Republicans (and me) should be given Equal Time on T.V. when you look at the one-sided coverage?"
If the president was referencing the FCC's equal time rule, it would not apply to him.
The rule — first instituted with the Radio Act in 1927 and then included in the successive Communications Act signed by President Franklin D. Roosevelt in 1934 — requires stations providing airtime to candidates for public office to provide equal time to all other candidates for that office.
Nixon's Favorites List
An Associated Press analysis of Trump's relationship with the press in February quoted historian Douglas Brinkley as saying Trump is executing a "holistic jihad" against the news media of a kind that's never been seen.
"Trump is determined to beat and bloody the press whenever he finds himself in a hole, and that's unique," Brinkley said.
While Trump's relationship with the press likely represent a new low among presidents in the modern era, there are parallels. When Richard Nixon was president, he "read a summary of each morning's news and then directed his staff how to respond, noting in the margins which reporters he liked and disliked," according to The Atlantic.
During the Watergate scandal, Nixon would go on to direct his staff to wiretap reporters, and his adviser Charles Colson suggested that investigative journalist Jack Anderson be assassinated, according to Medium. Colson was convicted of obstruction of justice in 1974 in connection with his attempts to defame Daniel Ellsberg, who leaked the Pentagon Papers.
And President Barack Obama's Department of Justice seized Associated Press phone records in what the wire service called "serious interference with AP's constitutional rights to gather and report the news."
Related Links:
Russian Journalists Explain How Covering President Trump Will Be Like Covering Putin
15 Changes To Expect Under The Trump Administration
Image credit: Gage Skidmore [CC BY-SA 2.0], via Wikimedia Commons
View Comments and Join the Discussion!
Posted-In: Donald Trump FCC freedom of speechEducation Politics Top Stories Media General Best of Benzinga