I Read The Tweets Today, Oh Boy: A Week In The 140-Character Life Of Donald Trump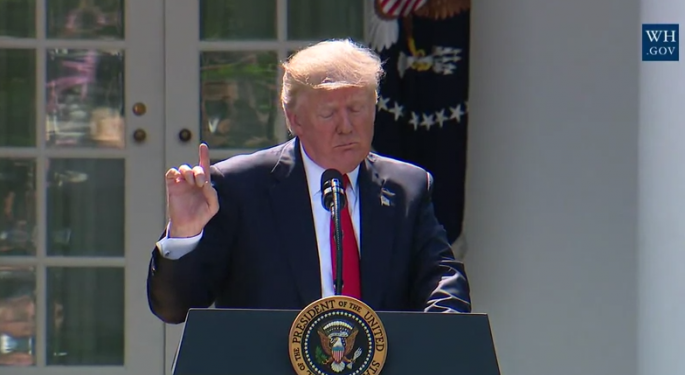 His team's well-laid plans to make this week all about infrastructure went off the rails for President Donald Trump, done in by a familiar foe: a barrage of off-topic tweets delivered with all the finesse of a bunch of bazooka blasts.
He called the mayor of London "pathetic" two days after the city suffered a terror attack that killed seven people; undermined his own U.S. Justice Department by condemning a revision of his Muslim travel ban even though he signed off on it; and took aim at former FBI Director James Comey, whom he fired for spearheading the Russian collusion probe.
Another week upended by a seemingly compulsive urge to vent - and occasionally reinvent the English language -on Twitter Inc (NYSE: TWTR).
See Also: Comey Demolishes Infrastructure Week, Calls Trump A Liar
His longest recorded stretch of silence on Twitter began Wednesday evening and ended Friday morning with another rant about Comey, who testified before the U.S. Senate Intelligence Committee that he leaked his notes of meetings with Trump because he feared the president would lie about their encounters.
"Despite so many false statements and lies, total and complete vindication...and WOW, Comey is a leaker!" he tweeted Friday morning.
No Trump Bump For Twitter Fortunes
Has Trump's use of Twitter helped the 140-character message business? The answer is no. Most people can find what Trump tweets all over the news or on Google searches.
Last month, Twitter announced that co-founder Biz Stone was rejoining the company after six years, part of a reshuffle aimed at reviving the company's fortunes.
"My top focus will be to guide the company culture, that energy, that feeling," Stone told Recode. "It's important that everyone understands the whole story of Twitter and each of our roles in that story. I'll shape the experience internally so it's also be felt outside the company."
See Also: Why Twitter And Snap Have Monetization Problems
Stone joins co-founder and CEO Jack Dorsey while a third, Evan Williams, sits on the board.
One would think having the commander-in-chief making your brand the topic of national discourse might be a good thing. You would be wrong.
"It's a very bad thing, Twitter's role in that," Williams told The New York Times. "If it's true that he wouldn't be president if it weren't for Twitter then, yeah, I'm sorry."
Liberties With The Language? It's An Internet Thing
Trump himself even seems to realize when he drifts off message. Shortly after the Comey slam, he seemed to remember, or was reminded, that this is infrastructure week and that he'd just come off a trip to Ohio to promote his $1 trillion proposal.
"Getting ready to leave for Cincinnati, in the GREAT STATE of OHIO, to meet with ObamaCare victims and talk Healthcare & also Infrastructure!" he tweeted.
It's somehow fitting that Trump's surrogates on Twitter during his record absence -- 2,753 minutes, according to USA Today's tally -- managed some Trumptastic turns of fractured phrase.
Shortly after Comey testified, Trump's lawyer released a statement disputing just about everything Comey said while arguing what he said vindicated the president.
He began:
"I am Marc Kasowitz, Predisent Trump's personal lawyer."
In the wreckage of fracture syntax and misspellings that populate the rubble-strewn landscape of Trump's Twitterverse, that particular typo harkened way back to December, when he tweeted:
"China steals United States Navy research drone in international waters_rips it out of water and takes it to China in unpresidented act."
Tweets Affect Policy
Widespread reports say Trump's closest advisors are trying to rein in the presidential obsession. His recent tweets about his Muslim ban are being greeted as a gift by lawyers seeking to kill the executive order when it finally goes before the U.S. Supreme Court.
He's managed to insult allies from Britain to Germany to Qatar, the latter based on what actually might be a common complaint of Trump's: Fake news, only in this case, the Russian hackers that the FBI is probing and their connections to the Trump camp.
"The tweeting makes everybody crazy," Trump's close friend Tom Barrack, chairman of Colony Northstar, at a Bloomberg conference in New York Tuesday. "There's just no gain in doing it."
Trump is its truest believer for one big reason.
"I wouldn't be here if it wasn't for Twitter," the president told Fox News.
Image Credit: Screengrab from "President Trump Makes a Statement Regarding the Paris Accord," By The White House [Public domain], via Wikimedia Commons
View Comments and Join the Discussion!
Posted-In: Biz Stone Donald TrumpPolitics Psychology Opinion Top Stories Tech General Best of Benzinga