Spy-In-The-Sky? Defense Industry Scrambling To Develop Drones To Replace Cop Choppers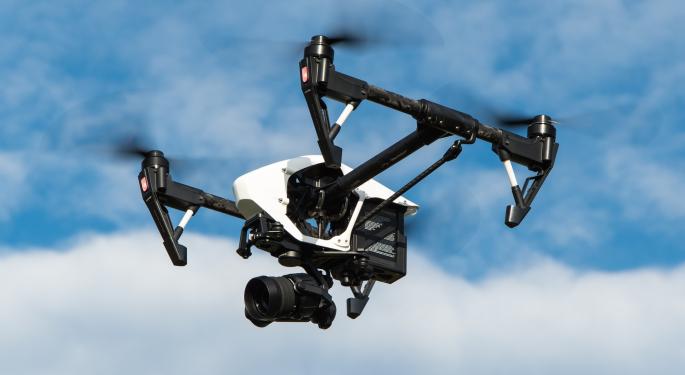 The defense industry is revamping military drones in a race to capture a target-rich new market: the police helicopter, a patrol mainstay of thousands of cop shops worldwide.
The Federal Aviation Administration is already working with defense contractors to develop rules governing drones that would fly as high as 2,000 feet and stream high-resolution video to police headquarters, Defense One reports.
A mainstay of combat zones, drones are being held back domestically by their own technology.
"The market won't exist until the regulations exist," Matthew Scassero, director of the University of Maryland Unmanned Aircraft Systems Test Site, told Defense One. "The FAA was a little slow in coming around to the realization that we needed to get those in place."
Major Players In The Race
Northrop Grumman Corporation (NYSE: NOC): Recently worked with U.S. Navy helicopters in which control of two autonomous MQ-8B Fire Scout helicopters were handed off between multiple ground stations. That capability could conceivably be used on domestic missions involving more than one jurisdiction.
Lockheed Martin Corporation (NYSE: LMT): Has a range of autonomous drones, including the K-Max, a joint project with Kaman Corporation (NYSE: KAMN). The companies showed how the aircraft could be used to fight California wildfires. It also has the INDAGO, a four-prop unmanned chopper with precision surveillance systems.
General Atomics Aerospace: The privately held company builds the Reaper drone, with some models dubbed the Predator. It's been a mainstay in Afghanistan and Iraq. Predators are already used by the U.S. Department of Homeland Security to patrol the U.S. southern border.
General Atomics is developing a new version of the Reaper, which it hopes to have FAA-certified by 2025. On Aug. 19, the company flew a drone 275 miles from Yuma, Arizona, to Grey Butte, north of Los Angeles. The flight required a special FAA waiver.
Here's Looking At You
There already are concerns about privacy issues.
In 2009, the military planned to launch a Raytheon Company (NYSE: RTN) JLENS, a sophisticated spy blimp used in Afghanistan, over Maryland. The Electronic Privacy Information Center complained, and the blimp went up without cameras.
"There is a lot of potential for privacy abuse if a surveillance device can identify a human at 5 kilometers away," Julia Horwitz, a lawyer for the group, told the Washington Post.
The test was part of part of a $2.7 billion Pentagon plan to create a net to hunt enemy drones and cruise missiles along the Eastern seaboard of the United States.
The U.S. Supreme Court has ruled that police choppers violate Constitutional protections against "unreasonable search and seizure" only if they surveil from less than 400 feet up.
For a drone that can fly and spy from 2,000 feet high, that's not a problem, unless it becomes one.
Related Links:
Global Defense Firms WIll Build $82 Billion In Drones
Police Intercept Drone Delivery Of Drugs, Cell Phone At A Michigan Prison
Posted-In: drones General Atomic AerospacePolitics Psychology Topics Tech Media General Best of Benzinga
View Comments and Join the Discussion!