A Lesson For Young People: Start Investing Now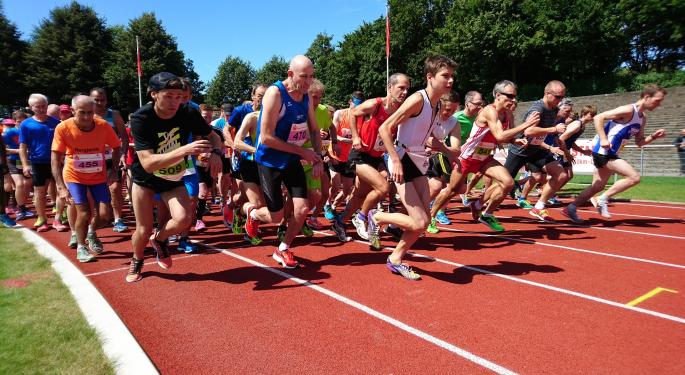 How did you get started as an investor? If you had an early interest in investing you may have taught yourself the ropes, but more likely you had a friend, a family member or even a coworker who encouraged you to start investing.
Most investors only get really interested in investing when they start putting their own money to work. It's empowering to take charge of your financial future and investing can give you newfound confidence.
If you've been investing for many years, you've likely been able to grow your money, perhaps beyond what you'd ever expected, and in the process, you've probably also learned a great deal about investing and about yourself as an investor. We believe that one of the best things you can do with this wealth of knowledge is to share it with other people—your friends, your children or perhaps even your grandchildren.
When we think about leaving a legacy, we usually think about money, but knowledge is also an extremely valuable and often more important gift. Your wealth of investing experience could empower a new generation of investors.
We've been doing our part by reaching out to younger investors lately. We've recently organized workshops with small groups of women in their 20s and 30s in our offices and found that the first thing new investors need to know is the importance of starting to invest early in life.
In hopes of inspiring you to share your investing expertise with others, here are some
tools to get you started.
Lesson #1 for New Investors: Start Young (or Start Now)
Many people don't start investing until later in life, usually when they're closer to retirement, and yet those who start investing earlier in life have a tremendous advantage. While you may not have a lot of extra money to invest when you're in your 20s or 30s, you do have another valuable asset, and that's time.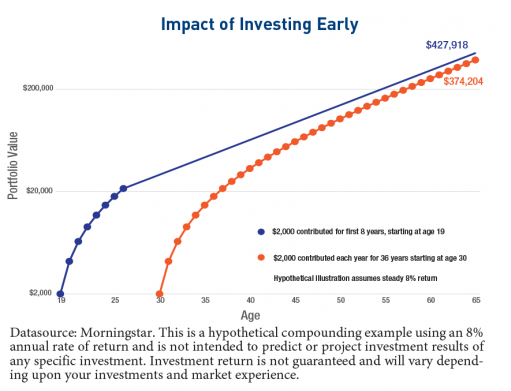 The real value of time can be seen in the experience of two investors. Elizabeth starts when she's young. She contributes $2,000 a year for eight straight years from age 19 to 27. Even though she stops adding money at 27, she keeps her $16,000 invested. By the time she's 65, her $16,000 grew to more than $427,000.
Lulu starts at age 30. She lands a good job and begins investing for her eventual retirement. She diligently puts $2,000 a year into her account for the next 36 years. By age 65, she's contributed a total of $72,000 and her investments grew to a little under $375,000.
Lulu invested four times more money than Elizabeth but she ends up with less because she missed the opportunity to compound gains on 11 years of growth and contributions. (This example assumes a constant 8% return, which isn't real world.) The lesson here is that all things being equal, you will be ahead by starting to invest early in your life rather than later.
Investing can turn time into money through compounding. Simply put, compounding is the growth of not only your principal, but also of the interest and gains on your principal. This can really add up over time, as the example shows.
We hope this chart encourages you to help someone else start investing earlier in life. You probably already know how rewarding it can be to build wealth, and now you have the opportunity to see how satisfying it can be to help others take charge of their financial futures. So next time you see your children or grandchildren, tell them why investing matters to you and show them the early investing chart.
Janet Brown joined FundX in 1978 and has been researching mutual funds and developing successful investment strategies ever since. A frequent guest on national media, Janet's expertise is widely recognized. She is a board member of several non-profits and foundations and a longtime advocate for sustainable, responsible investing (SRI).
Posted-In: contributorEducation General Best of Benzinga
View Comments and Join the Discussion!