Validity And Veracity Of Trump's Communication Via Twitter Questioned
Donald Trump's tenure as the president of the United States has been tumultuous from the very start, and his muddled reputation proceeded him — long before even his Republican nomination. Many have resented his brazen remarks, scathing criticisms and the brutality with which he stifled any kind of dissenting view and opinion — a habit he has enjoyed for decades.
Trump copiously uses social networking platform Twitter Inc (NYSE: TWTR) to air his views, take on his critics, exchange tirades, give a heads-up on various policy initiatives, so on and so forth.
So what? Aren't social media platforms meant for just that?
With a Twitter following of 34.4 million, the reach of his posts is, without a doubt, wide. However, invariably, his tweets from his twitter handle @realdonaldtrump engender controversies.
Furthermore, his following and engagement have come under scrutiny as well, with a substantial amount of his followers and profiles that interact with his posts considered "fake" or bots.
According to a Twitter Audit from Monday, a whopping 13,091,365 followers of @realdonaldtrump are fraudulent.
Additionally, earlier this month, Trump retweeted one of these questionable accounts.
Trump's Twitter Usage Shunned
The revulsion of people to his Twitter antics is so much so that a poll by POLITICO/Morning Consult conducted between June 1 and 2 showed 69 percent said the president uses Twitter too much for their liking and 59 percent see his Twitter usage as a bad thing. Some even felt his reckless tweets endanger the nation's security.
Another poll by ABC News/Washington Post also relayed similar sentiment, with 67 percent of the people disapproving the way Trump uses the platform. The terms used by people to refer to the president's Twitter usage ranged from inappropriate (68 percent) to insulting (65 percent) to dangerous (52 percent).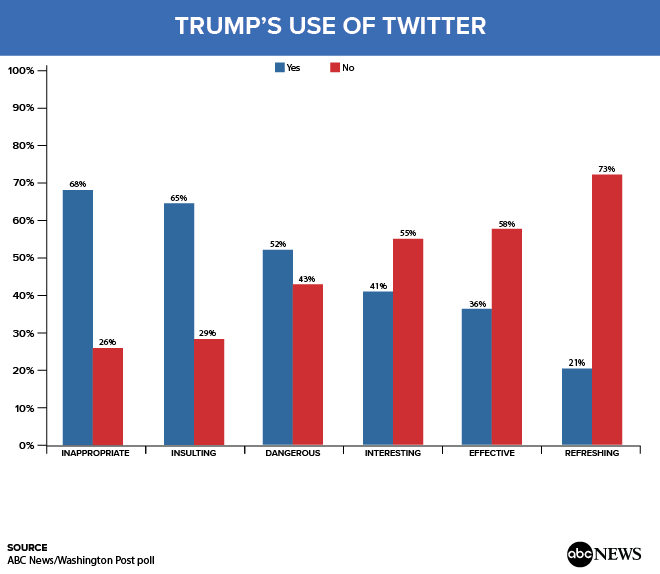 However, Trump has been steadfast in his patronage of Twitter, suggesting that all efforts to undermine his usage is an attempt by the "fake Mainstream Media," or MSM, to prevent honest and unfiltered messages from reaching the people.
See Also: Video: The Trump Tweet Indicator
Twitter Users A Small Proportion Of Total Population
Even if Trump's Twitter usage is considered legitimate and agreeable, is it okay for a president to use a platform that has a reach of less than quarter of the total population to communicate to the people?
The results of a survey of 1,520 adults conducted between March 7 and April 4, 2016, by the Pew Research Center showed that about 24 percent of internet users used Twitter compared to 75 percent for Facebook Inc (NASDAQ: FB). The study found that 86 percent of the Americans were internet users.
Considering the total population, Twitter users drop down to 21 percent.
However, there could be a contention that Twitter users could be relatively less but the president's tweets are being widely splashed across all MSM outlets. This point was raised by a tweet by billionaire investor and television personality Mark Cuban.
This is backwards. Twitter reaches only ~ 15pct of population. For a tweet to reach the general population the MSM has to report on it. https://t.co/rEVDo7f6aa

— Mark Cuban (@mcuban) June 30, 2017
Twitter-Blocking Violates Constitutional Rights?
Meanwhile, there has been a huge outrage concerning the blocking of Twitter users, who criticize the government's policies or the president's statements. Since the president continues to use his personal twitter handle along with the official @POTUS account, in fact, the former being more frequently used than the latter, legal experts have questioned his action of blocking on the grounds that it tantamounts to a violation of the First Amendment.
With Trump continuing to make policy pronouncements (and often pre-announcements) on his personal account, it is deemed that it operates as a "designated public forum" for First Amendment purposes, according to a letter sent by the Knight First Amendment Institute on June 6.
The controversy surrounding the Trump tweets and the validity of using a platform with limited reach will inevitably rage on, given the president's defiance in heeding the popular public opinion as well expert views.
_________
Image Credit: By Rhododendrites (Own work) [CC BY-SA 4.0 (http://creativecommons.org/licenses/by-sa/4.0)], via Wikimedia Commons
View Comments and Join the Discussion!
Posted-In: @realdonaldtrumpEducation Futures Politics Top Stories Markets Media General Best of Benzinga