7 Best-Selling Singles From The Beatles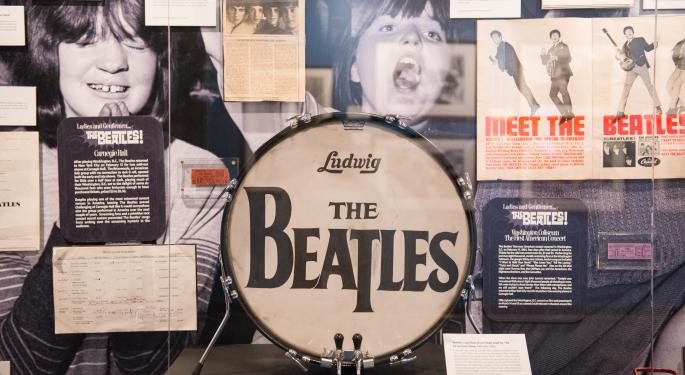 On this day in 1967, "Sgt Pepper's Lonely Hearts Club Band" was the No. 1 selling LP, just a few days removed from its May 26 debut and a day prior to the June 1 U.S. debut. And, to celebrate this 50-year milestone, Benzinga is dusting off the old LPs and revisiting the best of the Beatles.
Music is a cathartic experience, purging the body and soul. Among makers of music, no other band has been so successful in keeping music lovers across generations, races and nations hooked like the Beatles. The rock band that ruled the roost for about a decade between 1960 and 1970 was formed in Liverpool in 1960.
John Lennon, Sir Paul McCartney, Ringo Starr and John Harrison, nicknamed the Fab Four always had a frenzied following.
Benzinga has compiled the list of seven best-selling singles of Beatles, based on estimates by officialcharts.com
1. 'She Loves You'
Release: August 1963
Weeks On Chart: 33

2. 'I Want To Hold Your Hand'
Release: December 1963
Weeks On Chart: 22

3. 'Can't Buy Me Love'
Release: March 1964
Weeks On Chart: 15

4. 'I Feel Fine'
Release: December 1964
Weeks On Chart: 13

5. 'Day Tripper/We Can Work It Out'
Release: December 1965
Weeks On Chart: 12

6. 'Hey Jude'
Release: September 1968
Weeks On Chart: 16

7. 'Help!'
Release: July 1965
Weeks on Chart: 14

Related News:
Yesterday And Today, Some People Can't Stand 'Sgt. Pepper's Lonely Hearts Club Band'
11 Most Expensive Vinyl Records On The Market
________
Image Credit: By Lauren GersonUploaded on Flickr by [https://www.flickr.com/people/100836534@N04 LBJ - DIG13762-001, Public Domain, via Wikimedia Commons
Posted-In: John Harrison John LennonEducation Topics Top Stories Tech Media General Best of Benzinga
View Comments and Join the Discussion!