Yesterday And Today, Some People Can't Stand 'Sgt. Pepper's Lonely Hearts Club Band'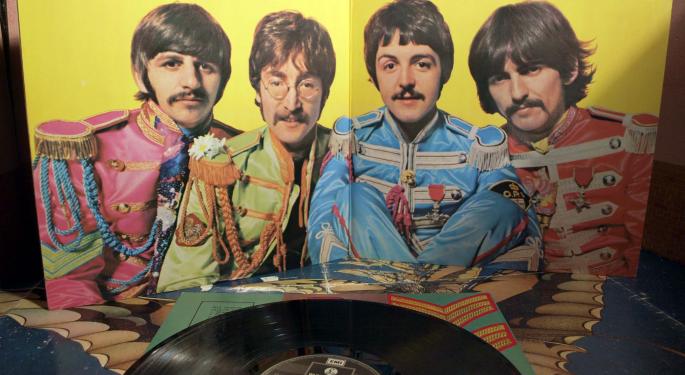 It was once tragically hip to abhor The Beatles' "Sgt. Pepper's Lonely Hearts Club Band." It's even hipper today to still hate it.
It was 50 years ago on June 1 (to join the rest of the world in paraphrasing the record's signature lyric) that the lads from Liverpool released their textured tour of 1960s psychedelia, an album almost universally saluted as among the most influential in the history of pop music.
But back in 1967, just as today, some critics didn't much care for the songs.
'"Sgt. Pepper's Lonely Hearts Club Band' is the Beatles' worst album," writes Mikael Wood, pop music critic for the Los Angeles Times.
"I'm not saying it's a bad record; I'm merely pointing out that the most impactful rock band in history made better ones — some catchier, some weirder, some more energetic, all filled with songs I'd rather listen to today."
Maybe The Critics Have A Point
Wood, of course, gives his readers a choice:
"You either find 'Lucy in the Sky With Diamonds' painfully twee or you don't; 'Within You Without You' either feels three minutes too long or it doesn't."
Go back a decade, and the derisive attitude continues.
"Flip the bugger over and you get all the lyrics printed out -- Pepper was one of the first albums to do this. This screams: 'Take me seriously!' As if all that guff about 'newspaper taxis' and 'marmalade skies' was poetry," the Guardian's Richard Smith wrote on the 40th anniversary.
"And the music? An excruciating lesson in orientalism, why music hall died out, why making records on drugs isn't always a good idea, and why you shouldn't let Ringo sing a number."
And Keith Richards Hates It
Then again, "Fixing a Hole," "Being for the Benefit of Mr. Kite" and "Good Morning, Good Morning" aren't exactly getting covered by Beyonce or Taylor Swift.
The Rolling Stones' Keith Richards, who knows a little bit about bad albums, told Rolling Stone (the magazine) in 2015 that "Sgt. Pepper" was pretty lousy.
"Some people think it's a genius album, but I think it's a mishmash of rubbish, kind of like (the Stones own psychedelic excursion) 'Satanic Majesties' – 'Oh, if you can make a load of s---, so can we.'"
But the most infamous review came in the June 1967 New York Times by pop critic Richard Goldstein, who called the record "busy, hip and cluttered."
For the few people who do like the record, a deluxe remixed version, filled with alternate takes, will be released on Friday.
Related links:
SiriusXM Reports The Beatles Channel Is Coming To Network On May 18
Twice As Nice: A Dozen Times When Rock Stars Found Success With Two Bands
Image credit: badgreeb RECORDS, Flickr
View Comments and Join the Discussion!
Posted-In: Keith Richards Los Angeles TimesNews Education Psychology Events Top Stories General Best of Benzinga