What Kids Don't Want Their Parents To Know About Fidget Spinners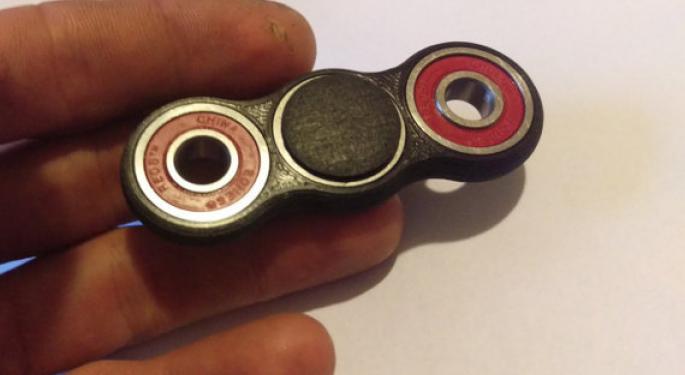 It's every parent's dream for their child to beg for a toy that costs as little as $5 and improves their focus, lowers their anxiety and relieves their stress. Anyone who has browsed Amazon.com, Inc. (NASDAQ: AMZN), eBay Inc (NASDAQ: EBAY) or Etsy Inc (NASDAQ: ETSY) looking for a fidget spinner has likely repeatedly come across all of these claims. Sellers are touting the spinning toys as beneficial to kids who have trouble focusing, even claiming the toys are "perfect for ADD, ADHD, anxiety and autism."
Expectations Vs. Evidence
Unfortunately, there seems to be little evidence to back up these claims, and teachers throughout the country are starting to see the toys as more of a problem than a solution.
The principle behind fidget toys is sound.
"When hands or any other body part is moving, an individual is able to focus more on what they need to do," ADHD coach Christa Hopp said.
However, for fidget toys to work in improving focus, a child's attention and focus must be on his or her teacher, not on the toy.
"Fidget objects are meant to be felt, so that visual attention can be focused on the teacher," therapist Stephen Poss said. "Spinner toys are visually distracting, and I think that's their major drawback."
Teachers, Schools Respond
"Just sitting and fidgeting with something is not going to be that beneficial to a child with hyperactivity and inattention," mental health counselor Janine Artis stated.
Instead of the fidget spinners helping teachers maintain children's focus on school work, teachers say they are serving as yet another distraction in the classroom. Teacher Christina Bolusi wrote the only thing her students are focusing on is their fidget spinners, not their work.
"Trust me when I say that fidget spinners are the [...] worst," Bolusi recently wrote.
"Let's stop with the flowery euphemisms. It's a toy and I hate it."
To make matters worse, schools are reporting fidget spinners being thrown as weapons and used to cut other students while spinning.
"They are small in size but can seriously hurt someone," Brooklyn, New York, school MS 442 recently wrote in a Facebook post.
Schools in the states of Kentucky, New York and Massachusetts have already banned fidget spinners from classrooms.
Almar Sales Co. reports selling 20 million fidget toys to retailers such as Wal-Mart Stores Inc (NYSE: WMT). Incredibly, 46 out of the 50 top-selling toys on Amazon are currently fidget spinners or closely-related fidget cubes.
There's no denying the genius marketing behind advertising fidget spinners as therapeutic tools for children. However, with little scientific evidence to support those claims, it's hard to see the devices as anything but the latest toy fad.
Related Links:
Is The Fidget Spinner Craze A Golden Opportunity For Investors?
5 Best Highs Schools Teaching Personal Finance
__________
Image Credit: By Tech2025 - Own work, CC BY-SA 4.0, via Wikimedia Commons
View Comments and Join the Discussion!
Posted-In: ADD ADHD anxietyEducation Psychology Top Stories Media General Best of Benzinga