3 Months In: Where The Trump Administration Now Stands On Economic Issues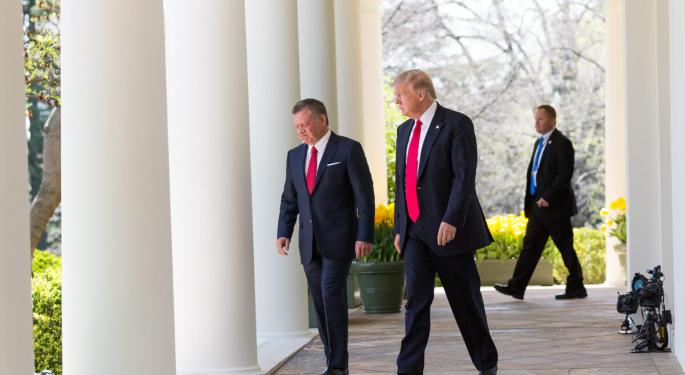 President Donald Trump seemed to waver last week on a couple of key official economic positions. Nonetheless, he maintained optimism that any remaining campaign promises will materialize.
One by one we are keeping our promises - on the border, on energy, on jobs, on regulations. Big changes are happening!

— Donald J. Trump (@realDonaldTrump) April 12, 2017
And the position that the media would unfairly cover his accomplisments.
No matter how much I accomplish during the ridiculous standard of the first 100 days, & it has been a lot (including S.C.), media will kill!

— Donald J. Trump (@realDonaldTrump) April 21, 2017
Five months after those promises secured victory, here's a look at where the Administration now stands on various economic issues.
Border-Adjustment Tax
In an interview with Fox Business News, Trump seemed disinclined to embrace the border-adjustment tax championed by House Republicans and central to their tax reform plan.
Displeased with the term "adjustment" for its connotation of compromise and weakness, the president instead advocated for a "reciprocal tax" or "import tax."
"There has to be a certain reciprocal nature to it," Trump said. "The other countries, if they're charging you a 50 percent tax, you say: 'O.K., whatever you charge, we're charging'."
National Debt
Although having previously promised to eliminate the $20 trillion of federal debt, Trump's budget director, Mick Mulvaney, told CNBC reporters the commitment was hyperbolic and unrealistic.
Government Health Care
Following the Republicans' failure to repeal and replace the Affordable Care Act in March, Trump initially asserted a shift in focus from healthcare to tax reform. Last week's Fox interview revealed a renewed emphasis on the original initiative.
An ensuing interview with the Wall Street Journal then highlighted an updated plan to cancel subsidies to health insurers under Obamacare — which contradicted an April 10 announcement by the Department of Health and Human Services promising continued funding of cost-sharing subsidies.
Trump suggested that the reversal would stimulate Democrat cooperation on a healthcare bill.
Export-Import Bank
Against previous assertions, Trump said last Wednesday he had no desire to eliminate the nation's Export-Import Bank. Instead, he plans to fill two vacancies on the board to empower the agency with a long-needed quorum.
The president expects the bank to foster jobs growth and benefit small businesses, but it is also known to advance major manufacturers such as Boeing Co (NYSE: BA) and General Electric Company (NYSE: GE).
Interest Rates
Claiming that low interest rates created a "false stock market" and injured the economy, Trump advocated for rate raises during his campaign. As of last Wednesday, he expressed preference to keep rates low, as the U.S. dollar "is getting too strong."
Janet Yellen
While previously denouncing Yellen for an alleged political bias, Trump told the Washington Post last week that he might consider her reappointment as chairman of the Federal Reserve in 2018.
In his words, she's "not toast."
Chinese Currency Manipulation
Despite having recently referred to the Chinese as "world champions" of currency manipulation, Trump said the label no longer applies. In fact, the Treasury Department's semi-annual report on major currencies will not list China among alleged manipulators.
Related Links:
GOP Healthcare 2.0: What's Likely To Change, And Why It Won't Be Voted On Anytime Soon
First Jobs Report Under President Trump Sets Stage For Rate Hike
____________
Image Credit: "President Donald Trump and King Abdullah II of Jordan walk along the West Colonnade towards the podiums to begin a joint press briefing in the Rose Garden at the White House Wednesday, April 5, 2017, in Washington, D.C." By Shealah Craighead - Photo of the Day: April 6, 2017 on whitehouse.gov, Public Domain, via Wikimedia Commons
View Comments and Join the Discussion!
Posted-In: Education Emerging Markets Eurozone Health Care Commodities Politics Forex Top Stories Best of Benzinga