Market Shakes As Republicans Accept Defeat On Healthcare Bill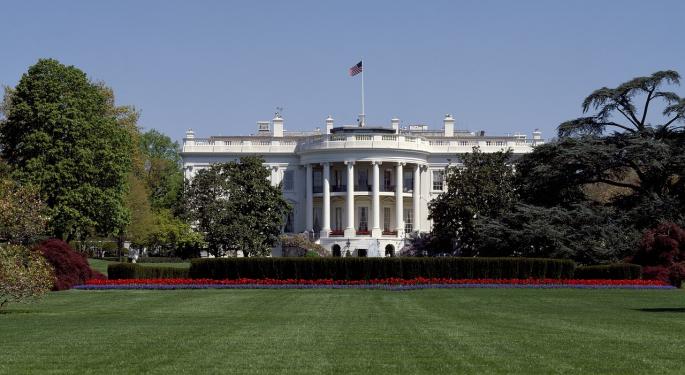 Acting on orders from President Donald Trump, Speaker of the House Paul Ryan led Republicans to pull the proposed healthcare bill from the House docket Friday.
"We just didn't quite get consensus today," Ryan said at a press conference. "We came very close, but we could not get a consensus, which is why I thought the wisest thing to do was pull the vote."
Earlier in the day, Ryan visited the White House to warn that the measure wasn't expected to earn the required 216 votes to pass.
This is the second time the party has stalled efforts to advance its own measure.
In February, Trump and the House Republicans had sought a delay in the healthcare ruling because, as Height Securities suggested, they were afraid they'd win. At the time, the Administration had no plan to replace the existing Affordable Care Act.
"We're going to be living with Obamacare for the foreseeable future," Ryan said.
So What Now?
Republican lawmakers are planning to adjust their approach.
"We will try to help [the ACA] along and prop it up, but it is so fundamentally flawed I don't think that's possible," Ryan said.
He added that the Republicans had been doing the architects of Obamacare a favor by amending the law. "I'm sure they may be pleased right now, but when they see how bad this thing gets...I don't think they're going to like that either," he said.
"Yes, this makes tax reform more difficult, but it does not make it impossible," he said. "We will continue with tax reform...That just means Obamacare taxes stay with Obamacare. We're going to go fix the rest of the tax code."
Market Reacts
Investors responded to the latest news with mixed reactions.
SPDR S&P 500 ETF Trust (NYSE: SPY) and iShares Russell 2000 Index (ETF) (NYSE: IWM) spiked up 0.4 percent.
SPDR Gold Trust (ETF) (NYSE: GLD) dropped 0.3 percent, SPDR S&P 500 VIX Short Term Futures TM ETN (NYSE: VXX) fell 4.5 percent and ProShares Trust Ultra VIX Short Term Futures ETF (NYSE: UVXY) plunger 7.6 percent.
Health insurance shares, which had steadily fallen leading up to the scheduled vote, got a boost from the announced cancellation.
Molina Healthcare, Inc. (NYSE: MOH) popped 2 percent, Aetna Inc (NYSE: AET) 0.7 percent, Humana Inc (NYSE: HUM) 0.9 percent, Anthem Inc (NYSE: ANTM) 0.8 percent and CIGNA Corporation (NYSE: CI) 0.8 percent. Each had tapered off in the minutes following.
Posted-In: Donald Trump Paul RyanNews Health Care Politics Legal Top Stories General Best of Benzinga
View Comments and Join the Discussion!