School Of Cool: Codeverse Preps Next Generation Of Cyber Experts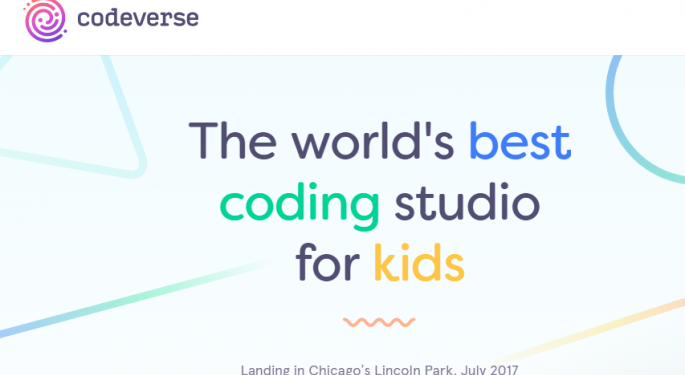 Cyber attacks are commonplace in the 21st century, and as the international battlefield becomes increasingly virtual, self-defense requires a relatively new skillset: coding.
That's why the husband–wife duo of Craig Ulliott and Katy Lynch founded Codeverse, a summer and after-school program to teach children the fundamentals of coding.
"It's important for these kids to develop these skills early so we can protect ourselves against these types of instances [cyber attacks] in the future," Lynch told Benzinga.
Life Lessons
The goal is to advance not only national security but intellectual and emotional development, as well.
"Coding teaches kids so much more than just building apps or building games or building whatever they want through programming," Lynch said. "It also teaches them problem-solving skills. It teaches them critical thinking. It instills confidence in children, and it teaches them how to be creative."
Not only that, but it equips them with skills critical to 21st-century jobs, which are particularly profitable as the U.S. Bureau of Labor Statistics predicts 1 million unfilled tech jobs by 2020.
School Of Cool
The Codeverse team took painstaking measures to start the early-age training. To simplify the learning process, they developed KidScript, a programming language designed especially for children.
"How we've gone about actually creating it is we've basically spent a year taking the best concepts and finding things that overlap in the world's most popular languages," Lynch said. "So, we've taken core concepts like 'if' statements, for example, from like Python and Ruby and Javascript, and we've basically reformatted it to be incredibly kid-friendly."
KidScript requires only reading and typing skills, and its foundations allow an easy transition to established languages. Using the new system, Codeverse participants will have the capacity to build apps and games to market on app stores.
Camp Codeverse
The first session will launch in Chicago this July for children ages six to 12, and three other Illinois sites will open over the next 18 months. The five-year goal is to develop in-studio operations in every U.S. metropolitan area and hit international audiences through remote learning tools.
"Our mission is to teach a billion kids to code," Lynch said.
Related Links:
Study: Hackers Say Mass Surveillance Is Cybersecurity's No. 1 Threat In 2017
Every Company Exposed To The CIA Cyberhacking Scandal, So Far
__________
Image Credit: Screengrab from Codeverse
Posted-In: Codeverse codingEducation Top Stories Exclusives Tech Interview General Best of Benzinga
View Comments and Join the Discussion!