When Journalists And Companies Don't See Eye-To-Eye On Coverage, Things Can Get Messy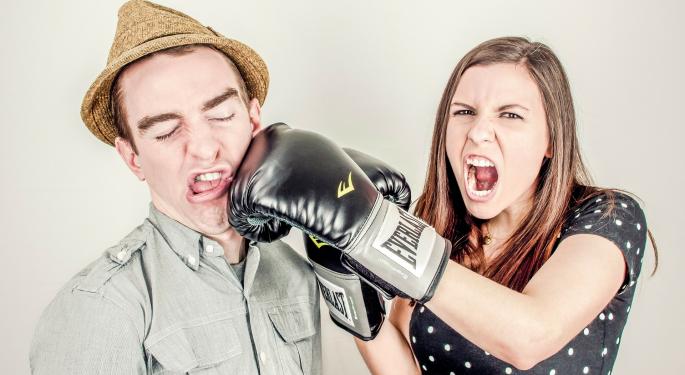 The media plays an important role in shaping the opinions of the public, and public opinion is critical for companies and their reputations. When journalists and companies don't see eye-to-eye, the sparks can often fly in a very public manner.
Here's a look at several times journalists and outlets have butted heads with companies over their media coverage.
Hewlett Packard Enterprise
Back in 2006, Hewlett Packard Enterprise Co (NYSE: HPE) hired private investigators to determine if employees were leaking information to the media, according to Fox News. When it came out that investigators had accessed the private phone records of nine journalists, the company was forced to apologize.
Two investigators were each sentenced to three years in prison for the incident.
Uber
In 2014, Uber's senior vice president Emil Michael suggested the company should hire a team of researchers to dig up dirt on media critics to keep them in line, according to a BuzzFeed story at the time. Michael specifically suggested targeting female journalist Sarah Lacy, who had been openly critical of Uber and accused the company of sexism.
Enron
The Enron accounting fraud is common knowledge today, but when Fortune journalist and former Goldman Sachs banking analyst Bethany McLean penned her article "Is Enron Overpriced?" back in 2001, the company responded with a tidal wave of criticism.
When McLean asked CEO Jeff Skilling to clarify aspects of Enron's "incomprehensible" financial statements, he called her questions "unethical" and hung up the phone. Three Enron executives traveled to New York to talk Fortune editors out of printing the story, and chairman Kenneth Lay called Fortune's managing editor to lodge a complaint about McLean.
Mallinckrodt
Earlier this month, Business Insider reporter Linette Lopez reported on Mallinckrodt PLC (NYSE: MNK) and its use of patient-assistance programs to potentially keep drug prices artificially high.
Following the report, the company issued a press release that mentioned "factually incorrect" reporting in the media and suggested journalists "come to us if you require clarity." Lopez shot back, tweeting screenshots of an email she had previously sent to the company and assuring readers that "multiple emails and phone calls" to the company had gone unanswered.
"It's generally helpful if you respond to a journalist's multiple emails and phone calls $MNK... even once." pic.twitter.com/iVrCDz0d4q

— Linette Lopez (@lopezlinette) February 21, 2017

Herbalife
Controversial multi-level marketing company Herbalife Ltd. (NYSE: HLF) has been facing media scrutiny for years. Back in 2013, the New York Post reported that there had been 192 complaints filed with the Federal Trade Commission related to Herbalife. The story even suggested "pending law enforcement action" against the company. Herbalife responded with a statement denying regulatory interest and/or any investigation into the company. Herbalife even demanded a correction from the Post.
Of course, the Post was vindicated in 2016 when Herbalife paid a $200 million settlement to the FTC tied to deceptive business practices. The FTC also demanded that Herbalife "start operating legitimately."
Tesla
Tesla Inc (NASDAQ: TSLA) has enjoyed the benefits of being a media darling in recent years. The media loves Tesla's charismatic visionary CEO Elon Musk.
Related Link: Elon Musk's Wildest Predictions
However, when Fortune criticized Musk for dumping $2 billion in Tesla stock before disclosing the death of a driver using the company's autopilot system in 2016, Musk fired back at Fortune editor Alan Murray on Twitter:
@alansmurray Yes, it was material to you -- BS article increased your advertising revenue. Just wasn't material to TSLA, as shown by market.

— Elon Musk (@elonmusk) July 5, 2016
@alansmurray If you care about auto deaths as material to stock prices, why no articles about 1M+/year deaths from other auto companies?

— Elon Musk (@elonmusk) July 5, 2016

In an email to Fortune, Musk said the death was "not material to the value of Tesla." The day the death was publicly disclosed, Tesla's stock initially dropped 2.8 percent before recovering to close higher on the day.
Posted-In: Alan Murray Bethany McLean Elon MuskEducation Topics Top Stories Media General Best of Benzinga
View Comments and Join the Discussion!