Why The Son Of Former Migrant Workers Supports Stronger Border Control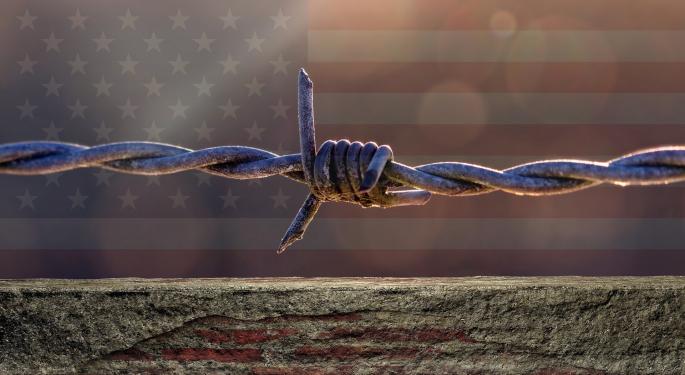 For Sonny Mendoza, a Mexican-American raised by migrant workers, recent discourse on border control is lacking perspective. And it's not necessarily the perspective most would expect.
Life experience has led Mendoza to espouse a stance on immigration that aligns more with political conservatives.
"Coming from somebody who is Mexican — not all of us think that the new policies are 100 percent bad," he said.
Mendoza's argument derives not from an economic or public safety position, but rather a humanitarian one. Specifically, he aims to protect undocumented workers from exploitation and trafficking.
"What really helped to shape my opinion, if you will, is that we knew of a lot of things that were going on around that type of migrant work," he said.
From Personal Experience
Mendoza was born and raised in Ohio, where his family settled after stints at numerous migrant farms. To recruit new laborers, his distant relatives engaged in what he called "the moving of people."
"We would have individuals that would come over illegally into the United States, and I know of family members whose job it was to go out to the middle of the desert of Arizona and pick up these illegal immigrants and shuffle them off to different farms or different areas to basically do work for low or minimum wages," he said.
In the process of shuffling, many of the immigrants were subject to exploitation.
See Also: The Importance Of Immigrants On Wall Street, In Silicon Valley And For The United States
Left To Die
"These individuals, when they come over, they're very vulnerable, and there are a lot of bad people that take advantage of that vulnerability," Mendoza said. "They're coming into an area where they don't know the language, they don't know the processes here, so they could very easily be tricked into giving up more money for things that are not necessary. They could be quite frankly left out in the middle of the desert to die unless they somehow come up with an extra $500 to make that final transport from the desert to the city."
He said he wondered if many ever made it to legitimate farming communities.
Beyond The Anecdotes
The reality of trafficking and abuse of immigrants has been highlighted in numerous documentaries and investigative reports over the years.
In 2015, the New York Times Co. exposed the wage theft of illegal immigrants in nail salons, and the Boston Globe investigated the same issue among construction workers in 2016. "Food, Inc." touched on the abuse of undocumented workers in farming and food manufacturing.
But Mendoza thinks the problems have been underrepresented in debate surrounding President Donald Trump's immigration policies.
"Those are things that I think people tend to kind of overlook when they are having discussions about immigration," he said.
A Stronger Border
Humanitarian arguments have been proffered — just not often in support of the conservative agenda. Many demand a more welcome border policy and clemency for illegal immigrants in order to protect them from violence in their home countries. But Mendoza wonders if the prevalence of exploitation in the U.S. merits the opposite approach: strengthened border control and more regulation surrounding immigration.
"Knowing that that was indeed happening, as I become older and heard some of the tougher stances on immigration and immigration policies, [I think] there may be some benefits to taking a closer look and stopping some of those things, because I'm sure that not every one of those scenarios went as smoothly as it should have," he said.
View Comments and Join the Discussion!
Posted-In: Donald TrumpEducation Politics Psychology Top Stories Exclusives Interview General Best of Benzinga