The Difference Between Brent Crude And West Texas Intermediate Oil, And How They Trade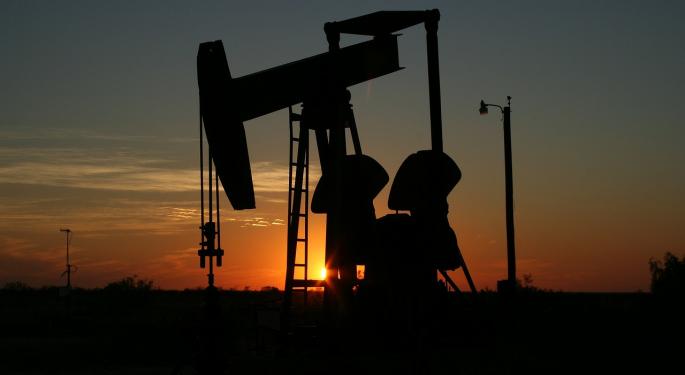 Traders often read headlines about crude oil prices rising or falling in response to news. However, if you ever try to find a price quote for crude oil, things can get a bit confusing.
First, it's important to understand that crude oil comes in many different forms. The blend of the crude oil and the geographic region from which it's extracted are very important when it comes to setting a price for the oil.
The oil industry uses three primary benchmarks for determining crude oil prices around the world.
About two-thirds of the oil traded around the world references Brent Blend. Brent Blend is a light, sweet blend of crude oil that comes from four fields in the North Sea: Brent, Forties, Oseberg and Ekofisk.
Related Link: Goldman: Q4 Oil Supply-Demand Balance Is 'Weaker Than Previously Expected'
In the US, West Texas Intermediate Blend (WTI) is the crude oil benchmark. WTI refers to crude oil extracted in North America and sent via pipeline to Cushing, Oklahoma. Although the oil is light and sweet like Brent, its land-locked nature typically makes it more expensive than Brent to ship to other parts of the world.
Finally, Dubai/Oman Blend is a slightly lower-quality Middle Eastern crude oil that comes from Dubai, Oman, or Abu Dhabi. Dubai/Oman is the benchmark for Persian Gulf oil.
Today, the majority of large crude oil buyers purchase oil on the futures market rather than on the spot market. By opting to buy futures contracts, buyers can lock in oil prices for years into the future, helping protect them from any short-term spies in oil prices.
Most retail investors can't afford to buy crude oil futures contracts, but there are a number of crude oil ETFs linked to the different crude oil benchmarks. The United States Oil Fund LP (ETF) (NYSE: USO) is the most popular WTI-linked ETF for U.S. traders, while The United States Brent Oil Fund LP (NYSE: BNO) is a popular Brent-linked ETF.
Not surprisingly, in the past decade, USO and BNO have an extremely high correlation of 0.90. However, that correlation is not perfect.
WTI and Brent crude historically trade at roughly the same price. However, the two benchmarks decoupled in 2011 when U.S. crude inventories in Cushing started to build. The collapse in oil prices and the subsequent restructuring of the U.S. market has eliminated much of the discrepancy in the years since, but Brent still trades at a slight premium to WTI.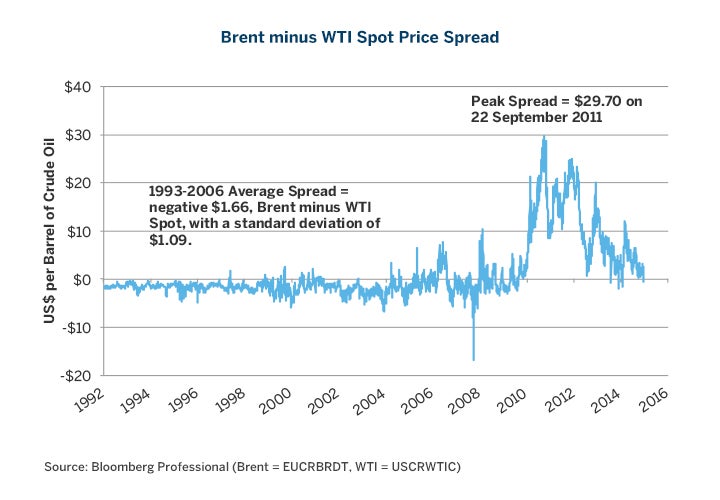 When it comes to trading oil market news, investors should keep in mind which markets the news will impact. If news impacts the global oil market, both USO and BNO will likely react similarly. News impacting only the U.S. market will often produce a more pronounced move in USO.
However, it's important to remember that, at a 0.90 daily correlation, USO and BNO are likely headed in the same direction on any given day.
View Comments and Join the Discussion!
Posted-In: Crude OilEducation Specialty ETFs Commodities Top Stories Markets ETFs General Best of Benzinga