Millennials, Retirement Savings And New Research Studies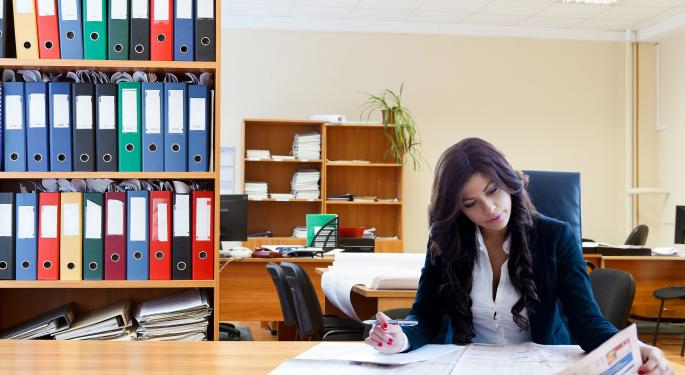 So much has been written and theorized about Millennials and money; juxtapose that with fears of under-investing in the market and government-assisted retirement programs depleting at a rate that cannot keep up with population growth under current taxation, and the present and future for Millennials may seem outright dire.
However, recent research reveals there's one more piece of the puzzle that Millennials need to be aware of when trying to balance the unending cascade of financial advice. According to a series of studies by NerdWallet, Millennials have at their disposal one coveted advantage in the retirement-savings game, but it needs to be protected and not taken advantage of in order to achieve its full potential.
'Time Is On My Side, Yes It Is…'
"Millennials have something that everyone saving for retirement covets: Time," NerdWallet's Dayana Yochim and Jonathan Todd explained. "Time is on their side in almost every way related to building wealth. With 30 to 40 years until retirement, the generation born after 1980 has plenty of time to put money aside and for savings to compound and grow. But time can also be a huge drain on this generation's financial well-being."
While NerdWallet claims many reports have recently shown that Millennials are heeding the loudly touted advice of the importance of saving substantially and early, they noticed that compounding investment fees can significantly hinder long-term savings strategies.
"In an effort to shine light on these fees, we conducted two analyses. Both are based on a 25-year-old individual who has $25,000 in a retirement account, adds $10,000 annually and earns a 7 percent average annual return," NerdWallet's Sam Schulte said."
Yochim and Todd elaborated on the research, "Just like the accelerating effect compound interest has on the growth of savings, the same thing happens — only in the opposite direction — when investment fees compound."
Key Findings
The research heavily focused on the "hidden" aspects of investment fees and the significant differences even a portion of a percent make over decades. NerdWallet's head of investing and retirement, Kyle Ramsay, explained, "One (1) percent versus 0.5 percent may not feel like much over the course of a year, but when saving for retirement, it could mean the difference between retiring at age 70 versus retiring at 74."
According to one of the scenarios run under the study, 1 percent in fees could cost a Millennial more than half a million dollars in returns over a four-decade period.
The report explained, "The impact of fees is twofold: An investor pays an ever-increasing amount in fees as account balances grow, because the fees are based on a percentage of assets. And fees also strike a blow to the portfolio's returns. That's because every dollar taken out to cover management costs is one less dollar left to invest in the portfolio to compound and grow. So in addition to paying potentially hundreds of thousands of dollars in avoidable fees, our research shows that an investor gives up many times that amount in lost portfolio returns over time."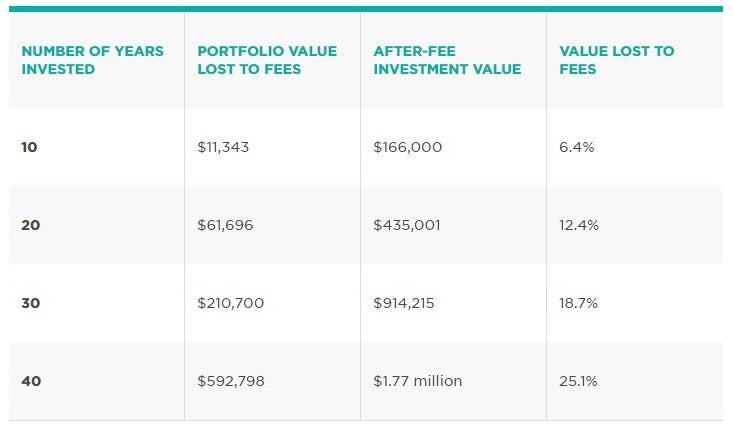 Suggestions: How To Avoid Unnecessary Fees
While there are plenty of methods to optimize retirement savings, the study suggests researching the benefits of comparing actively managed funds with ETFs, which typically charge significantly less, but offer similar exposure.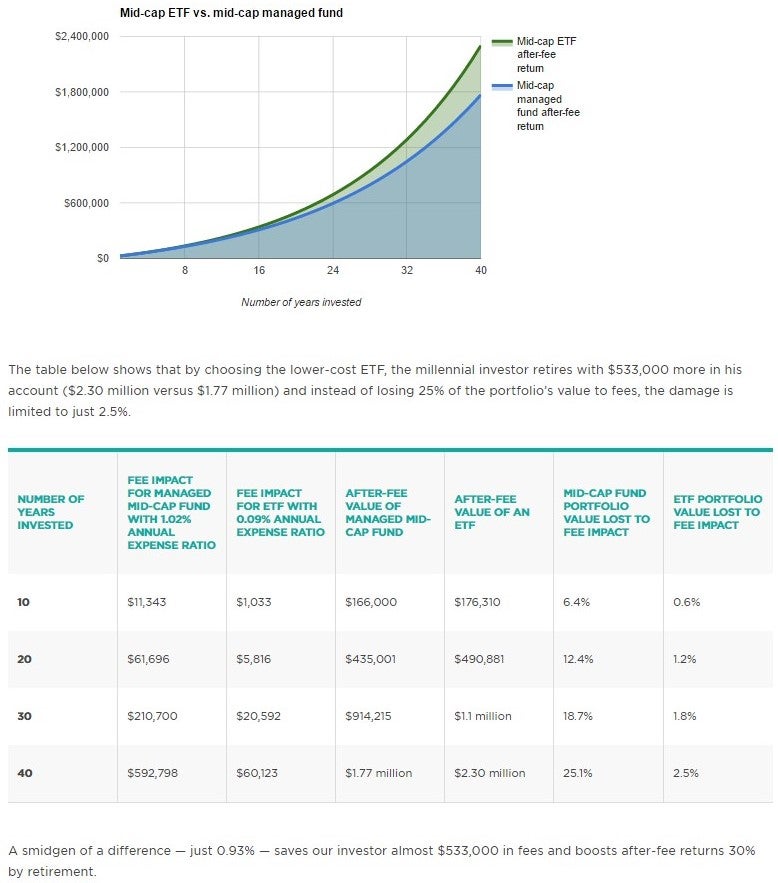 Furthermore, by managing a retirement portfolio for oneself as opposed to "outsourcing" the management, the study found that Millennials can see even more significant returns give the amount of time they have to save for retirement. What makes little difference for those who are within a decade of retirement makes a huge difference for those who are looking at their retirement date thirty to forty years down the road.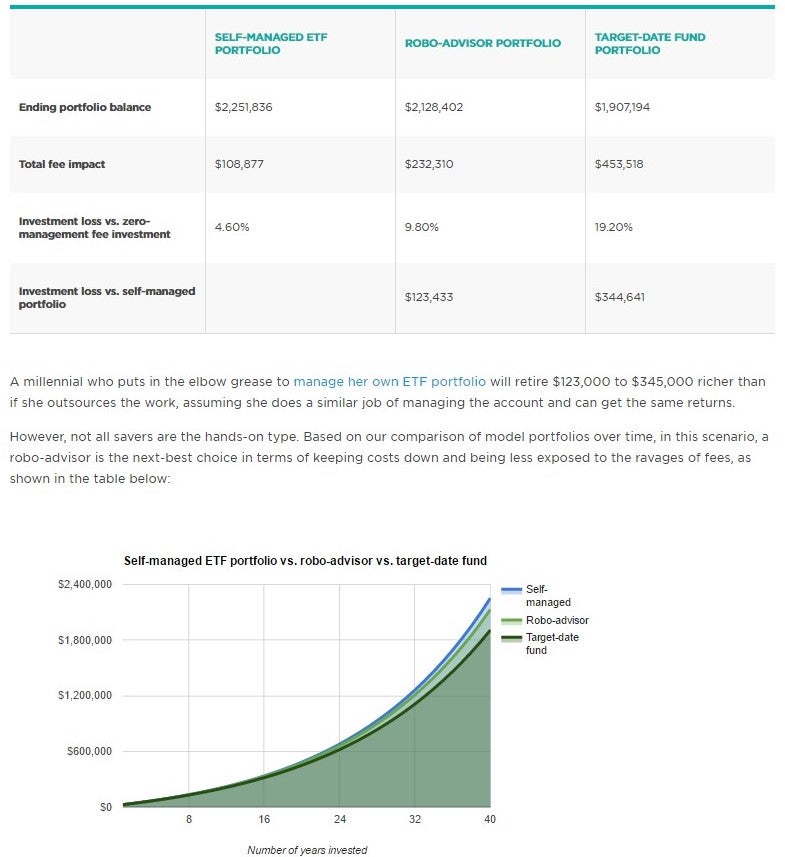 The bottom line: Millennials face different obstacles than previous generations in this ever-changing retirement environment. Strategies that work for one demographic may not work for another, and benefits such as time are not always as cut and dry as they might appear. This is why it is crucial to invest in yourself and your own financial future by increasing your financial literacy, take advantage to free resources available and seek professional guidance when needed. Regardless of your age, investment knowledge or portfolio breadth, there is no better time than now to take responsibility for your future and start saving today.
All images courtesy of NerdWallet.
Posted-In: actively managed funds Budgeting Dayana Yochim ETFsMutual Funds Education Personal Finance General
View Comments and Join the Discussion!