When You're Supporting Grown Children And Aging Parents, Don't Forget To Take Care Of Yourself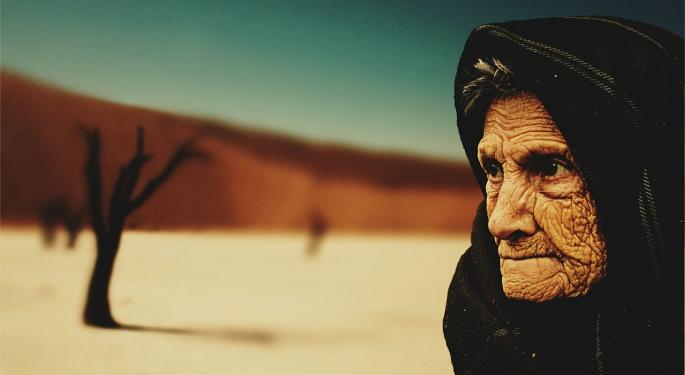 Tightly situated between children who are struggling to gain their independence and parents who are losing their own independence, Sandwichers face countless struggles. While the monetary difficulties may be the most obvious, there are other factors involved with feeling pulled and prodded by those nearest and dearest.
For a variety of reasons, adult children often lean on their parents for financial support, particularly when they are first on their own; unfortunately, often due to the lack of experience, the financial support requested is unanticipated and the probability of repayment is unpredictable. For the older generation, deteriorating health and waning funds can lead to parents looking to their grown children for support.
According to Pew Research Center's most recent generational data, over 45 percent of American adults between 40 and 60 have a parent who is over 65 years old and are supporting a child simultaneously. The research found that 15 percent of respondents were providing monetary support for both their parents and their children.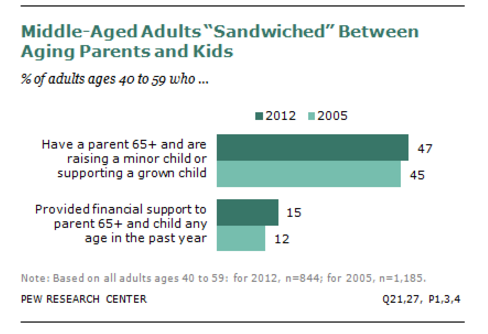 Source: Pew Social Trends, Pew Research Center
While inter-generational support has been prominent throughout history, once multi-generational homes became less common in America, it became temporarily less commonplace for the middle generation to take care of both their children and their parents at the same time. That is, until recently, due in part to the economic climate, aging generation and concerns over government assistance into retirement. The same research demonstrated that while providing financial support for parents has remained essentially unchanged, more parents are giving monetary support for their children.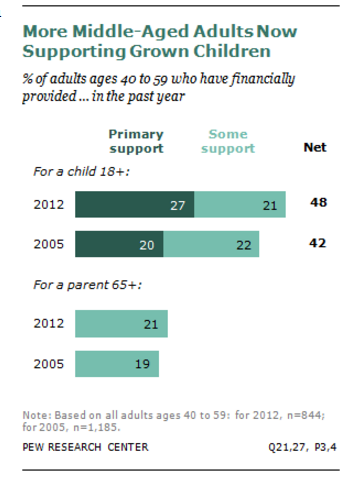 Source: Pew Social Trends, Pew Research Center
The True Cost Of Supporting Family
"Presumably life in the sandwich generation could be a bit stressful. Having an aging parent while still raising or supporting one's own children presents certain challenges not faced by other adults – caregiving and financial and emotional support to name just a few," according to Pew Research.
Providing emotional support is often overshadowed by the financial strains. Just as how many mental issues are shrugged off, not understood or discredited, emotional burdens are vaguely mentioned by the media, but rarely explored in depth. If you find yourself feeling emotionally drained because you are trying to support your parents, children and yourself, it is important to take the emotional strains seriously.
Pew Research explained, "When it comes to grown children, there is a link between financial and emotional support. Among parents who say they are providing primary financial support to their grown child or children, 43 percent say their children frequently rely on them for emotional support and 45 percent say they sometimes do."
A Psychology Today article outlined some of the overlooked emotional concerns Sandwichers face:
Stress Is Not Momentary; It May Become More Intense As The Years Go By: As parents age, new health problems are likely to emerge, increasing stress on children who act as caregivers.
The Economic Climate Has A Strong Effect: Social trends and economic climates constantly change, aggravating the already tense familial situations. "With the hiring situation being more difficult for the younger generations, fewer of them are able to find jobs or live on their own," the article explained.
You Aren't Alone, But Your Situation Is Unlike Anyone Else's: It can come across like Sandwichers are all the same, having the shared experiences of aging parents and reliant children, but everyone ages differently and experiences unique medical complications. To complicate the feeling of isolation, little research has been done looking into the effects of various medical complications of the parents of Sandwichers.
Your Situation Itself Can Intensify Your Own Emotional Health Down The Road: "As these beleaguered 'sandwich generations' grow older themselves, the health problems that develop due to stress are going to become more sever as well," according to Psychology Today. Furthermore, these personal health issues spurred by stress can lead to increased tendencies of depression and anxiety.
Because Research And Basic Awareness About Sandwicher Stress Is Limited, Support Is Limited, Too: Psychology Today explained, "While the problems faced by members of the sandwich generation have received increasing publicity in recent years, research into the kind of coping strategies these 'sandwich generationers' use to handle the unique stressors they face is still limited."
If you are among those middle-aged adults facing the difficulties of caring for aging parents and children, it is important to understand the real consequences you may face. While the drain on your pocketbook may be the most obvious concern, the emotional elements are just as legitimate. Give sincere attention to your situation and honestly evaluate how supporting your parents and children affect you.
Image Credit: Public Domain
Posted-In: Pew Research Psychology Today sandwich generation Sandwichers USAAEducation Personal Finance General
View Comments and Join the Discussion!