6 Women Who've Made It Big On Wall Street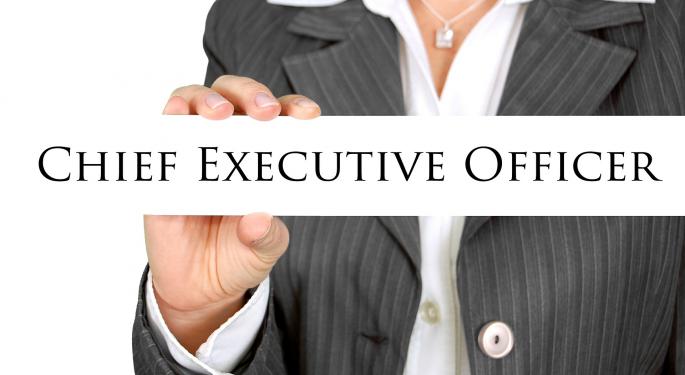 There's no question that the business world is dominated by men. Although they've made great strides over the past decade, women still make up just 4.4 percent of the CEOs at today's S&P 500 firms.
For that reason, women who make their way to the C-suite often find themselves under a great deal of scrutiny. However, although only a handful of women occupy high level positions at the bulk of U.S. companies, several women have made quite an impact on markets by successfully leading some of the world's largest firms.
From taking over at a time of crisis to navigating through a tricky transition, women on Wall Street have proven they are a force to be reckoned with. Here's a look at some of the ladies at the helm of today's biggest names and what their leadership has done for their firms.
1. Indra Nooyi
Indra Nooyi is the woman behind food and beverage giant PepsiCo, Inc. (NYSE: PEP). She's made a name as a perfectionist, whose attention to detail has helped the firm navigate through a challenging period of changing consumer preferences.
Related Link: Why Pepsi Is Morgan Stanley's Top Mega-Cap Pick
Pepsi's flagship products, soft drinks and potato chips, fell out of favor with the public as healthier, natural options began to take over the snack food space over the past decade. Pepsi's soft drink sales have fallen 14 percent over the past nine years, but under Nooyi's leadership the company is beginning to make a turnaround by expanding its organic arm.
Her willingness to acknowledge that Pepsi's products were harmful to people's health was jarring to markets, but in doing so, she was able to shift the company's focus toward creating some healthier options for people to choose.
2. Ursula Burns
Ursula Burns became the first African-American woman to head a large U.S. company when she took the reins at Xerox Corp (NYSE: XRX) in 2009. At the time, Xerox was suffering as the American economy took a nosedive and the tech landscape began to shift dramatically.
Burns is known for being direct and honest, a trait that former Xerox CEO Anne Mulcahy said helped her decide to choose Burns as her successor. Soon after taking over, Burns set to work transforming Xerox's business to encompass relevant tech trends. She oversaw the firm's acquisition of Affiliated Computer Services, and she has seen Xerox through a transition from being primarily a print and copy business to becoming more of a business services firm.
Xerox has transformed in order to fill the back office gaps for companies that have been crying out for increased automation. In doing so, Burns has built up Xerox's cash reserves and returned the firm to growth after a difficult period following the recession.
3. Mary Barra
Mary Barra is the brave woman who took over at General Motors Company (NYSE: GM) shortly before the firm began a massive recall due to a faulty ignition switch.
In 2014, the U.S. automaker was forced to recall nearly 27 million cars due to a faulty ignition switch, which turned out to be linked to some 100 deaths. The situation looked dire for General Motors, but Barra was able to see the firm through the crisis. Her swift damage control was able to convince the public that they could still trust the name, and many say Barra's leadership was a major reason the automaker was able to move forward from the crisis.
The company's first quarter results this year showed that Barra's efforts had paid off – General Motors posted its best quarter in North America since 2009 when the firm emerged from bankruptcy. Now, with the ignition switch crisis placed firmly in the rearview mirror, Barra has her sights set on improving the firm's margins and growing the market share in its most profitable regions.
4. Marillyn Hewson
In 2013, Marillyn Hewson became the CEO at Lockheed Martin Corporation (NYSE: LMT), and since that time, she has worked tirelessly to revamp the firm's operations in order to ensure its relevancy in the aerospace and defense sector moving forward.
Hewson is well known for making difficult strategic decisions that can sometimes go against the grain. She recently decided to spin off the company's commercial IT and cyber business, despite the fact that demand for data protection is at an all-time high.
However, Hewson said from a strategic point of view it makes sense and the firm's technical services business will have a greater potential for growth outside of Lockheed.
Instead of further developing commercial cybersecurity, Hewson is planning to focus on Lockheed's other businesses, which include providing government cybersecurity and aerospace engineering. With the U.S. Department Of Defense looking to smaller, innovative companies for new defense technology and increased competition from firms like SpaceX and Google, Lockheed has entered a new phase in which growing the business will be more difficult.
Hewson says she is confident she can lead the firm toward sustainable profitability in the coming years by increasing international sales and earning larger government defense contracts.
Related Link: Why Lockheed Martin Has "Work To Do" For Investors Next Year
5. Virginia 'Ginni' Rometty
Ginni Rometty became the first woman to lead tech superpower International Business Machines Corp. (NYSE: IBM) in 2012.
She has earned several accolades for her role as CEO and chairman of IBM, which she says she will use to transform the firm into an industry leader throughout the next decade. Rometty has said she believes that it is possible to "engineer change" at the firm and that by refining the IBM's strategy, corporate culture and communication practices she will be able to produce a healthy company capable of sustained profitability in the years to come.
Since Rometty took over, the firm has shifted its focus to cloud computing and data analysis in an effort to meet the demands of the ever-changing tech landscape. In order to grow IBM's dominance in those areas, the firm has made several acquisitions and created a program called Think Academy, which is aimed at educating the company's employees and ensuring that everyone is working toward the same goals.
Rometty has also said that she has strategically allocated many of IBM's resources to research projects she believes will pay off in the future, something that may weigh on the firm's short-term profits, but is likely to pay off in the long term.
6. Meg Whitman
After a year's worth of planning, tech firm Hewlett-Packard Company (NYSE: HPQ) is splitting its business in two. HP Inc. will consist of the company's personal computers and printing business, while Hewlett Packard Enterprise will encompass the firm's server, data service, software and consulting services.
The whole ordeal will be overseen by CEO Meg Whitman, who will head HP Enterprise after the split. Although Whitman initially opposed the division, she eventually got behind the idea after the firm's PC sales began to decline as more people continued to switch to mobile browsing.
While heading Hewlett-Packard over the past four years, Whitman has become well known for trimming the firm's inefficiencies; she has been behind some 140,000 layoffs. Hewlett-Packard has been struggling with depressed demand and a declining stock price, but the division is expected to help boost the firm's profitability. The effects of the split remain to be seen, but if successful, Whitman could be credited with engineering the company's turnaround.
In order to prepare, the firm has conducted hundreds of thousands of systems tests and built in new interfaces to insure that all systems will still function correctly. As the firm is a major player in the tech industry, the seamlessness of this transition will speak volumes about the company's competence.
Image Credit: Public Domain
Posted-In: Anne Mulcahy GoogleEducation Topics Top Stories Markets Trading Ideas General Best of Benzinga
View Comments and Join the Discussion!