SolarCity And Tesla Have Closer Correlation Than Some Oil Stocks Do With Oil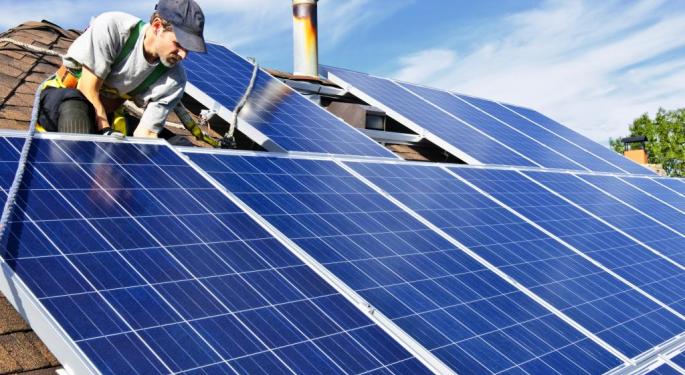 When Elon Musk tweeted on Monday about a new Tesla Motors Inc (NASDAQ: TSLA) "product line" that will be unveiled in a little less than a month, it's understandable that Tesla's share price would spike by more than 3.0 percent on the day.
After all, Musk is the CEO of Tesla and the tweet did, in fact, involve a potentially meaningful event in the future of the company.
In Musk We Trust?
Surprisingly, shares of SolarCity Corp (NASDAQ: SCTY), which had been trading down on the day at the time Tesla's shares started to spike, jumped right along with Tesla after Musk's tweet.
Yes, Musk is the chairman of SolarCity, but the tweet appears to have had no direct impact on the business of the solar energy company.
Related Link: Tesla's New Product Secretly Tested By 330 Consumers
One look at a chart of both Tesla and SolarCity over the past five trading days shows a striking similarity in trading behavior.
Benzinga crunched the numbers to see just how closely-correlated the two stocks have been in the past, and the results were quite surprising.
The Numbers
Since SolarCity first went public in late 2012, correlation between Tesla and SolarCity has ranged from 26.7 percent to 49.2 percent. However, since mid-2014, correlation between the two stocks has been at its highest, ranging from 40 to 49 percent.
Point Of Reference
While 40-plus percent correlation is far from perfect, this level of correlation is surprisingly high between two companies which have little more than a single billionaire entrepreneur linking them together.
In February, Benzinga published correlations between several oil majors and the price of crude oil.
Benzinga found that names such as Tesoro Corp (NYSE: TSO), Marathon Petroleum Corp (NYSE: MPC) and Valero Energy Corp (NYSE: VLO) all demonstrated correlations to the price of crude oil at 10 percent or less.
Even the names that were most highly-correlated to the price of oil, such as ConocoPhillips (NYSE: COP), Chevron Corp (NYSE: CVX) and Hess Corp (NYSE: HESS) fell short of the current 40.6 percent correlation between Tesla and SolarCity.
According to Musk's tweet, Tesla's big reveal will be coming on April 30.
It remains to be seen what exactly the announcement will do for Tesla (and SolarCity) shareholders.
Posted-In: SolarCity Tesla correlation stock correlations Tesla correlationEducation Technicals Tech Trading Ideas General Best of Benzinga
View Comments and Join the Discussion!