It's All Greek To Me: How Investors Can Make A Small Fortune In Greek Real Estate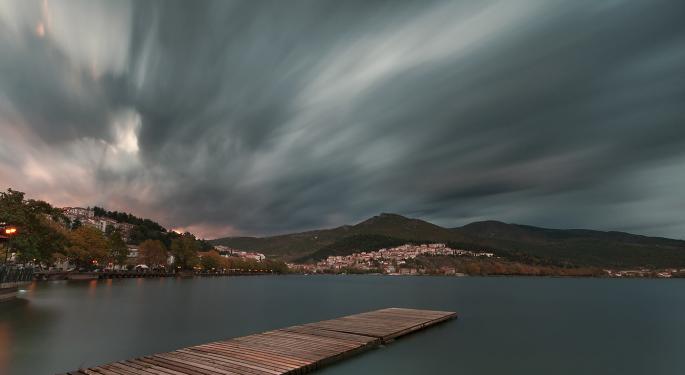 As with many things Greek right now, the logistics and risks of investing directly in Greek real estate might be a bit much to undertake for even the most sophisticated U.S.-based investors. However, one option for getting involved in Greek real estate is to invest in publicly-traded Greek REICs (similar to U.S. REITs).
Very Few Major Players
According to a report by Euroxx Securities on February 2, there are currently five companies active in the Greek REIC industry, namely: Trastor, Grivalia Properties, MIG Real Estate, Intercontinental and NBG Pangaea – the first three of which are listed on the Athens Exchange (ATHEX). Additionally, Euroxx reported that as of January 30, the National Bank of Greece (ADR) (NYSE: NBG) announced that its real estate arm, NBG Pangea REIC board of governors, is preparing for a merger-by-absorption of NBG Pangea by MIG Real Estate (NBG Pangea reportedly holds a 96.04 percent stake in MIG Real Estate).
Greek REICs' – Basic Rules Overview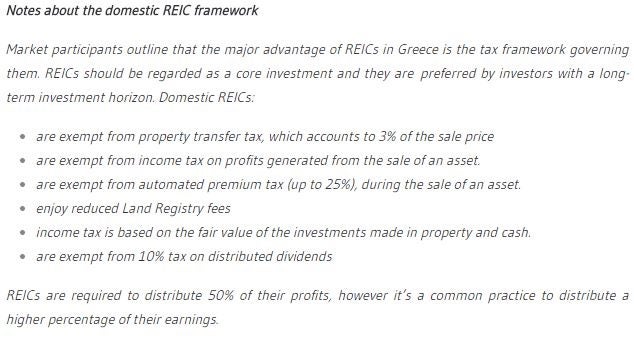 Source: arbitrage-re.com
Macro Risk Factors
According to the same Euroxx research note, Standard & Poor's ratings service placed the core Greek banks' "CCC+" long-term ratings on "Credit Watch Negative" due to uncertainties about support S&P. The uncertainties regarding the Greek banking sector underscore the difficulties landlords face with signing long-term leases with credit worthy domestic counterparties. During a CNBC interview titled "Why Greece Will Never Repay Debt" on February 23, founder and CIO of Jevons Global Kingsley Jones said, "Greek debt is not repayable in this life."
He also told CNBC, "We have to be realistic here. Greek debt is now 175 percent of gross domestic product (GDP); it's higher than it was when this whole business first started."
Recent Good News
During the U.S. trading day on February 20, the Global X FTSE Greece 20 ( Global X Funds (NYSE: GREK)), NBG and several other Greece-based equities rose on the latest news that Greece will receive a four-month extension from the eurogroup to work out a new debt repayment arrangement.
Related Link: The Greece-Eurozone Situation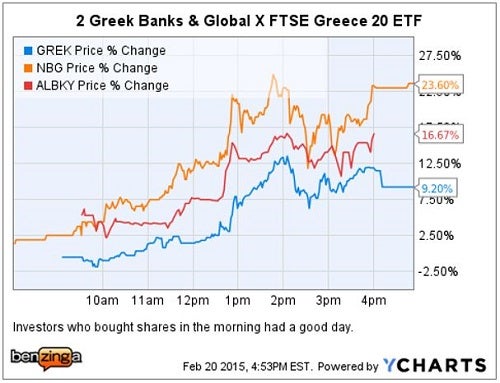 Investors were clearly optimistic immediately following the news of the extension.
Bigger Picture
However, a longer-term investor vacationing on the proverbial deserted island, (with no access to market news for the past year), would have had a far different perspective upon returning to the office on February 20.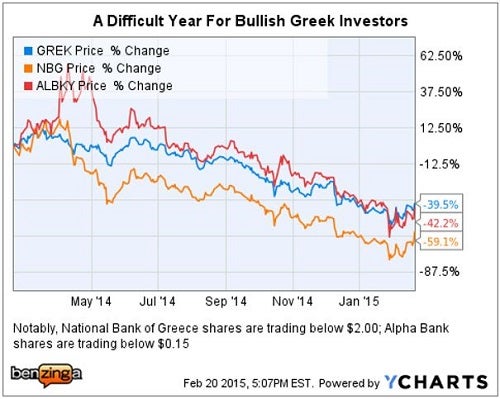 There are risks embedded in Greek stocks even though they are listed on publicly traded stock exchanges, as evidenced by recent National Bank of Greece recapitalizations and Alpha Bank shares trading OTC as a penny stock closing "up" to $0.13 on Friday.
Truly Bullish On The Greek Economy?
U.S. investors who feel that Greece will be able to successfully renegotiate an arrangement with its creditors could also simply take a position in the GREK ETF.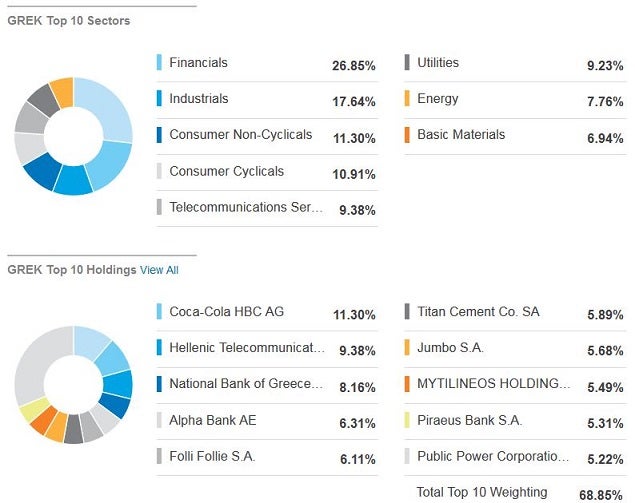 Investors should keep in mind that this index is heavily weighted toward the Greek financial sector.
Final Thoughts
Bold investors who are interested in applying one of Warren Buffett's famous quotes regarding U.S. markets to Greece – "Be fearful when others are greedy and greedy when others are fearful" – might also want to take a hard look at Buffett's foundation for investing: Buffett's Two-Rule Investing Philosophy Rule No. 1: Never lose money. Rule No. 2: Never forget Rule No. 1.
Image credit: Nikos Koutoulas, Flickr
Posted-In: CNBCREIT Education Emerging Market ETFs Trading Ideas ETFs General Real Estate Best of Benzinga
View Comments and Join the Discussion!