Has Warren Buffett Lost His Touch? Not Even Close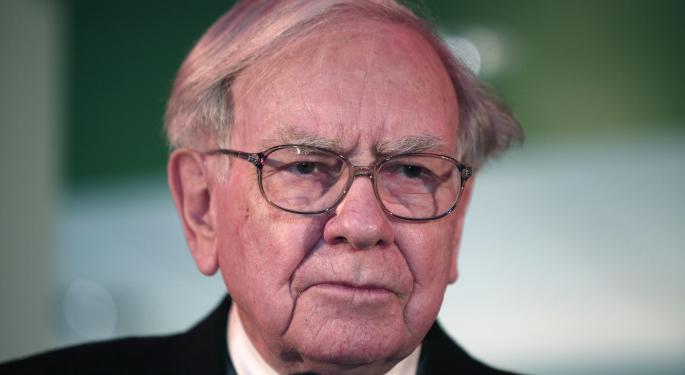 Warren Buffett, one of the most iconic and successful stock investors of all time, has received some criticism lately after a couple of Berkshire Hathaway Inc.'s (NYSE: BRK-A)(NYSE: BRK-B) largest holdings stumbled in 2014. There's no question that Buffett has made some incredible stock picks in the past that have helped him become the world's third-richest person, with a net worth of over $72 billion.
But, at age 83, is Buffett starting to lose his touch when it comes to picking stocks? Has a "new money" era left Buffett behind?
Related Link: EXCLUSIVE: Warren Buffett Calls Mr. Market A 'Drunken Psycho'
Buffett's Recent Stumbles
Buffett received a lot of publicity in October 2014 when two of Berkshire's three largest holdings, International Business Machines Corp. (NYSE: IBM) and The Coca-Cola Co (NYSE: KO), both released horrible earnings reports in the same week. Over a three-day period, Berkshire lost more than $2.5 billion on the two stocks, and Buffett's big loss was understandably a big story in the media.
Berkshire's largest holding, Wells Fargo & Co (NYSE: WFC), made the company $816 million during that same three-day stretch, but that note received very little attention in comparison.
Getting Burned By Big Oil
Berkshire's seventh-largest holding, Exxon Mobil Corporation (NYSE: XOM), also underperformed the market in 2014, and has essentially gone nowhere since Buffett's company started buying it at around $90 per share in mid-2013.
Buffett notoriously got burned for a multi-billion dollar loss by investing in another big oil company, ConocoPhillips (NYSE: COP), back in 2007 and 2008 when oil was near its all-time highest price.
Berkshire still holds more than $30 million in ConocoPhillips stock, but has sold the majority of the stake at a loss.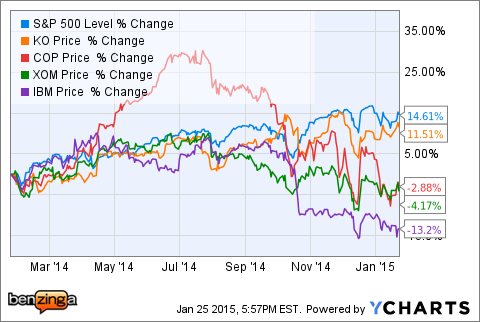 How Does Buffett Stack Up?
With all of these recent missteps, has Buffett's methodology of long-term value investing become outdated? To answer this question, take a look at a few charts. The first is a 10-year chart of Berkshire's returns versus the returns of the S&P 500.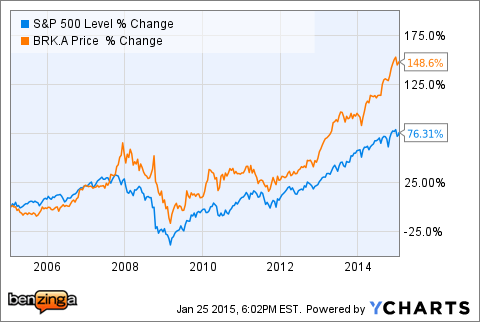 As expected, the decade-long time frame reveals that Buffett's long-term approach to investing has paid off and Berkshire has nearly doubled the returns of the S&P during the past 10 years. But how has Berkshire held up against the S&P during the most recent bull market since the financial crisis?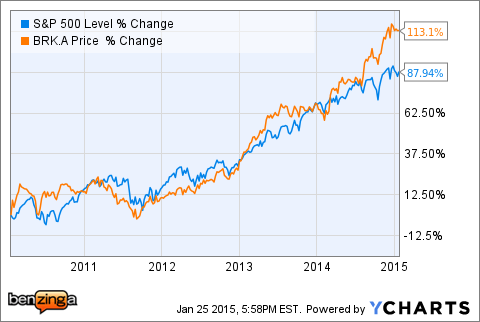 A look at a five-year chart shows that Berkshire has outperformed the market once again, this time on a shorter time frame. But did Buffett's big 2014 blunders hurt Berkshires performance when the time frame is shortened to just one year?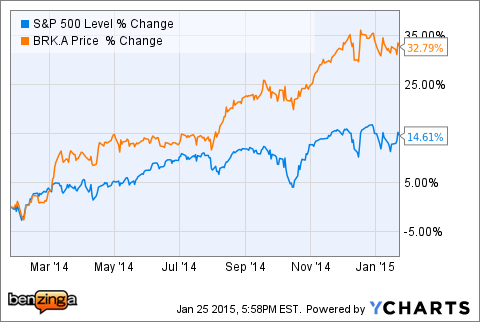 Absolutely not. Even though the four stocks mentioned above have been a drag on Berkshire's profits over the past year, Buffett's company has still managed to double the returns of the overall market during that time.
Related Link: EXCLUSIVE: When Warren Buffett Met Bill Gates...And How Many Microsoft Shares He Wished He'd Bought
Beating The Competition
This type of out-performance is proof enough that Buffett is still king of the stock market. However, when compared to the performance of peers, Buffett's performance stands out even more.
Goldman Sachs recently revealed that around 86 percent of active fund managers (that frequently trade in and out of stocks) underperformed the market in 2014. Buffett may be 83 years old, but the principles of selective value investing, discipline and patience are timeless.
View Comments and Join the Discussion!
Posted-In: Goldman Sachs Warren BuffettTopics Top Stories Success Stories General Best of Benzinga