Considering Buying the Dip in Airlines?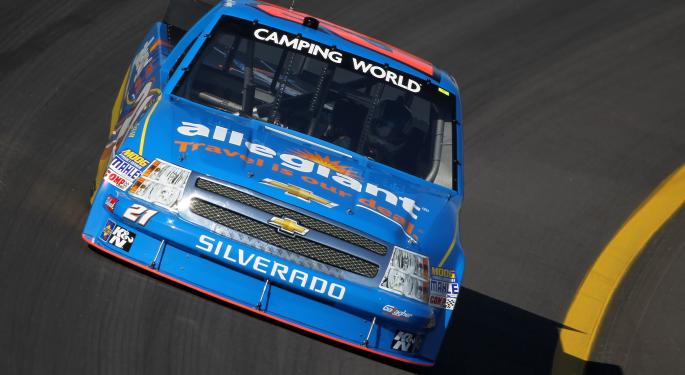 ---
While there was plenty of chatter Monday morning around American Airlines emerging from bankruptcy and merging with US Airways, let's take a look at a rare buying opportunity in Airlines stocks this afternoon.
Airlines stocks finally stumbled a bit in the first week of December, marking the first time since August that the sub-industry has seen even a modest pull-back. Buying the dips of what's working is a great way to enter trades, but the problem here is that a) The Airlines sub-industry is tiny and B) this "dip" may not be enough to hop on board high-fliers (pun intended!) like Southwest, Delta, or Alaska Air. However, scanning through the constituents, there is a great opportunity to enter into one of the smaller cap Airlines, Allegiant Travel (NASDAQ: ALGT) for a nice swing-trade.
See also: Barron's Recap - Top 10 Stocks for 2014
Allegiant has been trending steadily higher since October of 2012, and it took until the summer of 2012 for the stock to consolidate in a significant fashion. Allegiant found its base just below $95 through the month of August, before resuming its run higher into the end of the year. Recently, Allegiant hit highs of $114.70 on November 29 before pulling back along with the other Airlines stocks. Currently, Allegiant has based rather quickly and looks poised for a turnaround in the short-term.
The stock has excellent support in the $105-$108 area, which it spent the latter half of October and most of November establishing. Allegiant's recent base is at the upper-end of this support, which seems to be holding just fine over the past few sessions. ALGT is also operating comfortably above its 50-day moving average, which is a bullish sign.
Since the end of its summer consolidation, Allegiant has been making higher highs and higher lows while establishing solid support levels. This is clearly visible in its up-trending channel (see chart below). There is immediate upside to $114.70, which is 6.95 percent higher from current prices. A stop at a break of the support range ($104) makes the downside risk 3.02 percent, which makes the reward to risk ratio of this trade greater than 2 to 1.
The recent pullback in Airlines creates a rare opportunity to get some long exposure to one of the top-performing sub-industries of 2013. Allegiant has a strong technical set-up and features a compelling trade set-up that other Airlines stocks don't offer.
When to Consider Entering the Trade:
At the current price (~$107.35).
When to Consider Exiting the Trade:
At a close below $104.00 (Breakdown) / An intraday price of $114.70 or above (Profit-Taking)
Disclosure: At the time of publication the editor and affiliated companies own the following positions: None
Note: Positions may be bought or sold while this publication is in circulation without notice.
Allegiant Travel Co - Last 30 Days

Allegiant Travel Co - Last 3 Months

Allegiant Travel Co - Last 6 Months

Posted in: Long Ideas Education Trading Ideas General Best of Benzinga