Can Pandora Be a Long Trade Pick Again?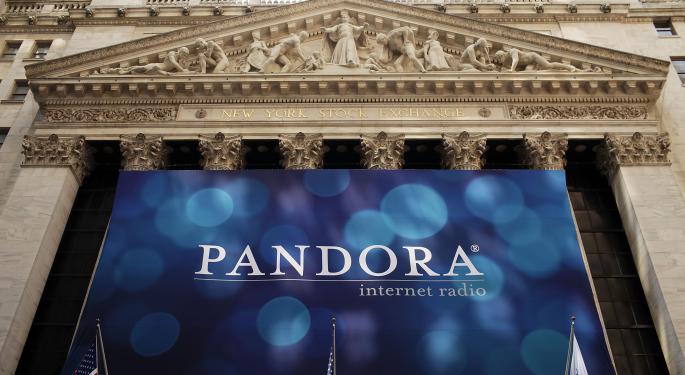 ---
Back on October 31, the Trade of the Day idea was a long swing-trade of Pandora Media Inc (P). The trade worked out beautifully, and on Tuesday, Pandora Media (NYSE: P) is back on the radar with another compelling set-up.
Pandora is still a volatile stock, make no mistake. Since hitting intraday highs of $31.94 on November 17, Pandora has pulled back sharply down to $28.30, which is a decline of 11.4 percent in just two weeks. However, just as with the previous Pandora trade, volatility can be an advantage, and Pandora looks to favor a run higher with its current set-up.
Since breaking out of the trading range in mid-November, the trade set-up for Pandora is much more clearly defined. Old resistance at ~$28 now becomes new support, and it has already held on four separate occasions, which is encouraging. Pandora is also displaying a nice pennant formation with the breakout earlier this month as the pole, and the subsequent consolidation and baseline support at $28 the pennant shape.
There is clear, immediate upside to $31 here, though given the waning momentum of the overall market and Pandora's modest correlation to the S&P 500, playing this trade to $30 and calling it good would be just fine. Pandora also had a decent earnings report on November 22, but analysts weren't overly thrilled with its outlook, so while it was "good enough" for the time being, holding long-term might be a bad idea.
There's not too much else to say here. Pandora is a fast-money stock, and has been moving in a seemingly predictable fashion in the latter half of this year. The potential upside (8.88 percent) outweighs the downside risk (with a stop at $27.17; down 4.06 percent) by over 2 : 1, the technical set-up favors a move higher, and the fundamental backdrop is healthy enough for the time being. Pandora looks like a great opportunity to make a quick eight percent profit.
When to Consider Entering the Trade:
At the current price (~$28.25).
When to Consider Exiting the Trade:
At a close below $27.17 (Breakdown) / An intraday price of $30.76 or above (Profit-Taking)
Disclosure: At the time of publication the editor and affiliated companies own the following positions: P
Note: Positions may be bought or sold while this publication is in circulation without notice.
Pandora Media Inc - Last 30 Days

Pandora Media Inc - Last 3 Months

Pandora Media Inc - Last 6 Months

Posted in: Long Ideas Education Tech Trading Ideas General Best of Benzinga