Why Safeway Was The Long Trade Of The Day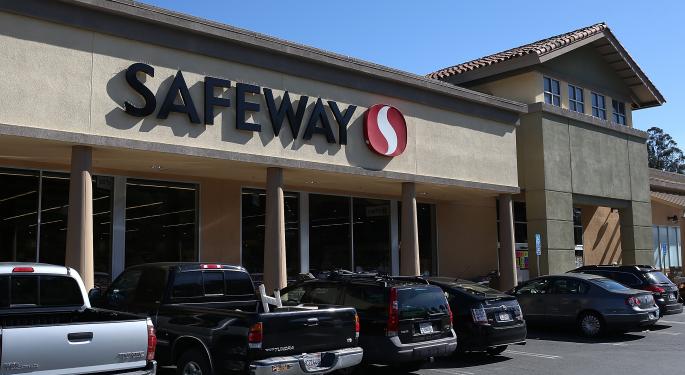 A long swing-trade of Safeway (NYSE: SWY) is today's Trade of the Day thanks to Safeway's fantastic technical set-up and favorable entry opportunity.
Safeway is no stranger to volatile intraday swings, easily evidenced by Thursday's wild session of trading. However, as the saying goes, "it's all about how you finish." Despite Safeway having a penchant for choppy trading, on a closing basis the stock is set up beautifully. Safeway sports nice long- and intermediate-term uptrends while operating above its 50-day moving average since the beginning of the year. Safeway is currently coming off of a nice pull-back after making new weekly highs just north of $36 in late-October.
Another positive aspect of Safeway is that the stock has already filled its mid-October gap, which decreases the risk of a technical breakdown. Better yet, the price of the gap filling has also become new support. Since the fill, Safeway has based and has turned around while maintaining price above its 50-day moving average.
This support level at $32.60 has held on a closing basis on six separate occasions since October 15, most recently early this week. This is positive for Safeway as it means the support is meaningful. After a pullback from the highs down to support, an initial bounce, a retest, and another bounce, it finally looks like Safeway will be moving in the right direction in the short-term. It crossed above its 5- and 10-day moving averages late this week, which also bodes well for Safeway moving forward.
Traders should be looking for Safeway to push back to the weekly highs around $36. We would also set a stop to a close below $32.60, making the reward to risk ratio on this trade roughly 1.6:1 from current prices.
With strong support at $32.60, a gap that has already filled, and positive price action in the short-term, Safeway looks poised to make a run back to weekly highs.
When to Consider Entering the Trade:
At the current price (~$33.89), or on a pullback to the 50-day moving average ($33.13).
When to Consider Exiting the Trade:
At a close below $32.60 (Breakdown) / An intraday price of $35.98 or above (Profit-Taking)
Disclosure: At the time of publication the editor and affiliated companies own the following positions: SWY
Note: Positions may be bought or sold while this publication is in circulation without notice.
Safeway Inc - Last 30 Days

Safeway Inc - Last 3 Months

Safeway Inc - Last 6 Months

Posted in: Long Ideas Education Trading Ideas General Best of Benzinga